BLOG
Today's the official release date for Disgraced, my third novel in the Lola Wicks series, even though it started hitting shelves a couple of weeks ago.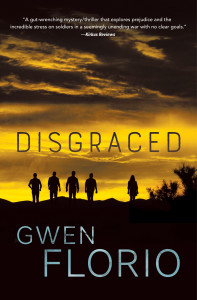 In this one, workaholic, vacation-averse Lola finds herself on vacation anyway, thanks to a money-saving furlough ordered by her newspaper. Let's just say she finds a story, anyway, and promptly abandons the vacation (the point at which any resemblance between me and my protagonist ends).
In addition to the mystery at the heart of the story, in Disgraced I tried to take on the way big institutions—in this case, the military—sometimes betray the people they're supposed to serve.
Reviewers have been kind enough to take note. Kirkus said Disgraced "explores prejudice and the incredible stress on soldiers in a seemingly unending war with no clear goals" and BOLO Books said "this one tackles important topics we as a society should be discussing."
Lest that sound like a grind, The Big Thrill, the magazine of the International Thriller Writers, called it "engaging, riveting and authentic."
And now I've tooted my own horn long enough. Good reviews are lovely, but readers' opinions are the ones that truly matter. It's time for Disgraced to make its own way out in the world while I work on the sequel, which I'm tempted to call Redeemed, although I'm pretty sure my editor has other, and better, ideas.
Finally, a word about the title, which clearly changes things up with the state-by-state model hinted at in my previous two books in the series, Montana and Dakota. A new publisher, Midnight Ink, is putting out Disgraced and the next two, and wisely felt that abandoning that model would give Lola more flexibility in her next adventures. I quite agree. Happy reading.
Such cool news! This is how the library describes the Reader's Choice Award: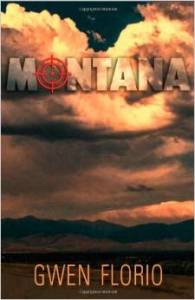 The Salt Lake County Library System is the largest in Utah, serving over 650,000 residents, through 18 libraries.  Twice a year, the Reader's Choice Committee selects twenty or more recently published books that have been recommended by other staff or customers.  We want to include those titles that are not "best-sellers" but are so good you just can't put them down — and when you do finish, you have to tell all your friends!  These books are purchased in multiples and placed on display at each Salt Lake County Library for a four-month period.  After reading any of the books on our Reader's Choice list, customers may rate the books using one of our ballot forms.
 I'm honored to see Montana among this year's list of 23 books. Past winners include Sue Monk Kidd's The Secret Life of Bees and The Bone Collector by Douglas J. Preston & Lincoln Child.
 All the books will be on display at the 18 libraries around Salt Lake County, and readers have until May 15 to vote on their favorites. Even if you're not in Utah, the list provides great suggestions for a whole year's worth of reading.
 It feels like international week here in Missoula. The German edition of Montana, Der Lohn Des Bösen (The Wages of Evil) goes on sale today. Exciting stuff! Even more exciting, Amazon in Germany lists books by Tana French and Jim Thompson in the "also-viewed" category.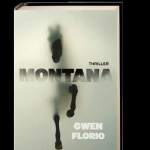 And, even though the Italian version of Montana won't be out until late next year or even 2016, its publisher, Rizzoli, now lists it in its catalogue. "La reporter di guerra Lola Wicks…," the description begins. Here's a peek at the cover – in true Italian fashion, it's super-stylish. Bellissimo!
Finally, tomorrow morning, I'll hop on a plane for the first of three flights that, over the course of nearly 24 hours (assuming no delays, breakdowns or baggage mishaps), will finally deliver me to Guadalajara. Then I'll head to the nearby town of Chapala and an artists'  colony called 360 Xochi Quetzal. There, I'll spend the next month tearing the WIP apart and reconstructing it into what I hope will be a coherent novel. Oh, and I might eat a tamale or 10.
Next week: Montana author Craig Lancaster, whose most recent novel, The Fallow Season of Hugo Hunter (released last month), is about a washed-up Olympic boxer, writes about the allure of sportswriting.
I hear these questions—the latter especially—at readings and book groups. Good question!
In Montana, Lola Wicks is cheerfully light-fingered, lifting everything from a paperweight to an expensive anniversary watch to a Zuni fetish. For my purposes, she's a klepto because she needed something to hurl in a crucial scene. Come to think of it, she throws stuff around in a few scenes. When Lola's around, you want to stand back.
As for Lola's purposes, she addresses this in Montana, recalling the way her friend Mary Alice would ask her about it: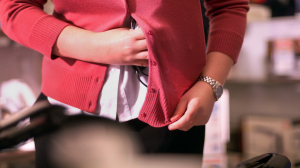 "Why do you do that? Take things?" Mary Alice had asked her more than once.
Her reply always a wordless shrug. How to explain, even to her best friend, that all of those people had taken little bits of her, security and trust, hope and certainty, pieces she wasn't sure she'd ever get back? It seemed a fair exchange.
 In Dakota, Lola doesn't take anything. Why not? Mostly because she's happy, as happy as Lola ever allows herself to be.
Will she ever steal again? For sure, she won't stay happy. The woman picks up trouble as casually as she once tucked someone else's possessions into her pocket. We'll just see about the stealing.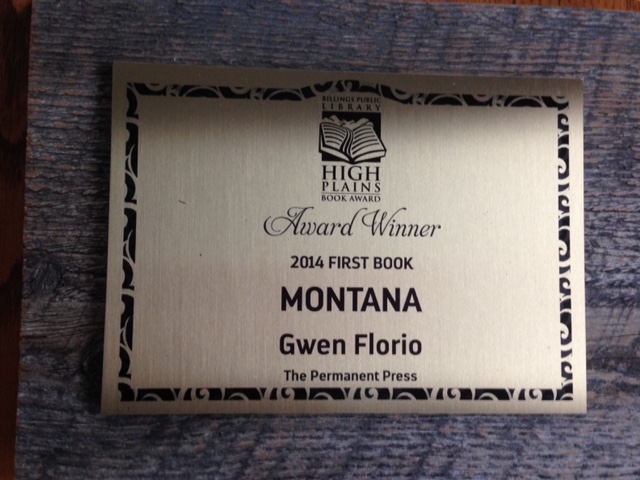 The recent High Plains BookFest in Billings was a treat in every way.
I kibitzed with old friends and met new ones, gained invaluable nuggets from the panels, and heard knock-your-socks off readings by novelist Melanie Rae Thon (The Voice of the River), poet Sheryl Noethe (Grey Dog Big Sky) and science author Julianne Couch (Traveling the Power Line). And my novel, Montana, won the prize in the first book category. 
In journalism, that last sentence probably would be called "burying your lead." The lead is the first sentence of a newspaper story and is supposed to contain the most important information.
I'm not going to play the false-modesty card. It was beyond wonderful to win. But the weekend's best reward was the festival itself. This year festival organizers included writers from Canada's prairie provinces—Alberta, Saskatchewan and Manitoba—reasoning correctly that we have more in common with one another than writers on the coasts of either of our countries. Total stroke-of-genius move.
It was great to hear the Canadian writers' perspectives on topics like the publishing industry there and government support (uneven though it may be) for writers. And, of course, we all wrestle with the same writing dilemmas. I left feeling as though some very rewarding friendships were begun, and others strengthened.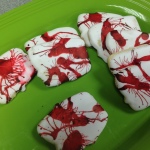 A couple of days later I was in Helena for the Lewis and Clark Library's Mystery Book Club meeting. The group had read Montana and, as always with book groups, came up with super-sharp questions, along with some great suggestions about books to read. And, they served thematic cookies–in this case, they looked as though they were covered in blood spatters. Excellent!
As always after listening to other writers and talking about writing, I returned to my own work reinvigorated, only to face the recalcitrant ending of the WIP. Lately, it's been kicking my ass. But armed with all that High Plains BookFest energy, I think I've given it a pretty good whupping in return these last couple of weeks. It may actually be shaping into something workable. Not quite ready to type "The End" on the draft yet. But it's within view.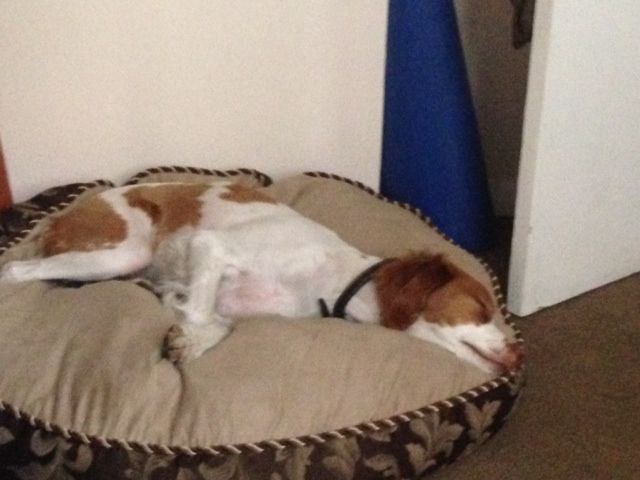 For awhile this summer, the days flew by far too fast. A Delaware-Vermont-New York City swing (the latter for ThrillerFest) kept me moving for weeks. Then, upon returning to Montana, I headed out again for readings and book signings in Butte, Livingston and Bozeman. After which, the temperatures soared in the 90s and stayed there, and I … just … stopped. Nell the office dog has the right approach for dealing with the heat, and my own isn't that different. Writing happens only with the fan trained directly on me. We've got fans buzzing all over the house – the place feels like a 747 about to take off.
It all makes me look back fondly on ThrillerFest, which took place at the Hyatt Grand Central in Manhattan, an establishment air-conditioned to a fine arctic chill. But the workshops were smokin' hot (a workshop on how much murderous detail is too much was a favorite) along with interviews with high-flying authors like Scott Turow, Ann Rice, R.L. Stine and David Morrell. International Thriller Writers offers an impressive program for debut authors – getting to know those folks was probably my favorite part of the week. I came home with Samuel W. Gailey's Deep Winter and John Dixon's Phoenix Island, and plan to order others as the TBR pile diminishes (that will happen someday, right?). It was such an honor to be a finalist, along with fellow Permanent Press author J.J. Hensley (Resolve and, coming in September, Measure Twice), for the first novel award – huge congrats to winner Jason Matthews (Red Sparrow).
Deep Winter seems like the right thing to be reading as the heat wave continues. Last year, I countered the summer doldrums by finishing work on my own Dakota, set during a subzero North Dakota winter . But I goofed this year, finding myself at work on Arizona, which takes place during a desert summer, with days even hotter than those plaguing Montana right now. Must. Plan. Better. 
It's been an emotionally rewarding week on the book front.
As part of a family reunion week in Delaware, I did a reading in Smyrna, the town where I grew up and went to school. But not just any run-of-the-mill reading. It was held in the Smyrna Opera House, a historic building that had fallen on hard times when I was a child. Its first floor housed the police station and library, and the second floor—home to the theater—was in disrepair. Smyrna residents rallied in recent years, raising millions of dollars to restore the building—which in its heyday hosted speeches by Frederick Douglass and William Jennings Bryant—to its former glory. I got chills standing on the same stage.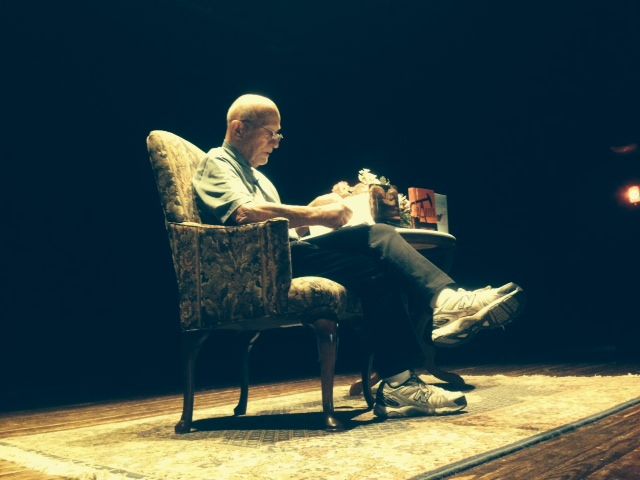 But the highlight was the fact that the reading was a joint production with my father, Tony Florio, a wildlife biologist. Earlier in the day, the state of Delaware named the wildlife refuge where we grew up in his honor. It's now the Tony Florio Woodland Beach Wildlife Area. That evening, Dad read from his book Progger: A Life on the Marsh, an account of his years at the refuge, and I read excerpts from Montana and Wyoming, to an audience comprising former classmates and teachers and lifelong friends.
Afterward, Dad and I signed the wall in the opera house's sound studio, adding our notes to everyone else who's performed there since the restoration. It took me about a day to come down from the clouds. So grateful to everyone who made it possible.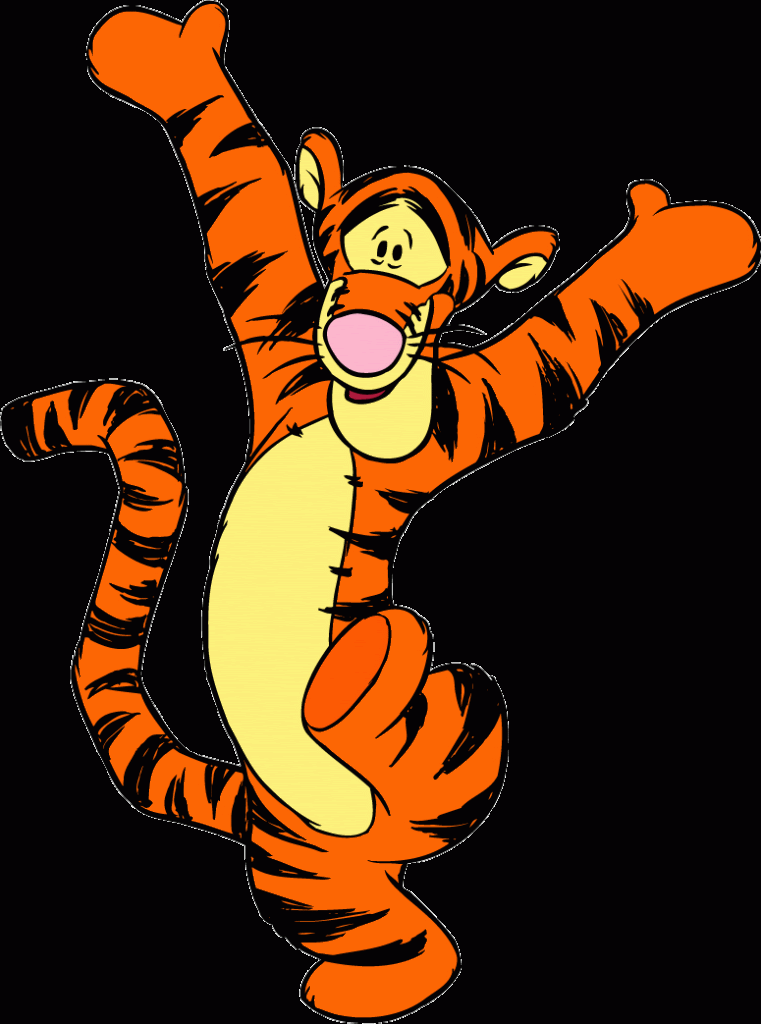 My day started with the utterly distracting news that Montana is a finalist in the International Thriller Awards' first novel category.
Just as much fun? Fellow Permanent Press author J.J. Hensley also is a finalist for his debut novel Resolve, about a murder during a marathon, told in 26.2 chapters. The nomination is particularly meaningful to both of us, given that we're published by a small press, and most of the other finalists in all the categories are books published by the Big Five.
Also fun—the fact that Laura Lippman, my fellow Pinckley Prizes honoree (for her very impressive body of work) is a finalist in the short story category. During the Tennessee Williams Festival last month in New Orleans, someone called Lippman the "Meryl Streep of mystery authors" because of all the awards she's won. I'd love to see her add another.
The awards will be announced in July at ThrillerFest, a big honking deal in New York City that features Scott Turow (I still remember staying up all night to read Presumed Innocent) as ThrillerMaster.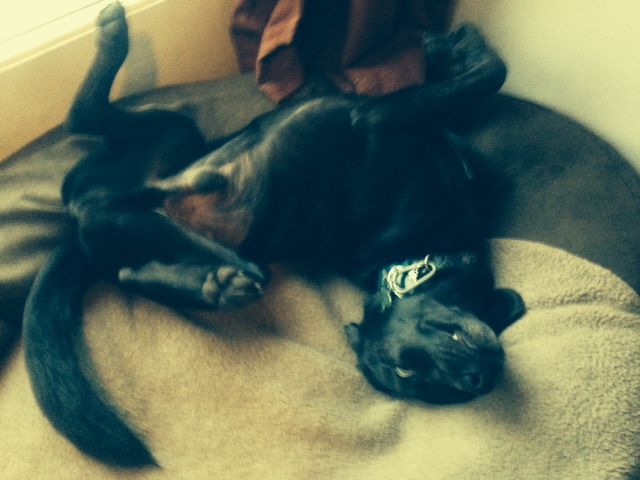 For much of the morning, the Writer Dance of Joy replaced real work. Nell and her buddy Finn were unimpressed. Sometimes I think dogs exist to bring writers down to earth.
The New York Times poses a provocative question in its Bookends column this week: Do we really need negative book reviews?
As noted by Bookends columnists Francine Prose and Zoe Heller, the subject been the topic of much discussion recently. And Prose admits that there was a time when she thought, "Life is short, I'd rather spend my time urging people to read things I love."
That's an attractive idea. It's especially attractive to me as I recover from the sting of my first bad review in a major publication. The kindest thing that Publishers Weekly had to say about Dakota, the sequel to my debut novel, Montana, was that it was "disappointing."

How did this make me feel?
You get the idea. 
Luckily, Dakota had just gotten a good review from Kirkus, saying that "In Florio's capable hands, Lola Wicks is going to be around for a long, long time." Then Library Journal chimed in (in a review to be published Feb. 15), terming Dakota "riveting." That helped. The other thing that helped? Knowing that bad reviews are part of the drill. And that the inevitable had finally happened.
Prose went back to writing negative reviews, likening their usefulness to that of the child who pointed out that the emperor had no clothes. As Heller says in the Bookends column:
"… most writers do not write merely, or even principally, to escape from or console themselves. They write for other people. They write to have an effect, to elicit a reaction. That is why they scrap and struggle, often for years, to have their work published. Being sentient creatures, they are often distressed by what critics have to say about their work. Yet they accept with varying degrees of resignation that they are not kindergartners bringing home their first potato prints for the admiration of their parents, but grown-ups who have chosen to present their work in the public arena."
I spent a day wallowing. Then pulled up the big-girl panties and went back to work. The toughest thing about a bad review is that by the time you get it, it's too late to fix the problems the review might have nailed. That's why there's the next book. And the next. As we say here in Montana, somewhat less eloquently but more directly than Heller: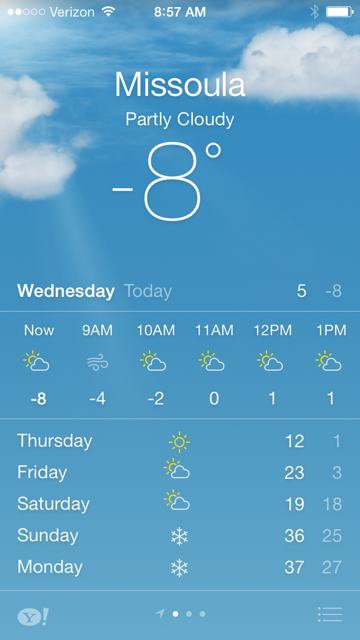 Because when it's cold, you don't want to go outside. All of the lovely temptations that beckon you away from your laptop (or whatever your preferred writing instrument) recede. Writing—warm and cozy writing—suddenly seems like a great way to spend the day. During this recent cold snap, I've been unusually productive, almost enough to make me wish it would stay this cold all the time. I'll get over that. But it's been a great time to play catch-up after another few days on the road, this time for readings in Billings and Livingston.
In Billings, I read at the new Billings Public Library. The next time you're in town, you owe it to yourself to stop there. It's a veritable palace of books (and computers and electronics and study rooms and some pretty fine art, too). Don't take my word for it. The Billings Gazette did a fine video tour.
The Gazette reports such heavy library use in its first couple of weeks that readers actually picked the shelves bare. Billings also is the home of the very fine YMCA Writer's Voice program, which sponsored my reading there, and also runs programs such as The Big Read (this year featuring Charles Portis' True Grit, which I personally would term a Helluva Big Read).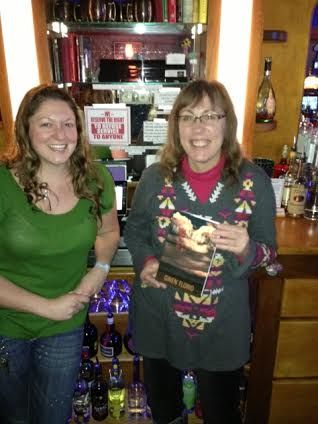 From Billings, we went to Livingston for a reading at Elk River Books, a store that's the best excuse to pull off I-90 and spend some time in Livingston. The biggest thrill of all? A copy of Montana now resides on the bookshelf in the world-famous Owl Lounge (the best excuse to stay off the road awhile), hanging out with books by Jim Harrison and Carl Hiaasen. Guess where I'm drinking next time I'm in town? But no drinking for me now, or at least nothing stronger than cup after cup of hot cocoa or tea or coffee. I need to make the most of this cold weather while it lasts. 
---