BLOG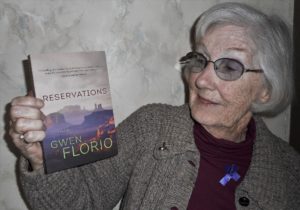 March 8, 2017 – My fourth book, RESERVATIONS (Midnight Ink; displayed here by my adorable, ACLU-ribbon-wearing mom) came out a little early, but today is its official pub date.
How cool that it's International Women's Day – and that I'm in North Dakota as part of Dickinson State University's Women's Voices program.
Some days, it all comes together. My heart is full.
The other night I went to a reading by Missoula author David Allan Cates, who was launching his new novel, his fifth, Tom Connor's Gift, due out Oct. 15.
It was a lovely, warm  evening with lots of things going on around Missoula, but Cates packed the house at Shakespeare and Company. The crowd included fellow authors Pete Fromm (whose own new novel, If Not For This, was published last month), Peter Stark (Astoria: John Jacob Astor and Thomas Jefferson's Lost Pacific Empire) and Victoria Jenkins (An Unattended Death), among others. In Cates' remarks after the reading, people around the room nodded as he made much of the benefits of living in a community with such strong support for writers. Truly, sometimes I pinch myself in wonder at having landed in such a writerly place.
There is, of course, the University of Montana's vaunted creative writing program. I've taken Cates' novel-writing class at 406 Writers Workshop, a group that also holds sessions in short fiction, memoir, poetry, screenwriting and creative nonfiction. The booksellers here are wonderfully supportive of local authors. And the annual Humanities Montana Festival of the Book (Oct. 9-11 this year) packs venues around town.
More than anything, I've found the authors here to be unstintingly generous with newbies like me in terms of advice and mentoring. I've heard horror stories about the cutthroat competition in other paces and writing programs. I'm so glad I'm here instead.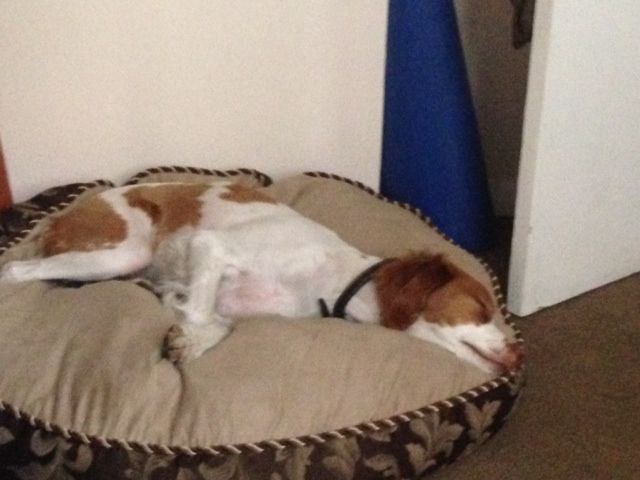 For awhile this summer, the days flew by far too fast. A Delaware-Vermont-New York City swing (the latter for ThrillerFest) kept me moving for weeks. Then, upon returning to Montana, I headed out again for readings and book signings in Butte, Livingston and Bozeman. After which, the temperatures soared in the 90s and stayed there, and I … just … stopped. Nell the office dog has the right approach for dealing with the heat, and my own isn't that different. Writing happens only with the fan trained directly on me. We've got fans buzzing all over the house – the place feels like a 747 about to take off.
It all makes me look back fondly on ThrillerFest, which took place at the Hyatt Grand Central in Manhattan, an establishment air-conditioned to a fine arctic chill. But the workshops were smokin' hot (a workshop on how much murderous detail is too much was a favorite) along with interviews with high-flying authors like Scott Turow, Ann Rice, R.L. Stine and David Morrell. International Thriller Writers offers an impressive program for debut authors – getting to know those folks was probably my favorite part of the week. I came home with Samuel W. Gailey's Deep Winter and John Dixon's Phoenix Island, and plan to order others as the TBR pile diminishes (that will happen someday, right?). It was such an honor to be a finalist, along with fellow Permanent Press author J.J. Hensley (Resolve and, coming in September, Measure Twice), for the first novel award – huge congrats to winner Jason Matthews (Red Sparrow).
Deep Winter seems like the right thing to be reading as the heat wave continues. Last year, I countered the summer doldrums by finishing work on my own Dakota, set during a subzero North Dakota winter . But I goofed this year, finding myself at work on Arizona, which takes place during a desert summer, with days even hotter than those plaguing Montana right now. Must. Plan. Better. 
It's been an emotionally rewarding week on the book front.
As part of a family reunion week in Delaware, I did a reading in Smyrna, the town where I grew up and went to school. But not just any run-of-the-mill reading. It was held in the Smyrna Opera House, a historic building that had fallen on hard times when I was a child. Its first floor housed the police station and library, and the second floor—home to the theater—was in disrepair. Smyrna residents rallied in recent years, raising millions of dollars to restore the building—which in its heyday hosted speeches by Frederick Douglass and William Jennings Bryant—to its former glory. I got chills standing on the same stage.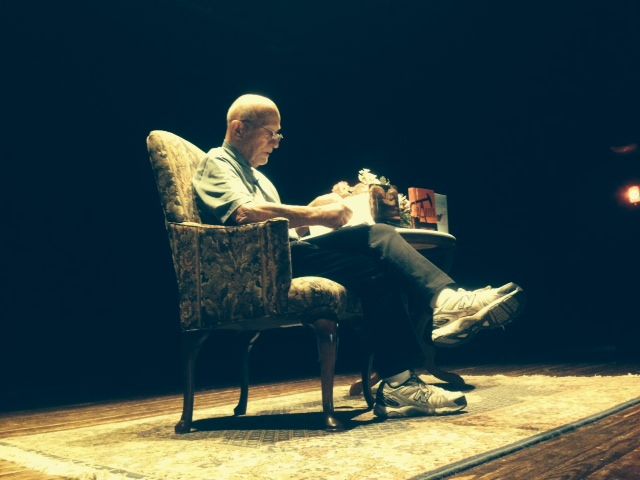 But the highlight was the fact that the reading was a joint production with my father, Tony Florio, a wildlife biologist. Earlier in the day, the state of Delaware named the wildlife refuge where we grew up in his honor. It's now the Tony Florio Woodland Beach Wildlife Area. That evening, Dad read from his book Progger: A Life on the Marsh, an account of his years at the refuge, and I read excerpts from Montana and Wyoming, to an audience comprising former classmates and teachers and lifelong friends.
Afterward, Dad and I signed the wall in the opera house's sound studio, adding our notes to everyone else who's performed there since the restoration. It took me about a day to come down from the clouds. So grateful to everyone who made it possible.
\
In the midst of struggling with a particularly challenging scene in the WIP recently, the phone rang with the very welcome news that Montana is a finalist in the first book category of the High Plains Book Award. The official announcement came out today with the list of  all the finalists—some very nice company, indeed!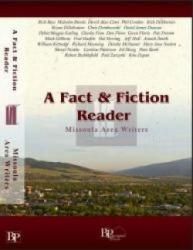 And speaking of nice company, a short story of mine is included in A Fact and Fiction Reader, one of a trio of story collections featuring regional authors, published by Bozeman's Bangtail Press. The collections are named for independent bookstores in Missoula (Fact and Fiction Books), Bozeman (The Country Bookshelf) and Livingston (Elk River Books). The Fact & Fiction reader includes works by Rick Bass, and Debra Magpie Earling and Deirdre McNamer – truly swoon-worthy company.
 Unfortunately, I'll miss the book's launch party tomorrow because I'm heading up to the Rocky Mountain Front for a long writing workshop weekend with several friends. To my mind, the Front is the most beautiful place in the universe (see photo, above), which is why I set my books there. To make the weekend even better, I'm winding it up with a Dakota reading  – sponsored by the Lewis and Clark Library – at the Latigo and Lace store in Augusta, the town on which my fictional community of Magpie is very vaguely modeled. 
In addition to gorgeous art and jewelry, Latigo and Lace features a very fine book selection, and for years I've made it a practice to stop there and buy a book whenever I'm passing through. I'm touched beyond belief that my own books are now included on its shelves.
So, if you're in Augusta Sunday between 1 p.m. and 3 p.m., stop on by!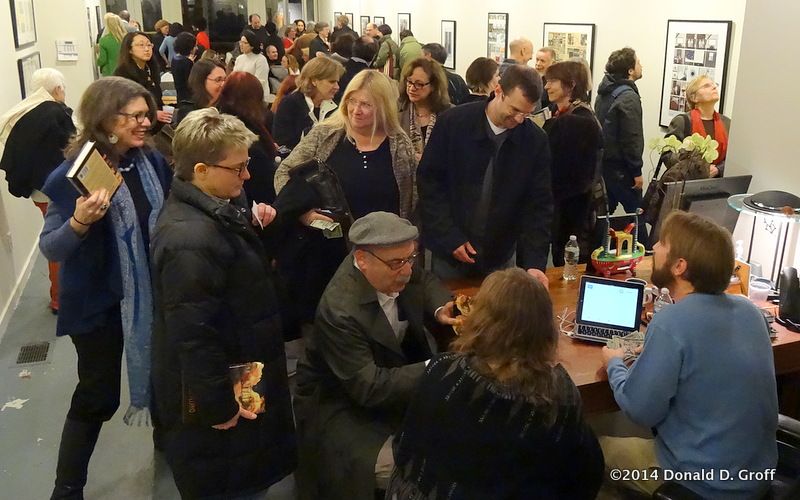 Before my first novel was published, I loved going to book signings. Actually, I still do, but with a whole new appreciation for the authors who do them, appreciation that increases as I set out on a new round of signings for Dakota (schedule, here).

Signings are mostly great fun. You get to read from your book, tactfully skipping the parts you wish you'd changed before the damn thing went into print.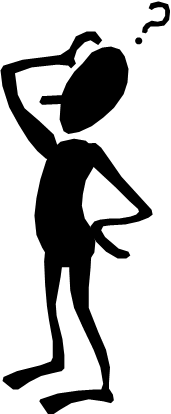 You get to answer questions, thereby opening yourself to that awkward moment when your mind goes blank. Case in point: At a reading in Philadelphia earlier this year, someone asked me to share my favorite women mystery authors. I have some. Many, in fact. But could I remember a single one at that moment? Nope. I stuttered and stammered and generally looked like an illiterate idiot.
And you get to see old friends. That part is especially fun, and gets more fun the longer it's been since you've seen them. These lovely people with their lovely familiar faces—but not quite familiar enough—approach and ask you to sign your book. (Luckily, I can name all of the people around me in Don Groff's photo, above, from the Philadelphia reading.) My fallback—"Who would you like me to make this out to?"—never, ever works. Because inevitably the answer is, "Oh, just make it out to us." Which forces me to confess that my brain has yet again gone to mush. I've learned to scan the audience ahead of time and, if I see too many not-familiar-enough faces, admit to this shortcoming ahead of time, which has resulted in relatives loudly announcing their names to me. Serves me right. 
That said, it's a privilege to do these events and I hope those who attend feel as though they've gotten good value despite my stumbles. Besides, I've figured out a way to turn the tables—now I ask people to recommend mystery authors to me. My reading list has increased exponentially, and my blank-brain-moments decreased accordingly. Whew.
---