Dog days of blog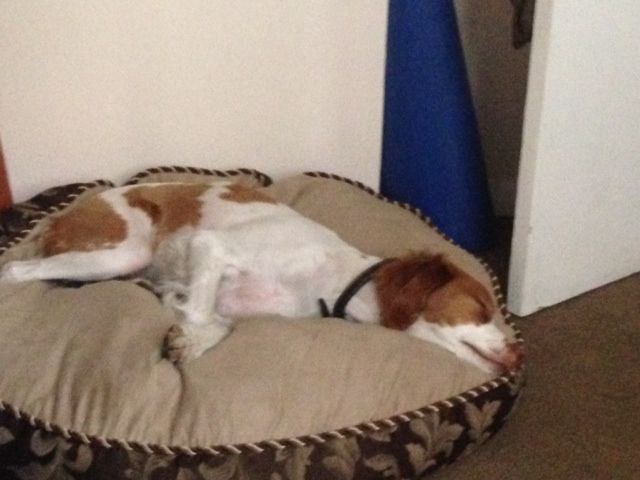 For awhile this summer, the days flew by far too fast. A Delaware-Vermont-New York City swing (the latter for ThrillerFest) kept me moving for weeks. Then, upon returning to Montana, I headed out again for readings and book signings in Butte, Livingston and Bozeman. After which, the temperatures soared in the 90s and stayed there, and I … just … stopped. Nell the office dog has the right approach for dealing with the heat, and my own isn't that different. Writing happens only with the fan trained directly on me. We've got fans buzzing all over the house – the place feels like a 747 about to take off.
It all makes me look back fondly on ThrillerFest, which took place at the Hyatt Grand Central in Manhattan, an establishment air-conditioned to a fine arctic chill. But the workshops were smokin' hot (a workshop on how much murderous detail is too much was a favorite) along with interviews with high-flying authors like Scott Turow, Ann Rice, R.L. Stine and David Morrell. International Thriller Writers offers an impressive program for debut authors – getting to know those folks was probably my favorite part of the week. I came home with Samuel W. Gailey's Deep Winter and John Dixon's Phoenix Island, and plan to order others as the TBR pile diminishes (that will happen someday, right?). It was such an honor to be a finalist, along with fellow Permanent Press author J.J. Hensley (Resolve and, coming in September, Measure Twice), for the first novel award – huge congrats to winner Jason Matthews (Red Sparrow).
Deep Winter seems like the right thing to be reading as the heat wave continues. Last year, I countered the summer doldrums by finishing work on my own Dakota, set during a subzero North Dakota winter . But I goofed this year, finding myself at work on Arizona, which takes place during a desert summer, with days even hotter than those plaguing Montana right now. Must. Plan. Better. 
---