Books

Under The Shadows
Lola Wicks is in bad shape. A family tragedy has nearly flattened her in a way that her years reporting from war zones never did. Her friends, alarmed by signs that Lola is in the grip of a destructive addiction, hope that a freelance assignment will get her back on her feet.

Montana
Montana by Gwen Florio introduces readers to Lola Wicks, a war correspondent and investigative reporter trying to rebuild her life after the shock and humiliation of being downsized.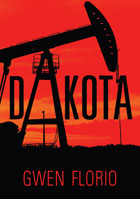 Dakota
Dakota by Gwen Florio shows the frightening underside of a boom-and-bust economy and its effect on a small town.
Disgraced
In Disgraced by Gwen Florio, correspondent Lola Wicks  and her young daughter experience the ugly side of war when its disastrous effects hit too close to home.

Reservations
Reservations by Gwen Florio sends reporter Lola Wicks on a trip that sets a new standard for vacations from hell.