Under The Shadows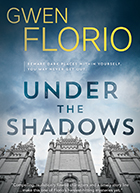 By Gwen Florio
Publication Date: March 8, 2018
Publisher: Midnight Ink
Price: $15.99
Pages: 360
Format: Paperback/Kindle
ISBN-10: 0738750530
ISBN-13: 978-0738750538
Buy Now: IndieBound, Amazon, BN
Description
Lola Wicks is in bad shape. A family tragedy has nearly flattened her in a way that her years reporting from war zones never did. Her friends, alarmed by signs that Lola is in the grip of a destructive addiction, hope that a freelance assignment will get her back on her feet. The threat of having her child removed persuades Lola to head for Salt Lake City on a puff piece about overseas adoptions. But the story takes a dark turn when the teenager at the center of her story lands in jail facing a murder charge. Setting out to prove the youth's innocence takes Lola to her own dark place, and she's not sure if she'll ever be able to find her way back.
Book Excerpt
"Is this what I think it is?"
"What's this about?" Lola Wicks drove slowly, steering the truck with exaggerated caution around the sharp curves and steep dips mandated by the rolling prairie, the effects of the pill still clouding her consciousness,
Jan's fingers tattooed the dash. Her foot jammed the floorboards. She, like every other Montana native Lola knew, drove flat-out, passing on curves and damn the road conditions. On a normal day, Lola's driving made Jan crazy. She bit down on her braid, shot Lola a sidelong glance, and deigned not to answer.
Usually, Lola loved the drive to the reservation. On this day, her stomach churned under the twin assaults of the coffee's acidity and her anxiety over whatever Jan had in store. Lena's bungalow was a few miles beyond the reservation's main town. Lola slid down a little behind the wheel, trying not to notice the gantlet of curious faces as the truck rolled along the main drag. She could imagine the flurry of phone calls and texts that would follow the truck's passage. "She's here with that whitegirl friend of hers. That other girl looked some upset."
A few minutes later, Lola thought town might have been the easier ordeal.
"One, two, three ..." She counted the vehicles in front of Lena's bungalow. Among them, Josephine DeRoche's pickup, Angela Kills At Night's fourth-hand Subaru, and the Ford sedan, more rust than paint, still driven – and driven fast – by Alice Kicking Woman, who had to be at least ninety.
"Is this what I think it is?" Lola braked to a stop and turned off the engine. Jan hopped out and came around and opened the driver's side door. She grabbed Lola's forearm, pulling so hard that Lola almost fell from the truck.
"Welcome to your intervention."
Review
Florio's flawed, complex, compelling heroine faces challenges that are both gut-wrenchingly difficult and all too common today. Her determination to rise above them raises this convoluted tale far above the crowd. - (Starred review, Kirkus Reviews)
Praise for the Lola Wicks novels:
Reservations: Compelling, realistically flawed characters and a timely story line, especially in the wake of the protests at the Dakota Access Pipeline, make this one of Florio's hardest-hitting mysteries yet.Library Journal, starred review.
Disgraced: A gut-wrenching mystery/thriller that explores prejudice and the incredible stress on soldiers in a seemingly unending war with no clear goals. Kirkus Reviews.
Dakota: Florio succeeds with her second riveting Lola title (after Montana) ... the hard-nosed feminine perspective is refreshing. Library Journal, starred review.
Montana: Journalist Florio's outstanding first novel introduces foreign correspondent Lola Wicks ... Believable action complements razor-sharp observations of people and scenery. Publishers Weekly, starred review.