Dakota
About Dakota: finalist for the Silver Falchion Award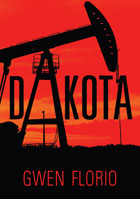 By Gwen Florio
Publication Date: March 21, 2014
Publisher: The Permanent Press
Price: $28
Pages: 272
Format: Hardcover
ISBN-10: 157962362X
ISBN-13: 978-1579623623
Buy Now: Amazon
Description
Former foreign correspondent Lola Wicks is getting a little bored in Magpie, Montana, where she landed at a small local newspaper after being downsized from her job in Kabul. Then Judith Calf Looking, a local Blackfeet girl missing for several months, turns up dead in a snowbank with a mysterious brand on her forearm. The sheriff – whose romantic relationship with Lola provides Magpie with its most delicious gossip in years – thinks Judith probably froze to death while hitch-hiking back to the reservation from wherever she'd been.
But Lola hears rumors that Judith had been working as an exotic dancer in the North Dakota oil fields, and further discovers that several Blackfeet girls, all known drug users, have gone missing over the past year. She heads out to the oil patch to check things out, only to find herself in a place where men outnumber women a hundred to one, the law looks the other way, and life – especially her own – is cheap.
Dakota shows the frightening underside of a boom-and-bust economy; of the effect on a small town when big-city money washes in, accompanied by hordes of men far from their families; of what happens when the old rules no longer apply, but the new ones are yet to be determined.
Charlie ran a gloved finger over the tilted heart shape on Judith's forearm. The lines were raised and brown and shiny. "It's not a tattoo," he said. "It's a brand."
Book Excerpt
The dead girl in the snowbank could have been asleep, one hand curled beneath her cheek, hair feathered across the pillowy drift. Only the cruisers' blue-and-red lights, flashing across her face, disturbed her tranquility. Lola Wicks extracted a notebook from deep within her parka and edged into the circle of uniforms surrounding the body. "What's going on?" Nobody replied. Lola stepped between two tribal policemen. "Good God. It's Judith Calf Looking." One of the officers detached himself from the group. "What the hell are you doing here?" The tribal cops shifted their attention from the dead girl to a live face-off between sheriff and reporter. But for the difference in uniform, Charlie Laurendeau, the county's first Indian sheriff, could have been one of them, brown and broad, easy on his feet despite his heft. "Lola. I thought you weren't listening to the scanner anymore. Hasn't Jan handled all the crime stories ever since—" "Ever since you and I started sleeping together?" The tribal cops looked up. Lola could only imagine the laughter that would burst forth in the retelling. Charlie took Lola's arm and tugged her a few steps away. "For God's sake." "Jan's out on another story," she said. "The scanner only said something about a body. It didn't say anything about a crime. Is this suspicious?" Her breath caught and froze in the curls escaping her wool watch cap. Tiny icicles tinkled when she gave Charlie an encouraging nod. The sheriff was bareheaded, lips blueing in the subzero cold.The wind wrapped his uniform pants around his legs. Judith was long past feeling the cold. Which was good, Lola thought, as she studied the men's pants Judith wore, rolled into sloppy cuffs around bare feet stuck into cheap sneakers. "Stop fishing, Lola. She probably died of exposure. Maybe she was trying to hitchhike home from wherever she ran away to last year. It's a shame. She didn't have much farther to go." Charlie dropped his mittens into the snow, snapped blue latex disposable gloves over his hands, and stooped beside Judith's body. He hooked a fingertip in the sweatshirt's sleeve and drew it up to Judith's elbow. Checking to see if Judith had been using again, Lola thought. Charlie's breath caught. The tribal cops crowded close. Charlie ran a gloved finger over a tilted heart shape on Judith's forearm. The lines were raised and brown and shiny. "That is one messed-up tattoo," Lola said. "It's not a tattoo," Charlie said. "It's a brand.
Reviews
"Again, Florio chooses interesting settings for her action and infuses her story with plenty of atmosphere and character. Despite Lola s rash tendency to engage in risky behavior when acting as an amateur sleuth, the writing is top-notch, and the action builds at just the right pace. In Florio s capable hands, Lola Wicks is going to be around for a long, long time." –Kirkus
"Brash journalist Lola Wicks chose to stay in Montana, having fallen for the sheriff and gotten a job at the local paper. Now covering the local tribal beat, she is deeply troubled about the death of Judith, a Blackfeet girl found dead in the snow. Only by using a clever and dangerous ploy can Lola tip the case wide open and achieve some measure of justice. Florio succeeds with her second riveting Lola title (after Montana). The hard-nosed feminine perspective is refreshing. For fans of Lori Armstrong and Craig Johnson." –Library Journal, Starred Review
"This was a fascinating story, with characters that come alive on the page, as the author describes the locals and their living conditions. As the story unfolds, we discover how evil the people are behind the plot, and wonder how our society has become so sick. To make it more real for me, it took me back to when I spent seven winters in North Dakota on the Canadian border, with temperatures 45 below zero (chill factor dropping to near 100 below), white outs, 3-day blizzards, and the rules of surviving such conditions. The moisture in the automobile gas-lines freezing fifty miles from civilization. No oilfields in sight, but missile silos dotting the landscape everywhere. I loved this novel. It will keep you turning the page, and you will find Lola Wicks one tough-minded reporter." –Pulp Den
"Florio follows up her well-received debut (Montana, 2013) with another Badlands scoop for former foreign correspondent Lola Wicks. Lola is starting to feel the constraints of small-town life in Magpie, Montana. When a presumed runaway from the nearby Blackfoot reservation is found frozen in the snow, Lola's nose for a good story kicks in. Sheriff and love interest Charlie Laurendeau quickly reminds Lola that she can't write a story about a case he's investigating. After overhearing a man who had been working at a North Dakota oil field claim that the dead girl had been a prostitute at one of the oil field's "man camps," Lola decides to do a little undercover work. What she finds is a place where law is a thing unto itself, where men cycle in and out of the fields for three-week shifts with money in their pockets and room in their beds. When Lola gets too close to the truth about who is running girls from the reservation to this isolated place, she faces a fate not unlike those of the girls she's trying to rescue. A gripping read, sure to make readers restless for a third Lola Wicks mystery." –Karen Keefe, Booklist