BLOG
Jan. 23, 2018 – I've written before about liking to write to music. From the way-back machine, Nirvana Unplugged is a favorite. Even way-er back, Pink Floyd's Dark Side of the Moon. I listened to the Navajo Nation's KTNN while I was writing Reservations. Aimee Mann's The Forgotten Arm was the soundtrack to a book that (deservedly) never got published – I'll try not to hold that against her.
I also listen to music that inspires, and lately, Hamilton – pretty sure I'm the last person to jump on this particular bandwagon – fits the bill.
I can't listen to it while writing; it's too distracting. But it's great for gearing up to write, or for when I'm stuck. I just plug in the earbuds and go for a walk as Lin-Manuel Miranda as Alexander Hamilton declares, "I'm not throwing away my [beat] shot."
No, sir, I am not. I am going to march back to that laptop and pound out that novel.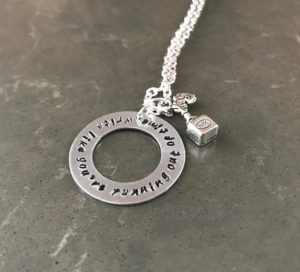 Another favorite: When Aaron Burr asks Hamilton, "Why do you write like you're running out of time? Write day and night like you're running out of time?"
Because writing is the most important thing?
Anyhow, because everything in the world lives on the internet, I found a necklace that there instructs me to "Write like you're running out of time."
Words to live, er, write by.
Jan. 17, 2018 – Because that's how things work these days. The pub date for Silent Hearts is still six interminable months out, but you can pre-order it from so many different places.
Incentive? Richard Fifield (The Flood Girls) calls it his favorite book of the year!
Here's where to click to find out more or pre-order: Indiebound, Goodreads, Barnes and Noble, Books-A-Million and Amazon.
I've had wonderful luck with the covers of my book, starting with Lon Kirschner's designs for my first two, one of which (Montana) was based on my beloved Rocky Mountain Front.
And then, Ellen Lawson's terrific  work on the next three, for Midnight Ink, which managed to capture both the beauty of the landscape and the ominous subject matter.
And now comes the cover for Silent Hearts, designed by Patti Ratchford at Simon & Schuster. All I can say is – wowza! It so perfectly captures what I hope to convey with the novel.
Dec. 16, 2017 – And just like that, Under the Shadows is done. I just emailed the really-truly-final tweaks to Midnight Ink copy editor Sandy Sullivan, who deserves to perch atop the highest pedestal in the land.

I never make a timeline. (Bad, bad writer.) Sandy always does – and then points out the necessary adjustments throughout the book. She reminds me that a character is drinking from a glass on one page, and sipping from a straw on the next. She points out that I've used the same distinctive word twice in two paragraphs.
Reading Sandy's notes damn near results in a trip to the ER because I smack my head so often. Why she doesn't address her emails to me as "Dear Idiot" is beyond me.
Copy editors, people. Worship them.
Dec. 10, 2017 – When I tell people I live in Montana, one of the first questions I get is: "Isn't it cold?"
That's my cue to spin tales of 20-below days, ferocious blizzards, vehicles that we plug in at night in hopes that they'll start in the morning.
All of those things are true – there's been at least one truly awful blizzard in my dozen years here – but what's also true is that I love winter. I look forward to the first snow with the eagerness of a child. I love the way it drapes the town in white, each flake catching the light and refracting it, the deep, soothing quiet.
So when the temperature finally dropped below freezing, and the air took on that bright, clean tang, I got psyched – dragging boots up from the basement, loading up the urn on the porch with our assortment of Yaktrax designed to deal with every level of ice, and assembling a lineup of gloves, mittens, hats and scarves by the front door.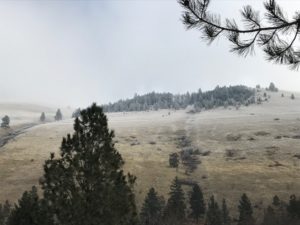 Then I waited.
And waited. And waited.
Only to hear the worst possible news – that Missoula is in the grip of one of its infamous inversions, a thick layer of cloud that traps miserably cold air beneath it without a flake of snow to make it bearable. As one leaden day follows another, the trapped air grows murkier and people get crankier. The only change in the long-term forecasts involves the grim possibility of freezing rain. Bah, humbug.
Yesterday, though, brought a flash of hope. Just for a little while, the clouds parted – not enough to allow the relief of a truly sunny day, but at least giving up a glimpse of barely remembered blue sky.
All I could think of was that line from the Leonard Cohen song – "There's a crack, a crack, in everything. That's how the light gets in."
It was only a little light. But I'll take it.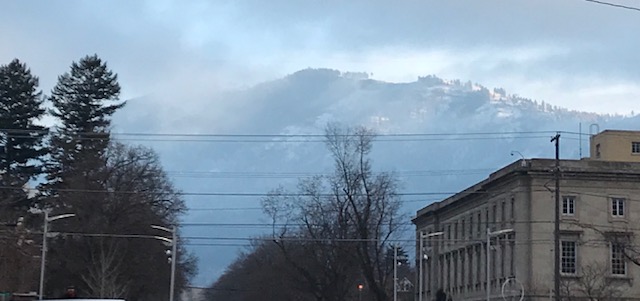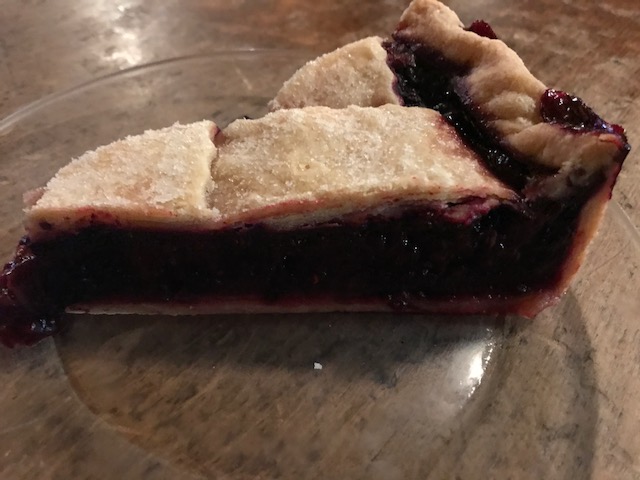 Nov. 21, 2017 – It's Thanksgiving week, and we all know what that means.
Pie!
Oh, and being thankful for all of our blessings. Like pie!
But I'm doubly thankful this year because, after months of possibilities and rejection, my standalone novel finally has a title.
Drum roll … Silent Hearts. You can read about it here. But you can't see the cover yet. Maybe that'll be next month's surprise.
Hoping y'all have the best of Thanksgivings, filled with lots of you-know-what.
Boyohboy, have I ever been a sad, self-pitying sack these last few days. I spent our too-brief fall – the reward after our choking summer of smoke – mostly indoors, slogging toward a book deadline, my chair turned away from glory mocking me from the window. Then, literally the day I sent off the ms., the weather turned.
Snow would've been fine, but this was freezing rain and a vicious wind that tore the last of the golden leaves from the trees. Just miserable. And then I got sick, spending damn near twenty-four hours in bed with a headache so crushing I could neither read nor watch TV nor sleep. Misery squared.
The headache finally eased, I finally slept, and when I awoke, the wind had stopped, the rain had turned to snow, and the world had gone magical. I know that by February I'll be sick of it, but the first snow is always a treat. Right now, it's drifting down again. The dog is at her perch by the window, watching it fall. Soup is simmering on the stove. The sweetie is parked in front of a football game, and I've just clicked open the ms. for Book Seven. Life is just about as good as it gets.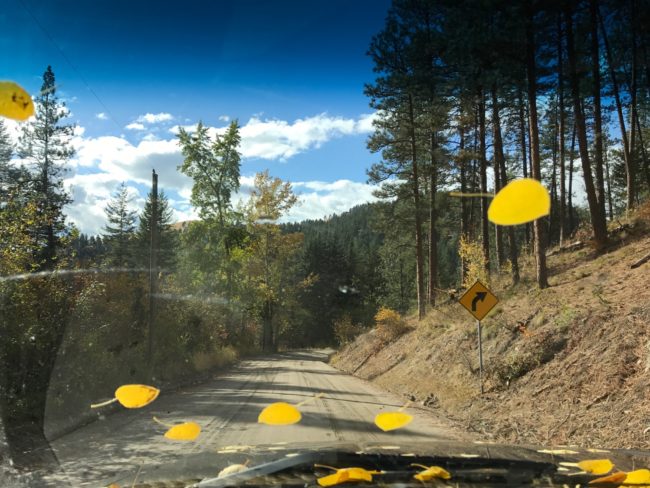 Oct. 9, 2017 – This has been a crazy time on the writing front. Second round of edits on the standalone, copy edits looming on the fifth Lola Wicks novel, prep for the panels at Bouchercon—Jesus Christ, that's three days from now—and oh, yeah, the day job.
So what did I do yesterday? Closed the laptop, called the dog, and headed out the door.
The idea was to take a quick walk around the 'hood to clear my head, but my truck keys ended up in my hand on the way out and Nell and I headed for higher ground, the nearby Woods Gulch.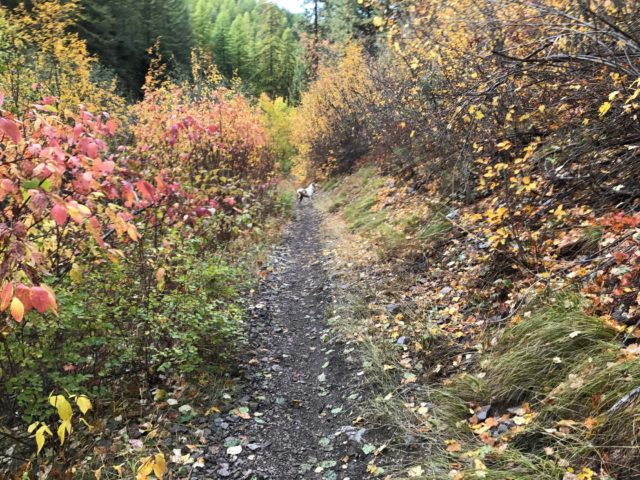 A few steps in, and the knot between my shoulders dissolved. No more drumbeat of "do this, do this, do this" for all the tasks facing me. Instead, I inhaled the scent of wet earth and leaves and pine needles. Laughed when the dog cavorted in a mudhole, leaving the entire lower half of her body black and dripping.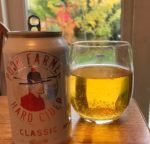 Sometimes it rained, sometimes the sun flashed through the trees, and the aspen lit up like golden lamps. I spent an hour rather than the 15 minutes I planned, and kept the good mood going when I got home by rewarding myself with a treat from our excellent local cidery. Eventually, I went back to the keyboard, and got a whole bunch of work done in a little bit of time. But the time away—that was a really good time.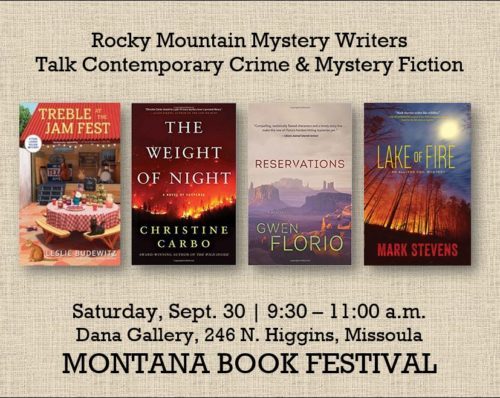 Sept. 17, 2017 – Holy cow, things got busy all of a sudden.
I'm still recovering from last weekend's most excellent Rocky Mountain Fiction Writers Colorado Gold Conference.
Next weekend launches the tour for Montana Noir, one of the most fun projects I've ever worked on. Check out the full tour schedule.
The Noir Tour morphs into the Montana Book Festival, where in addition to Noir-related events, I'll also be on a panel featuring fellow Rocky Mountain crime writers Leslie Budewitz, Mark Stevens and Christine Carbo.
Then, after the shortest of breaks, it's off to Toronto for Bouchercon, the huge mystery book convention where I'll moderate one panel and be on another.
All the deets are on the events page. Pretty sure times like this are why the phrase "writing around the margins" was invented. That said, I've snagged "my" table (in the back, by bakery – nom!) at Break Espresso, latte'd up, and am settling in for a long and happy day at the WIP and various other projects that have nada to do with the day job. Hope to see you at one or another of these events.
The general rule for writers is that when someone criticizes your work, suck it up, Buttercup. After all, everyone's taste is different. Every so often, though, you get a knock that's almost humorous.
This past weekend, I was at the Rocky Mountain Fiction Writers' annual Colorado Gold conference. (If you're in the West and write fiction, check 'em out. Amazing group.)
One night featured a book signing by several of us, lined up at long tables with our books, all of us casting sidelong glances at the around-the-room line of people waiting to get their books signed by Diana Freaking Gabaldon, who is possibly one of the smartest – and also the funniest – people on earth.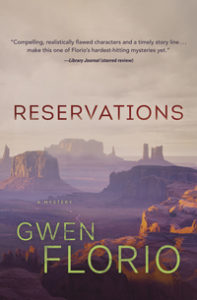 Finally, a lone straggler wandered up to my spot on the table, picked up my fourth book, Reservations, started to read, and immediately laughed.
I knew why she was laughing. If I say so myself, that book's opening is kickass.
I preened. "The first sentence, right?"
She nodded. Already basking in anticipated praise, I picked up my pen and prepared to write something witty and generous when I signed her copy.
"I guess you have no control over what your editors do to your work, right?"
And with that, she put the book down and wandered away.
I laughed at myself for a long time. But you know what? I'll be forever grateful to my editor for not touching that sentence. Here it is:
The day that would see Ben Yazzie transformed into shreds of flesh in too many evidence bags began with a rare strong and satisfying piss. 
Kickass.
---