BLOG
April 24, 2017 – And now, my favorite part of writing – editing.
Because 99 percent of the time, writing is just a slog. Every so often you get that paragraph that works from the get-go – at which point, you stop and sacrifice a small helpless animal to the writing gods. But now the slog is over. The first (okay, zillionth) draft is done, and now I get to make it better. Much more to the point, I'm no longer working alone.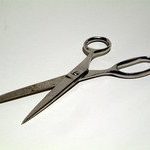 This week, I got the proposed revisions for the WIP from my editor, in the form of five single-spaced pages of conceptual edits, and the ms. with line edits. Many, many line edits. I hear enough complaining about editors that I guess some people don't like this part. Me, I love it. It's as though someone just handed me a road map that shows a very clear path to a better book.
That path involves cutting through a lot of underbrush of passive voice, confusing passages, inadequate scenes, etc. Some of that will involve an ax. Some, scissors. By the time I send it back to the editor, I hope to be wielding only a scalpel. Hear that faint screaming? It's the summary execution of darlings. Good riddance, I say.
April 17, 2017 – OK, this writer needs vacation.
I know, I know. We're supposed to write every day. For an example of why that's a good thing, one need look no farther than James Lee Burke, with his two Edgar Awards, thirty-some novels, and named a Grand Master by the Mystery Writers of America. He frequently reads in Missoula, and each time he mentions writing every day, I slide down a little in my seat.
So, yeah. I went on vacation; headed to Yellowstone with the sweetie and my daughter and my son and his family. Woo hoo! No day job and no writing for a whole week!
I last three days. Then, I sneaked down the lodge, broke out the iPad, and whacked away at the WIP for awhile, feeling much better when I re-emerged into the world of leisure. What can I say? It's a sickness, maybe; a compulsion for sure.
Today, it's back to the day job, and some more writing, too. (Although, much of the weekend was devoted to the latter.)
So – not every day for this writer. But most days for sure.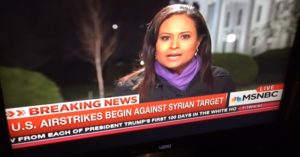 April 6, 2017 – A non-writing post tonight, brought on by the U.S. airstrikes on Syria in response to the gas attack against civilians by the Assad regime. Watching the reports brought me back fourteen years ago almost to the month, when my newspaper sent me off to Israel, reasoning that if the United States attacked Iraq, Saddam Hussein might in turn launch strikes against Israel.
My job was to sit in Tel Aviv and wait for missiles to hit, trusting that they wouldn't land on, you know, me. In retrospect, it looks crazy to me, too.
Nevertheless, I packed up my flak jacket, helmet, gas mask and protective suit – after two years of post-9/11 coverage in various conflict zones, I'd acquired all of those things – and moved up my flight by a day because a blizzard was bearing down on Denver, threatening massive flight cancellations.
The storm ensured I didn't miss the war. If memory serves, my editor called just a few hours after I'd landed to tell me that the war had started. It was somewhere around 4 a.m. I rushed out into the streets and saw — nothing.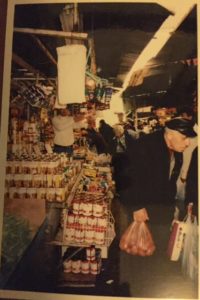 No missiles arcing toward me. No sirens. No people dashing about in a panic. No people at all, in fact; just dark, deserted streets without a soul to interview for the story my editor was expecting. In Denver, after all, the clock was ticking toward deadline and the editors – their lives complicated a blizzard of historic proportions in addition to the small matter of war – were tense.
I finally wandered over to a market where, thank heavens, vendors were setting up their vegetable stalls. Here's what I remember: a tiny black-and-white TV flickering in one of the stalls. An old movie. "What are you watching?" I asked the vendor.
"The Thief of Baghdad.
It made a nice detail for the story I eventually managed to cobble together about from shreds of nearly nothing, a key skill.
If I remember correctly, Iraq never did lob missiles at Israel. I'd go back to that market later (see photo) for my shopping, and later still, long after I'd returned home, would learn it had been hit by a suicide bomber, killing three people.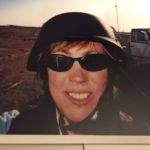 My editors had a low tolerance for stories about nothing, so off I went to Iraq, where I had occasion to don the helmet and flak jacket, but never, Al-ḥamdu lillāh, the gas mask or protective suit. But that's a story for another day.
March 29, 2017 – One good reason to put a manuscript aside for awhile is the way all of its annoying errors leap out at you when seen with fresh eyes. Typos, for instance. (On the first page? Really? Banging head against wall.) And inconsistencies.
For instance, one page references the black smoke pouring from the World Trade Center on 9/11; a few pages later, the smoke is white. (More head-banging. Ow.)
This set me, at an ungodly early hour, to watching videos of that day. The good thing is that both references were right – the smoke was black immediately after the planes hit, but boiled up in huge white clouds when the towers collapsed – making it easy to tweak the sentences into correct submission.
The bad thing? Reliving that day, the sense that our whole world was changing. And now, knowing that sense was right. Dammit all, anyhow.
March 28, 2017 – Devoted a three-day weekend to doing my taxes and cleaning my desk. Not sure which task was more onerous, although I eased the pain of the latter by listening to the spectacular audiobook version of "Lincoln in the Bardo" as I dug through the piles of paper to bare wood.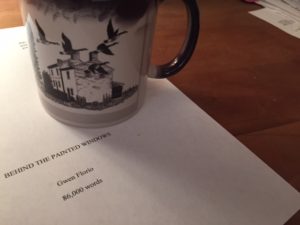 Why the flurry of activity? Because new book is due June 15, which in book world is basically tomorrow. But, having dispensed with taxes, desk cleaning and some other time-consuming tasks, I'm ready! Having spent much of the last five years writing books set in the American West, it's both strange and wonderful to re-immerse myself in Afghanistan. Already wishing for some lamb qorma, and some naan, fragrant and fresh and from being peeled from the side of the tandoor. But for now, it's coffee, coffee, coffee in my favorite mug as the revisions begin.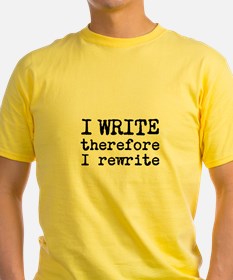 March 19, 2017 – The most amazing thing has happened. A novel that I've worked on off and on ever since traveling to Afghanistan in 2001 and 2002 has finally sold. The first version was (rightfully) rejected all over the place. I rewrote it, collected more rejections, and almost by accident turned to writing crime fiction, which did sell. Those novels had another, perhaps more valuable, quality – they taught me how to write: how to plot, how to develop characters, how to structure and pace a novel. After writing three of them, I took advantage of a monthlong residency last year in Mexico (thanks, 360 Xochi Quetzal!) and took one last whack at what I've long called "the Afghanistan book," overhauling it completely, in essence writing an entirely different novel. As the above shows, the new approach was worth it. And the whole process underscores the old saying that all writing is rewriting. Amen.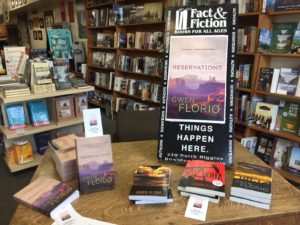 March 15, 2017 – Reservations, which hit bookstore shelves a little more than a week ago, gets its first reading tonight, always a high-anxiety act. At least, it always starts off that way.
I'm like a lot of writers – my happy place is alone in a room with my keyboard and my characters. Then, sooner than I'm ever ready, the book is out and demanding its time in the sun, meaning that I'm going to have to stand up in front of people – real people – and talk. Shades of junior high terror.
But I suspect that, despite the inevitable jitters, when I read tonight at Fact and Fiction, I'll realize as I always do that it's really fun to talk with people about writing and reading. More than fun – it's gratifying to live in a state with so many flourishing independent bookstores, and to see how much people care about books. So, deep breath. Here goes.
Oh, and I'm adding more readings all the time to my events page. Check it out!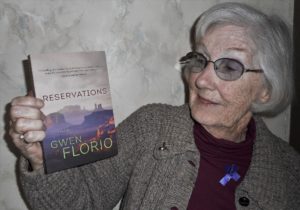 March 8, 2017 – My fourth book, RESERVATIONS (Midnight Ink; displayed here by my adorable, ACLU-ribbon-wearing mom) came out a little early, but today is its official pub date.
How cool that it's International Women's Day – and that I'm in North Dakota as part of Dickinson State University's Women's Voices program.
Some days, it all comes together. My heart is full.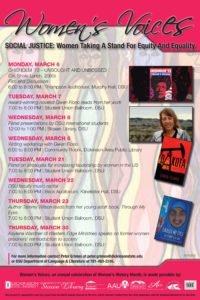 March 2, 2017 – Getting excited/nervous about next week's events at Dickinson State University in North Dakota. Each year during March – Women's History Month – Dickinson State features a Women's Voices program. This year's theme is Social Justice: Women Taking a Stand for Equity and Equality, a cause near and dear to my heart, so I was thrilled to be asked to participate.
Among many things, the program features my second novel, Dakota, set in North Dakota's oil patch and with a decidedly feminist bent. As the Missoula Independent said in its review: "In a patriarchal world, women can either work against each other for perceived gain, or band together to lend a sister a hand." Yes, indeed.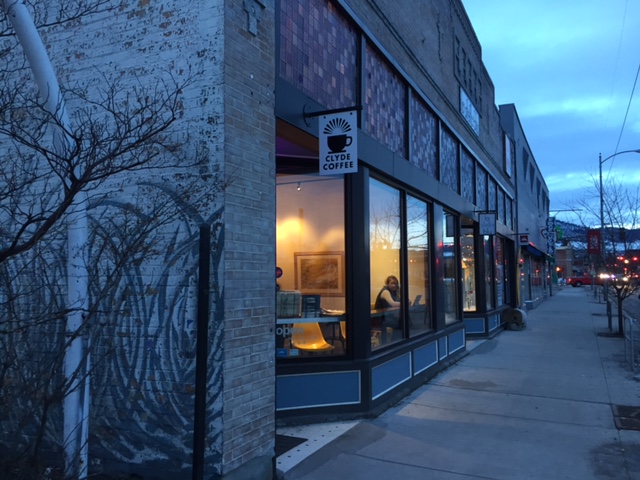 Feb. 24, 2017 – It occurred to me, as I don a spring coat for a 30-degree day with snow in the forecast, that I'm projecting like mad with Book 6. It's set in that delicious edge between spring and summer, when the wind finally loses its sharp edge and turns soft and caressing, when the sun warms instead of mocks. February, especially in Montana, is way too early to think about spring. And yet, as the ice slowly recedes from the streets, as bare patches of earth appear, all of us here are acting as though daffodils are about to sprout at any moment. The most hopeful sign? It's no longer full dark when I hit the coffee shop at 7 a.m. That alone makes the heart sing.
---