BLOG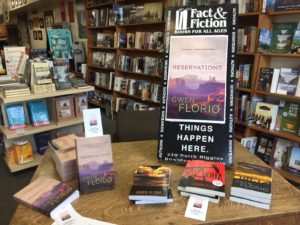 March 15, 2017 – Reservations, which hit bookstore shelves a little more than a week ago, gets its first reading tonight, always a high-anxiety act. At least, it always starts off that way.
I'm like a lot of writers – my happy place is alone in a room with my keyboard and my characters. Then, sooner than I'm ever ready, the book is out and demanding its time in the sun, meaning that I'm going to have to stand up in front of people – real people – and talk. Shades of junior high terror.
But I suspect that, despite the inevitable jitters, when I read tonight at Fact and Fiction, I'll realize as I always do that it's really fun to talk with people about writing and reading. More than fun – it's gratifying to live in a state with so many flourishing independent bookstores, and to see how much people care about books. So, deep breath. Here goes.
Oh, and I'm adding more readings all the time to my events page. Check it out!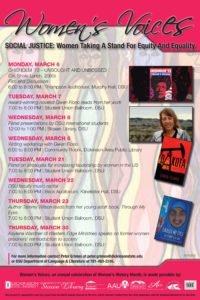 March 2, 2017 – Getting excited/nervous about next week's events at Dickinson State University in North Dakota. Each year during March – Women's History Month – Dickinson State features a Women's Voices program. This year's theme is Social Justice: Women Taking a Stand for Equity and Equality, a cause near and dear to my heart, so I was thrilled to be asked to participate.
Among many things, the program features my second novel, Dakota, set in North Dakota's oil patch and with a decidedly feminist bent. As the Missoula Independent said in its review: "In a patriarchal world, women can either work against each other for perceived gain, or band together to lend a sister a hand." Yes, indeed.
All (well, many, many, many) authors say this: Readings are pull-your-fingernails-out-with-pliers ordeals. I myself may have said this once or a thousand times.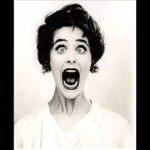 We are supposed to sensitive introverts, we writers, reveling in the fact that our job involves sitting in a little room all by ourselves for hours on end. It's our happy place. You know what's not our happy place? Out There.
Out There, we can't be our awkward, tongue-tied selves. We have to have actual conversations. Wear presentable clothes. We have to comb our hair, for God's sake. Oh, the torture.
That's true, a little bit. But you know what? A lot more, it's crap.
That was brought home to me last night when, after many months without any public appearances (by the time my next book, Disgraced, comes out in March, it will have been two years between books), I was invited to give a reading in Seeley Lake, Montana. The town, about an hour north of my home, is famous mostly because A River Runs Through It author Norman Maclean's family has a cabin there. There's good writer karma in Seeley Lake.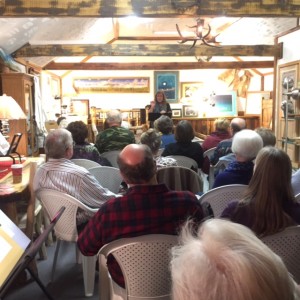 Just how good, I found out last night when – on a bluebird Saturday, when anyone with any sense would have been playing on the lake – people packed Grizzly Claw Trading Co. for the reading sponsored by Alpine Artisans Inc.
It wasn't torture. It was terrific. We talked about books and writing, and ate homemade treats and drank wine. I got a ton of new recommendations for books to read. When I think back, that's pretty much been my experience at every reading. Which underscores the following: It's an unbelievable privilege to talk with folks who are part of a community of knowledgeable and enthusiastic readers.
So here's my vow to stop whining about having to come out my cave and stand up in front of people and talk. Because it's not a performance. It's a conversation, and a wonderfully rich one at that. It was great to have last night's reminder.
The other night I went to a reading by Missoula author David Allan Cates, who was launching his new novel, his fifth, Tom Connor's Gift, due out Oct. 15.
It was a lovely, warm  evening with lots of things going on around Missoula, but Cates packed the house at Shakespeare and Company. The crowd included fellow authors Pete Fromm (whose own new novel, If Not For This, was published last month), Peter Stark (Astoria: John Jacob Astor and Thomas Jefferson's Lost Pacific Empire) and Victoria Jenkins (An Unattended Death), among others. In Cates' remarks after the reading, people around the room nodded as he made much of the benefits of living in a community with such strong support for writers. Truly, sometimes I pinch myself in wonder at having landed in such a writerly place.
There is, of course, the University of Montana's vaunted creative writing program. I've taken Cates' novel-writing class at 406 Writers Workshop, a group that also holds sessions in short fiction, memoir, poetry, screenwriting and creative nonfiction. The booksellers here are wonderfully supportive of local authors. And the annual Humanities Montana Festival of the Book (Oct. 9-11 this year) packs venues around town.
More than anything, I've found the authors here to be unstintingly generous with newbies like me in terms of advice and mentoring. I've heard horror stories about the cutthroat competition in other paces and writing programs. I'm so glad I'm here instead.
It's been an emotionally rewarding week on the book front.
As part of a family reunion week in Delaware, I did a reading in Smyrna, the town where I grew up and went to school. But not just any run-of-the-mill reading. It was held in the Smyrna Opera House, a historic building that had fallen on hard times when I was a child. Its first floor housed the police station and library, and the second floor—home to the theater—was in disrepair. Smyrna residents rallied in recent years, raising millions of dollars to restore the building—which in its heyday hosted speeches by Frederick Douglass and William Jennings Bryant—to its former glory. I got chills standing on the same stage.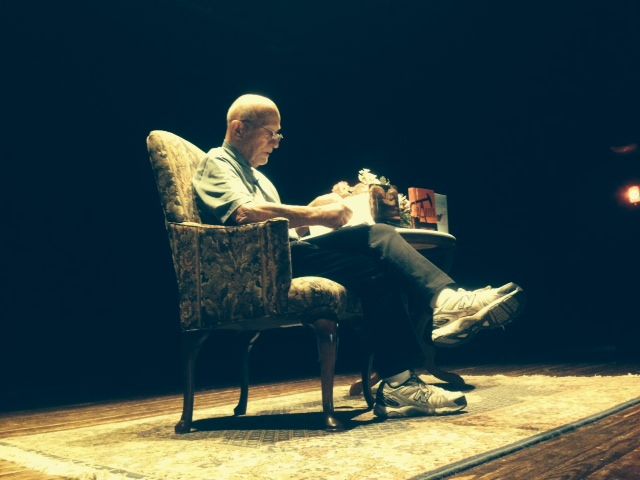 But the highlight was the fact that the reading was a joint production with my father, Tony Florio, a wildlife biologist. Earlier in the day, the state of Delaware named the wildlife refuge where we grew up in his honor. It's now the Tony Florio Woodland Beach Wildlife Area. That evening, Dad read from his book Progger: A Life on the Marsh, an account of his years at the refuge, and I read excerpts from Montana and Wyoming, to an audience comprising former classmates and teachers and lifelong friends.
Afterward, Dad and I signed the wall in the opera house's sound studio, adding our notes to everyone else who's performed there since the restoration. It took me about a day to come down from the clouds. So grateful to everyone who made it possible.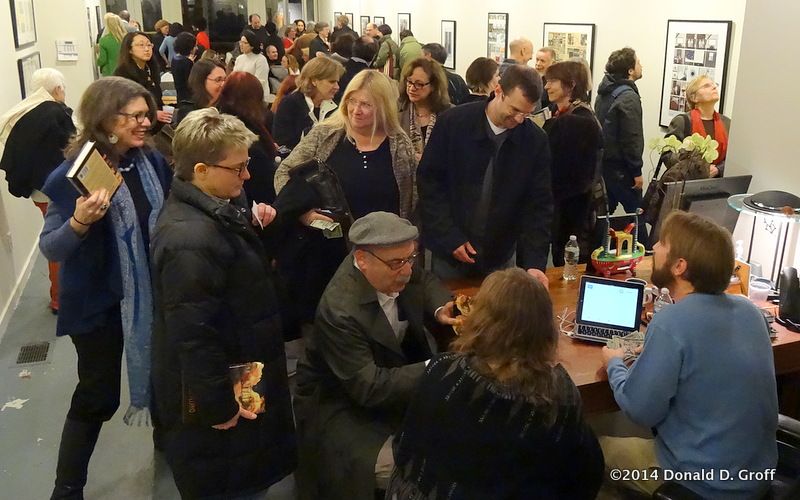 Before my first novel was published, I loved going to book signings. Actually, I still do, but with a whole new appreciation for the authors who do them, appreciation that increases as I set out on a new round of signings for Dakota (schedule, here).

Signings are mostly great fun. You get to read from your book, tactfully skipping the parts you wish you'd changed before the damn thing went into print.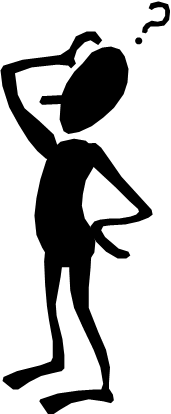 You get to answer questions, thereby opening yourself to that awkward moment when your mind goes blank. Case in point: At a reading in Philadelphia earlier this year, someone asked me to share my favorite women mystery authors. I have some. Many, in fact. But could I remember a single one at that moment? Nope. I stuttered and stammered and generally looked like an illiterate idiot.
And you get to see old friends. That part is especially fun, and gets more fun the longer it's been since you've seen them. These lovely people with their lovely familiar faces—but not quite familiar enough—approach and ask you to sign your book. (Luckily, I can name all of the people around me in Don Groff's photo, above, from the Philadelphia reading.) My fallback—"Who would you like me to make this out to?"—never, ever works. Because inevitably the answer is, "Oh, just make it out to us." Which forces me to confess that my brain has yet again gone to mush. I've learned to scan the audience ahead of time and, if I see too many not-familiar-enough faces, admit to this shortcoming ahead of time, which has resulted in relatives loudly announcing their names to me. Serves me right. 
That said, it's a privilege to do these events and I hope those who attend feel as though they've gotten good value despite my stumbles. Besides, I've figured out a way to turn the tables—now I ask people to recommend mystery authors to me. My reading list has increased exponentially, and my blank-brain-moments decreased accordingly. Whew.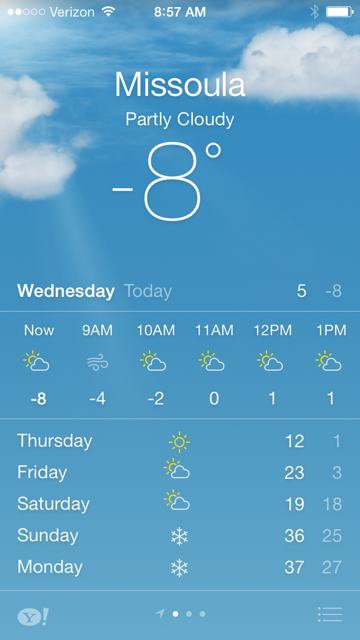 Because when it's cold, you don't want to go outside. All of the lovely temptations that beckon you away from your laptop (or whatever your preferred writing instrument) recede. Writing—warm and cozy writing—suddenly seems like a great way to spend the day. During this recent cold snap, I've been unusually productive, almost enough to make me wish it would stay this cold all the time. I'll get over that. But it's been a great time to play catch-up after another few days on the road, this time for readings in Billings and Livingston.
In Billings, I read at the new Billings Public Library. The next time you're in town, you owe it to yourself to stop there. It's a veritable palace of books (and computers and electronics and study rooms and some pretty fine art, too). Don't take my word for it. The Billings Gazette did a fine video tour.
The Gazette reports such heavy library use in its first couple of weeks that readers actually picked the shelves bare. Billings also is the home of the very fine YMCA Writer's Voice program, which sponsored my reading there, and also runs programs such as The Big Read (this year featuring Charles Portis' True Grit, which I personally would term a Helluva Big Read).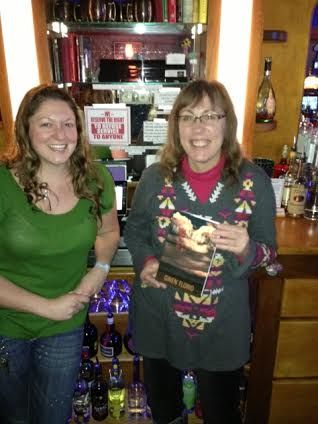 From Billings, we went to Livingston for a reading at Elk River Books, a store that's the best excuse to pull off I-90 and spend some time in Livingston. The biggest thrill of all? A copy of Montana now resides on the bookshelf in the world-famous Owl Lounge (the best excuse to stay off the road awhile), hanging out with books by Jim Harrison and Carl Hiaasen. Guess where I'm drinking next time I'm in town? But no drinking for me now, or at least nothing stronger than cup after cup of hot cocoa or tea or coffee. I need to make the most of this cold weather while it lasts. 
I felt very much the latter during our trip East during the last couple of weeks. It was a whirlwind mixture of family time and business, the latter unusually rewarding (and the former pretty great, too.) For starters, after nearly six years of representation, I finally got to meet my agent, Barbara Braun, and her husband and associate, John Baker, in person. We met in a diner off Union Square in Manhattan and, despite my ability to get lost in my own backyard, I managed to get there just fine on the subway in time to enjoy a long conversation about writing and publishing.
Then we headed to Philadelphia, where for years I was lucky enough to be an on-and-off member of the legendary Rittenhouse Writers' Group headed by James Rahn, author of Bloodnight. RWG graciously hosted a Montana reading and book signing at Michael Lieberman's Hooloon Art gallery. During the Q-and-A afterward, a childhood neighbor from Delaware brought out the fact that Montana protagonist Lola Wicks takes her last name from the owners of a potato farm near our respective homes, and I also outed another friend of mine as the person upon whom the character of Lola's feisty, funny best friend, Mary Alice, is based. (Sorry about killing her off, Joanne!)
So it begins, this business of sponging off – I mean, visiting – friends in towns where readings and book-signings for Montana are scheduled. Thanks to Lynn and Beth Kaeding in Bozeman, and artist Cathy Weber in Dillon for providing shelter, sustenance and wonderful conversation last week. 
We went first to the Country Bookshelf in Bozeman. Friend Patrick Duganz drove through a nasty snowstorm, arriving just in time to introduce me. Pat's a funny guy and got way more laughs than I did. 
I also began following the excellent example set by Billings author Craig Lancaster (600 Hours of Edward, Edward Adrift), who buys a book at each store where he reads. Here's what I picked up at Country Bookshelf: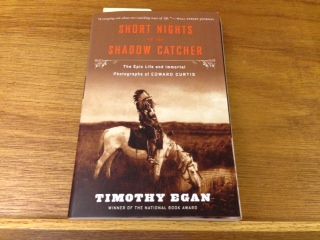 From Bozeman, we drove southwest to Dillon on a sparkling cold and clear day. The snow vanished just outside Bozeman, the roads were clear, and we indulged in comfort food – grilled cheese and tomato soup – in Twin Bridges, while heroically forgoing pie. Boo to moderation.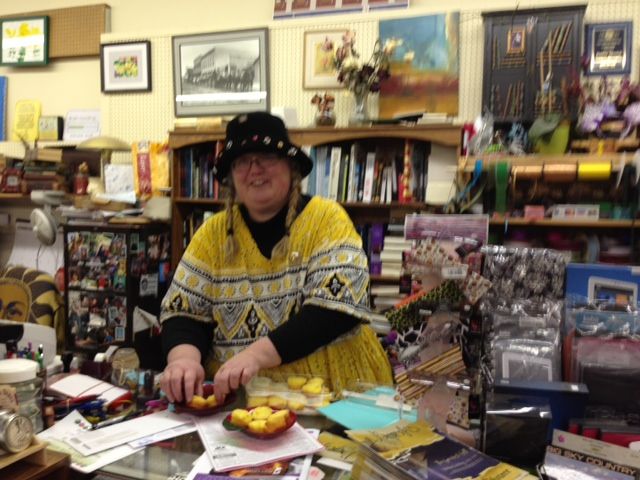 People hereabouts generally associate Dillon with its Patagonia outlet (and yes, I got a screaming deal on a down coat), but book lovers know it for The Bookstore, and the treat that's involved in shopping there and chatting with owner Debbie Sporich, whose taste in hats is as eclectic as the offerings on her shelves. I was thoroughly charmed by the young ranch hand who pronounced himself delighted with the discovery of a book of classic fairy tales on the sale shelf for a mere $1. 
Here's what came home with me from The Bookstore shelves.
 We crept out of town early the next morning as the sun was rising over Cathy Weber's gate, topped by some of her signature ceramic birds.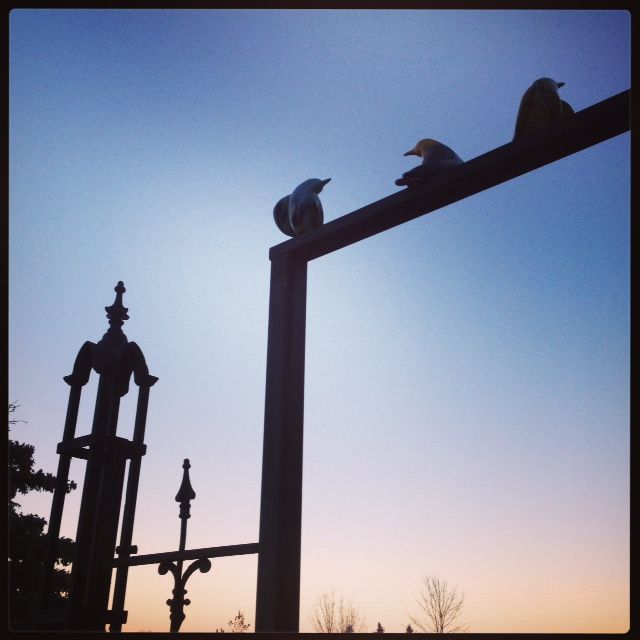 All in all, a fine trip. Now, back to Missoula for the Indies First weekend at Fact and Fiction (Nov. 30 and Dec. 1). Then, on to Jefferson County and the Boulder Community Library on Dec. 3 (and pleaseohplease a dip in the Boulder Hot Springs); the Lewis and Clark Public Library in Helena on Dec. 4, and back to Missoula for a reading and book signing at Shakespeare and Co. on Dec. 7. Check the News & Events page on my website for times and street addresses. 
Hope to see you at one of those!
---