Some Sentences, March 2017 – Next week in North Dakota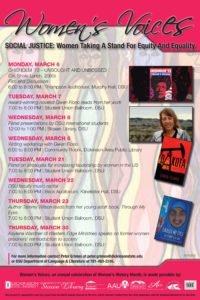 March 2, 2017 – Getting excited/nervous about next week's events at Dickinson State University in North Dakota. Each year during March – Women's History Month – Dickinson State features a Women's Voices program. This year's theme is Social Justice: Women Taking a Stand for Equity and Equality, a cause near and dear to my heart, so I was thrilled to be asked to participate.
Among many things, the program features my second novel, Dakota, set in North Dakota's oil patch and with a decidedly feminist bent. As the Missoula Independent said in its review: "In a patriarchal world, women can either work against each other for perceived gain, or band together to lend a sister a hand." Yes, indeed.
---