Some Sentences, March 15 – Let the readings begin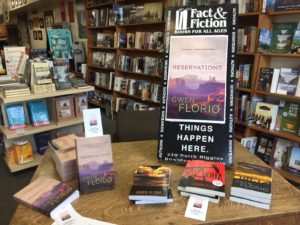 March 15, 2017 – Reservations, which hit bookstore shelves a little more than a week ago, gets its first reading tonight, always a high-anxiety act. At least, it always starts off that way.
I'm like a lot of writers – my happy place is alone in a room with my keyboard and my characters. Then, sooner than I'm ever ready, the book is out and demanding its time in the sun, meaning that I'm going to have to stand up in front of people – real people – and talk. Shades of junior high terror.
But I suspect that, despite the inevitable jitters, when I read tonight at Fact and Fiction, I'll realize as I always do that it's really fun to talk with people about writing and reading. More than fun – it's gratifying to live in a state with so many flourishing independent bookstores, and to see how much people care about books. So, deep breath. Here goes.
Oh, and I'm adding more readings all the time to my events page. Check it out!
---