BLOG
I was bowled over to see both DISGRACED and RESERVATIONS on the Popular Culture Association/American Culture Association's summer reading list for mystery and detective fiction.
Of DISGRACED: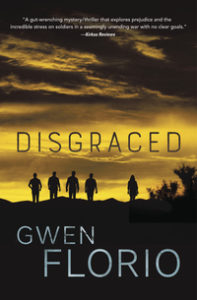 Disgraced contains much of the same timely social and political commentary as the earlier volumes in the series. Sexism and racism and their corrosive effects on both the victims and the perpetrators receive the principal focus, this time raising important questions about the cost of harassment for soldiers risking their lives to defend their country and for the civilians back home who care about them …. (Lola) may be home from the battlefields of Afghanistan, where she spent years as an international correspondent, but she continues to explore—and expose—crimes against women and minorities throughout the West.
And, of RESERVATIONS: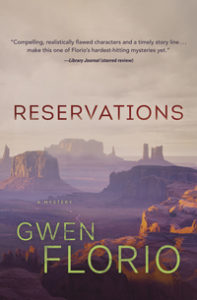 Reservations begins with one of the best opening lines I've read in a long time: "The day that would see Ben Yazzie transformed into shreds of flesh in too many evidence bags began with a rare strong and satisfying piss"…
Reservations offers all the usual Florio pleasures: lyric descriptions of the land and the people who inhabit it; cultural commentary on Native American communities, traditions, and history; Native American vs. white conflicts, both historical and contemporary; sharp critiques of big business and its effects on the well-being of those it impacts; a strong social justice approach that rivals that of Sara Paretsky in force and potency; and a solid, fair-play mystery. All four books in the series are excellent, and they keep getting better.
All I can say is … wow. Better than ice cream and strawberry shortcake on the Fourth of July.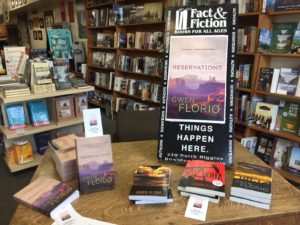 March 15, 2017 – Reservations, which hit bookstore shelves a little more than a week ago, gets its first reading tonight, always a high-anxiety act. At least, it always starts off that way.
I'm like a lot of writers – my happy place is alone in a room with my keyboard and my characters. Then, sooner than I'm ever ready, the book is out and demanding its time in the sun, meaning that I'm going to have to stand up in front of people – real people – and talk. Shades of junior high terror.
But I suspect that, despite the inevitable jitters, when I read tonight at Fact and Fiction, I'll realize as I always do that it's really fun to talk with people about writing and reading. More than fun – it's gratifying to live in a state with so many flourishing independent bookstores, and to see how much people care about books. So, deep breath. Here goes.
Oh, and I'm adding more readings all the time to my events page. Check it out!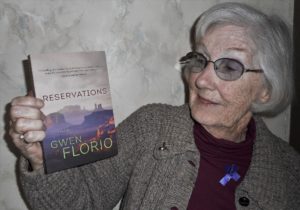 March 8, 2017 – My fourth book, RESERVATIONS (Midnight Ink; displayed here by my adorable, ACLU-ribbon-wearing mom) came out a little early, but today is its official pub date.
How cool that it's International Women's Day – and that I'm in North Dakota as part of Dickinson State University's Women's Voices program.
Some days, it all comes together. My heart is full.
Dec. 19, 2016 – First review for 'Reservations' is a good one!
"Florio (Disgraced, 2016, etc.) captures the culture and poverty on reservations still suffering from greed and mismanagement in a ripped-from-the-headlines story with a shocking ending." Kirkus Reviews
Dec. 14, one day to deadline – Which means one day to kick back, because this morning, I emailed the really, truly final fixes to Reservations to the production editor, and the manuscript of Book 5 to my editor. Pretty sure that at some point, this day will involve pie.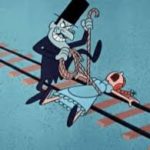 Deadline convergence! Proofs due on a short story for an anthology. Post due for International Thriller Writers' Thrill Begins site. Proofs for Book 4, RESERVATIONS, to land in my inbox tomorrow. And, in the Day Job, the election locomotive is bearing down. So long, sleep.
---