BLOG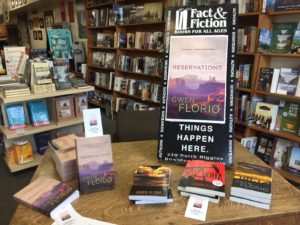 March 15, 2017 – Reservations, which hit bookstore shelves a little more than a week ago, gets its first reading tonight, always a high-anxiety act. At least, it always starts off that way.
I'm like a lot of writers – my happy place is alone in a room with my keyboard and my characters. Then, sooner than I'm ever ready, the book is out and demanding its time in the sun, meaning that I'm going to have to stand up in front of people – real people – and talk. Shades of junior high terror.
But I suspect that, despite the inevitable jitters, when I read tonight at Fact and Fiction, I'll realize as I always do that it's really fun to talk with people about writing and reading. More than fun – it's gratifying to live in a state with so many flourishing independent bookstores, and to see how much people care about books. So, deep breath. Here goes.
Oh, and I'm adding more readings all the time to my events page. Check it out!
\
In the midst of struggling with a particularly challenging scene in the WIP recently, the phone rang with the very welcome news that Montana is a finalist in the first book category of the High Plains Book Award. The official announcement came out today with the list of  all the finalists—some very nice company, indeed!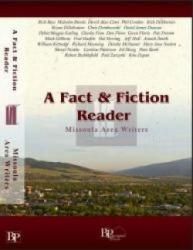 And speaking of nice company, a short story of mine is included in A Fact and Fiction Reader, one of a trio of story collections featuring regional authors, published by Bozeman's Bangtail Press. The collections are named for independent bookstores in Missoula (Fact and Fiction Books), Bozeman (The Country Bookshelf) and Livingston (Elk River Books). The Fact & Fiction reader includes works by Rick Bass, and Debra Magpie Earling and Deirdre McNamer – truly swoon-worthy company.
 Unfortunately, I'll miss the book's launch party tomorrow because I'm heading up to the Rocky Mountain Front for a long writing workshop weekend with several friends. To my mind, the Front is the most beautiful place in the universe (see photo, above), which is why I set my books there. To make the weekend even better, I'm winding it up with a Dakota reading  – sponsored by the Lewis and Clark Library – at the Latigo and Lace store in Augusta, the town on which my fictional community of Magpie is very vaguely modeled. 
In addition to gorgeous art and jewelry, Latigo and Lace features a very fine book selection, and for years I've made it a practice to stop there and buy a book whenever I'm passing through. I'm touched beyond belief that my own books are now included on its shelves.
So, if you're in Augusta Sunday between 1 p.m. and 3 p.m., stop on by!
It felt like all books, all the time this past weekend – and the feeling continues this week.
I was fortunate to participate in Fact and Fiction's Indies First weekend, an event launched by author Sherman Alexie that featured area writers working in their local independent bookstores the weekend after Thanksgiving.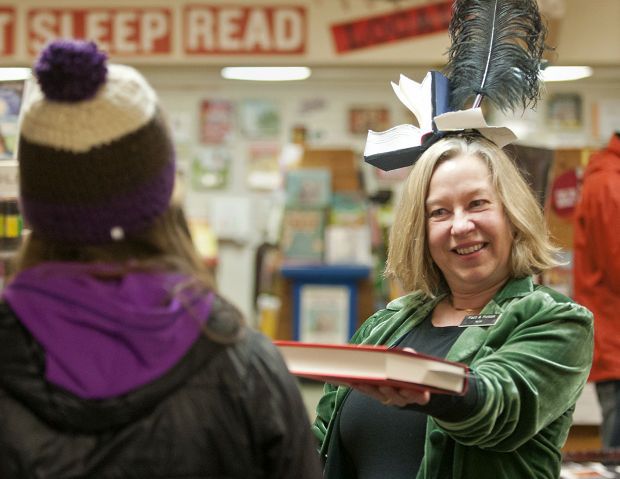 Saturday at Fact and Fiction featured David Abrams of Butte (Fobbit), David James Duncan of Lolo (The River Why), and Kim Anderson, Humanities Montana Festival of the Book organizer whose uber-cool hat ended up on the front page of the Sunday Missoulian in Tom Bauer's photo at right. I worked on Sunday, along with authors (from left, in photo above) Missoula's Rick Bass (All the Land to Hold Us), Bigfork's Leslie Budewitz (Death al Dente) and Ken Robison of Great Falls (Montana Territory and the Civil War). We served champagne and talked up books with store patrons. Great way to spend an afternoon.
I warmed up for Indies First on Sunday by going to a book group brunch hosted by Keila Szpaller and Brock Gnose. They went all sneaky and thematic on me by featuring Lola Prosecco (my protagonist's name is Lola Wicks) and Jameson's (Lola likes her occasional nip of same). The brunch was great fun – people asked lots of really insightful questions.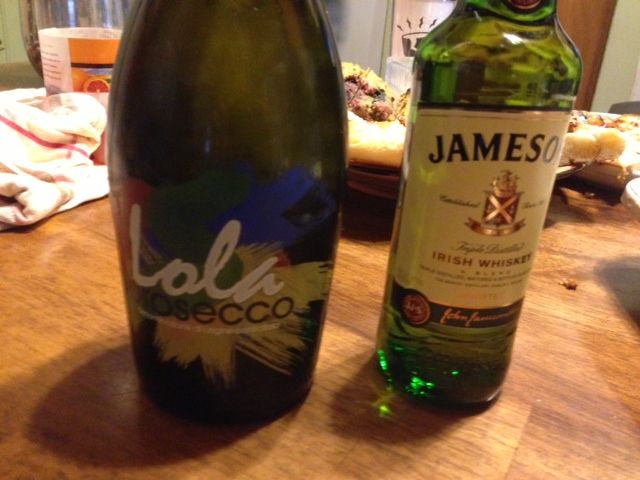 Today is a breather (by which I mean, a day to write), then on to Boulder for a reading Tuesday at the library there, and a reading at the library in Helena on Wednesday, both on days when the temperature is supposed to dive below zero. I'm hoping for stalwart readers. Luckily, things are supposed to warm up a little by Saturday, when I'll read at Shakespeare and Co. in Missoula (at 11 a.m. so readers who are Griz fans can sneak it in before the game).
Fun football fact: The Griz are playing the Coastal Carolina Chanticleers (such a literary name!), from Conway in South Carolina. My parents just arrived at their winter digs in Surfside Beach, not 20 miles away. Apparently it's in the 50s there, but folks are bundled up as though it's the dead of winter. The high in Missoula on Saturday is supposed to be 11. Those southern players had better wear their woollies.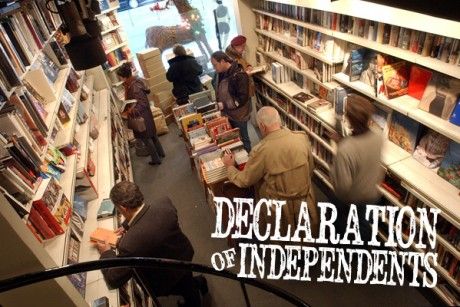 My little book takes its first plane ride this week when we head south to Denver, for a reading Friday evening (7:30 p.m.) at the Tattered Cover's Colfax location. I lived in Denver for nearly 10 years, and I think I spent about half that time, and a considerable amount of my paycheck, in the Tattered Cover, so I'm pretty excited about reading there. I'm also psyched to see family and friends, including a gathering of my old book group, The Book Cult. Good times ahead!
Also, on Thursday night, Montana will be the subject of The Write Question, Cherie Newman's public radio interviews with authors in the West. The show airs at 6:30 p.m. on Yellowstone Public Radio, 7:30 p.m. on Montana Public Radio, and also is distributed through PRX, the public radio exchange. You can also listen here. As a former journalist, it was strange being the one answering questions instead of asking them.
Next up, readings in Bozeman (Country Bookshelf, Nov. 20, 7 p.m.) and Dillon (The Bookstore, Nov. 21, 5 p.m.) and then back to Missoula for the Indies First weekend at Fact & Fiction.
Indies First is a helluva cool deal, cooked up by author Sherman Alexie and Seattle Queen Anne Book Company owner Janis Segress as a way for writers to promote their favorite independent bookstores. As Alexie writes:
Now is the time to be a superhero for independent bookstores. … Here's the plan: We book nerds will become booksellers. We will make recommendations. We will practice nepotism and urge readers to buy multiple copies of our friends' books. Maybe you'll sign and sell books of your own in the process. I think the collective results could be mind-boggling (maybe even world-changing).
Fact and Fiction's Indies First event starts Nov. 30 with  authors David Abrams and David James Duncan, as well as Kim Anderson from the Humanities Montana Festival of the Book. I'll be there the next day, Dec. 1, with authors Rick Bass, Ken Robison and fellow mystery author Leslie Budewitz. We'll answer questions, answer the phones, offer book recommendations and even (eek!) gift-wrap purchases.
After all, as Alexie reminds us, "The most important thing is that we'll all be helping Independent bookstores, and God knows they've helped us over the years."
Amen to that.
(image: bookstorepeople.com)
---