Some Sentences, July 4, 2017 – A two-fer summer reading list
I was bowled over to see both DISGRACED and RESERVATIONS on the Popular Culture Association/American Culture Association's summer reading list for mystery and detective fiction.
Of DISGRACED: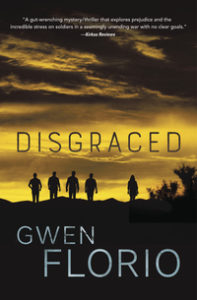 Disgraced contains much of the same timely social and political commentary as the earlier volumes in the series. Sexism and racism and their corrosive effects on both the victims and the perpetrators receive the principal focus, this time raising important questions about the cost of harassment for soldiers risking their lives to defend their country and for the civilians back home who care about them …. (Lola) may be home from the battlefields of Afghanistan, where she spent years as an international correspondent, but she continues to explore—and expose—crimes against women and minorities throughout the West.
And, of RESERVATIONS: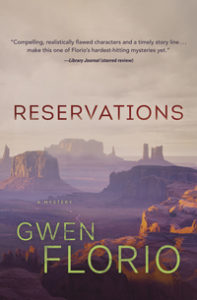 Reservations begins with one of the best opening lines I've read in a long time: "The day that would see Ben Yazzie transformed into shreds of flesh in too many evidence bags began with a rare strong and satisfying piss"…
Reservations offers all the usual Florio pleasures: lyric descriptions of the land and the people who inhabit it; cultural commentary on Native American communities, traditions, and history; Native American vs. white conflicts, both historical and contemporary; sharp critiques of big business and its effects on the well-being of those it impacts; a strong social justice approach that rivals that of Sara Paretsky in force and potency; and a solid, fair-play mystery. All four books in the series are excellent, and they keep getting better.
All I can say is … wow. Better than ice cream and strawberry shortcake on the Fourth of July.
---