Some Sentences, March 2017 – Harmonic Convergence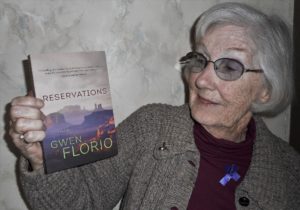 March 8, 2017 – My fourth book, RESERVATIONS (Midnight Ink; displayed here by my adorable, ACLU-ribbon-wearing mom) came out a little early, but today is its official pub date.
How cool that it's International Women's Day – and that I'm in North Dakota as part of Dickinson State University's Women's Voices program.
Some days, it all comes together. My heart is full.
---