BLOG
I've had wonderful luck with the covers of my book, starting with Lon Kirschner's designs for my first two, one of which (Montana) was based on my beloved Rocky Mountain Front.
And then, Ellen Lawson's terrific  work on the next three, for Midnight Ink, which managed to capture both the beauty of the landscape and the ominous subject matter.
And now comes the cover for Silent Hearts, designed by Patti Ratchford at Simon & Schuster. All I can say is – wowza! It so perfectly captures what I hope to convey with the novel.
Dec. 10, 2017 – When I tell people I live in Montana, one of the first questions I get is: "Isn't it cold?"
That's my cue to spin tales of 20-below days, ferocious blizzards, vehicles that we plug in at night in hopes that they'll start in the morning.
All of those things are true – there's been at least one truly awful blizzard in my dozen years here – but what's also true is that I love winter. I look forward to the first snow with the eagerness of a child. I love the way it drapes the town in white, each flake catching the light and refracting it, the deep, soothing quiet.
So when the temperature finally dropped below freezing, and the air took on that bright, clean tang, I got psyched – dragging boots up from the basement, loading up the urn on the porch with our assortment of Yaktrax designed to deal with every level of ice, and assembling a lineup of gloves, mittens, hats and scarves by the front door.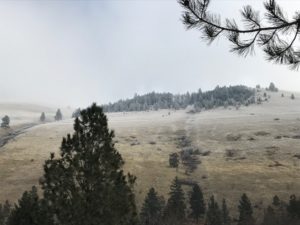 Then I waited.
And waited. And waited.
Only to hear the worst possible news – that Missoula is in the grip of one of its infamous inversions, a thick layer of cloud that traps miserably cold air beneath it without a flake of snow to make it bearable. As one leaden day follows another, the trapped air grows murkier and people get crankier. The only change in the long-term forecasts involves the grim possibility of freezing rain. Bah, humbug.
Yesterday, though, brought a flash of hope. Just for a little while, the clouds parted – not enough to allow the relief of a truly sunny day, but at least giving up a glimpse of barely remembered blue sky.
All I could think of was that line from the Leonard Cohen song – "There's a crack, a crack, in everything. That's how the light gets in."
It was only a little light. But I'll take it.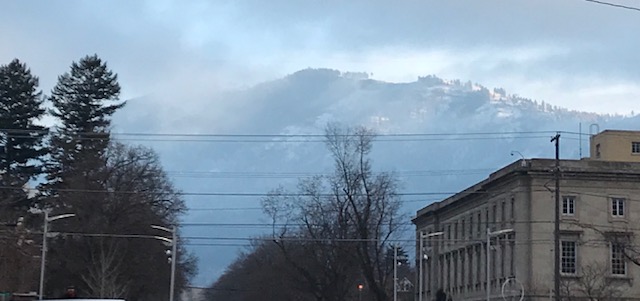 Jan. 12, 2017 – When the sky above the coffee shop is this blue, it means I'm way late to writing. Because I slept in. Damn, it felt good.
But damn, I was late this morning. Solution – write fast. Zoomed through 700 words. Today, I'm particularly in love with the theory of shitty first drafts.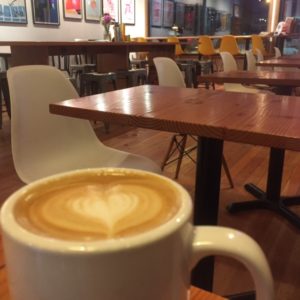 Jan. 11, 2017 – Good thing I don't make New Year's Resolutions. Otherwise, I might have resolved to add some sentences daily, which would make me a miserable failure already. 
But today, after a couple of weeks of writing at home in the morning, I went back to the coffee shop and threw a whole bunch of new words at Book 6. Consequently, I'm starting the day in a very good mood. Let's just see how long it lasts. (Donald Trump news conference, I'm looking at you.)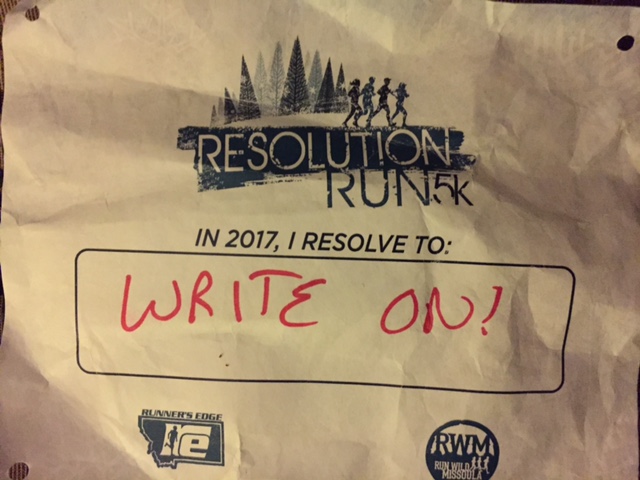 Jan. 1, 2017 – Our local running club, Run Wild Missoula, has a great New Year's Day tradition – a 5K run, followed by soup and rolls. It's called the Resolution Run, and the idea is that you write your resolution on your race bib.
This year's race was fine – it was only about 10 degrees, but the predicted snow and wind held off until after it was over. Lots of people posted running resolutions – to finish a marathon, run faster, run more, etc. Mine was different.
A couple of weeks ago, I turned in the third-manuscript in my three-book contract, which leaves me without a book contract for the first time in five years. (Never mind that 20-some contract-free years preceded that lovely five-year stint.) What to do?
There's only one thing: to keep writing, and trust that the contracts will come. Hence, my resolution. I got back from the run (and the warming post-run shots of Jameson's) and wrote a thousand words. Onward into 2017!
Nov. 12, 2016 – Me today, untangling a giant plot mess. Slowly, slowly this sucker takes shape.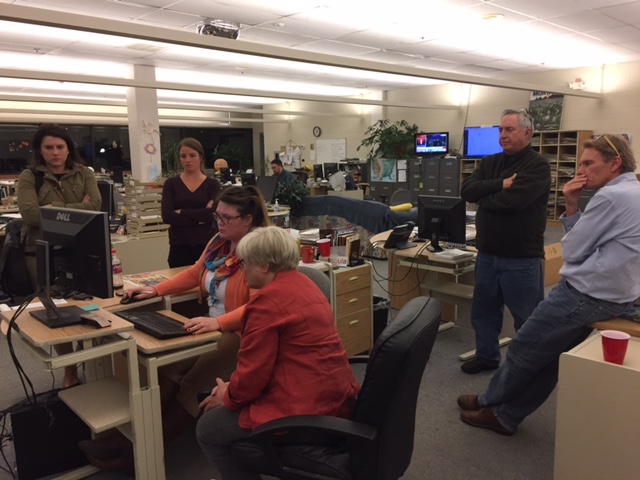 Nov. 9, 2016 – This summer, after a glorious three-year hiatus as a full-time writer of fiction, I returned to my day job as a journalist. The good thing? Now I have not one, but two, jobs that I love. The down side? Obviously, carving out time for the fiction is a challenge. But last night, Election Night, I was happy I'd made the choice. No matter how you feel about the results, a newsroom on Election Night is a glorious place – no more so than on a night like last night, when my newspaper, the Missoulian, blew its deadline in the interest of getting the election's final results on the front page, rather than a wussy "tight race" headline. I think the tension in that moment shows in the 1:30 a.m. photo above, as the newsroom crew worked at crafting exactly the right headline: Trump Beats All The Odds. They call journalism the First Draft of History. Cliched? Maybe. Except last night, the cliche was true.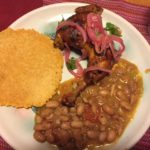 Nov. 2, 2016 – Long, long day, and Scott's borne the dinner burden far too often. Tia's Big Sky to the rescue. There should be a Nobel Prize for the person who invented take-out.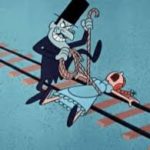 Deadline convergence! Proofs due on a short story for an anthology. Post due for International Thriller Writers' Thrill Begins site. Proofs for Book 4, RESERVATIONS, to land in my inbox tomorrow. And, in the Day Job, the election locomotive is bearing down. So long, sleep.
Oct. 20, 2106 – A very long time ago, at a holiday party thrown by the Montana Kaimin (the University of Montana's student newspaper), I drew a "Booty Mix" CD as my gift. With such classics as Do Me!, The Humpty Dance, Push It and of course Da' Butt, it remains some of my best writing music. Dialed it up yesterday and got more work done than I have in weeks.
---