BLOG
Nov. 15, 2016 – Talk about product placement – right next to A.B. Guthrie's classic, THE BIG SKY. Thanks to Alex Sakariassen for this photo from High Country Gifts in the Missoula International Airport.
The other night I went to a reading by Missoula author David Allan Cates, who was launching his new novel, his fifth, Tom Connor's Gift, due out Oct. 15.
It was a lovely, warm  evening with lots of things going on around Missoula, but Cates packed the house at Shakespeare and Company. The crowd included fellow authors Pete Fromm (whose own new novel, If Not For This, was published last month), Peter Stark (Astoria: John Jacob Astor and Thomas Jefferson's Lost Pacific Empire) and Victoria Jenkins (An Unattended Death), among others. In Cates' remarks after the reading, people around the room nodded as he made much of the benefits of living in a community with such strong support for writers. Truly, sometimes I pinch myself in wonder at having landed in such a writerly place.
There is, of course, the University of Montana's vaunted creative writing program. I've taken Cates' novel-writing class at 406 Writers Workshop, a group that also holds sessions in short fiction, memoir, poetry, screenwriting and creative nonfiction. The booksellers here are wonderfully supportive of local authors. And the annual Humanities Montana Festival of the Book (Oct. 9-11 this year) packs venues around town.
More than anything, I've found the authors here to be unstintingly generous with newbies like me in terms of advice and mentoring. I've heard horror stories about the cutthroat competition in other paces and writing programs. I'm so glad I'm here instead.
\
In the midst of struggling with a particularly challenging scene in the WIP recently, the phone rang with the very welcome news that Montana is a finalist in the first book category of the High Plains Book Award. The official announcement came out today with the list of  all the finalists—some very nice company, indeed!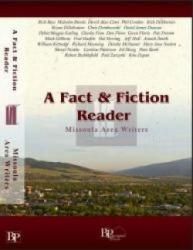 And speaking of nice company, a short story of mine is included in A Fact and Fiction Reader, one of a trio of story collections featuring regional authors, published by Bozeman's Bangtail Press. The collections are named for independent bookstores in Missoula (Fact and Fiction Books), Bozeman (The Country Bookshelf) and Livingston (Elk River Books). The Fact & Fiction reader includes works by Rick Bass, and Debra Magpie Earling and Deirdre McNamer – truly swoon-worthy company.
 Unfortunately, I'll miss the book's launch party tomorrow because I'm heading up to the Rocky Mountain Front for a long writing workshop weekend with several friends. To my mind, the Front is the most beautiful place in the universe (see photo, above), which is why I set my books there. To make the weekend even better, I'm winding it up with a Dakota reading  – sponsored by the Lewis and Clark Library – at the Latigo and Lace store in Augusta, the town on which my fictional community of Magpie is very vaguely modeled. 
In addition to gorgeous art and jewelry, Latigo and Lace features a very fine book selection, and for years I've made it a practice to stop there and buy a book whenever I'm passing through. I'm touched beyond belief that my own books are now included on its shelves.
So, if you're in Augusta Sunday between 1 p.m. and 3 p.m., stop on by!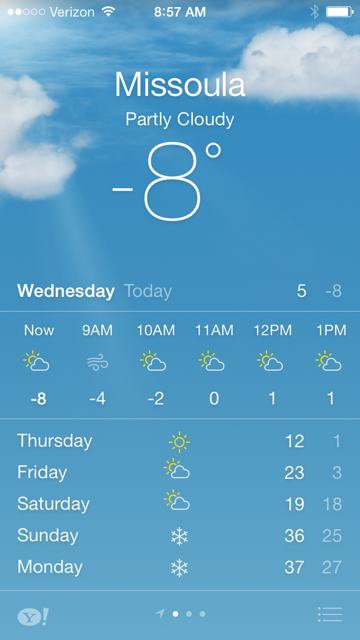 Because when it's cold, you don't want to go outside. All of the lovely temptations that beckon you away from your laptop (or whatever your preferred writing instrument) recede. Writing—warm and cozy writing—suddenly seems like a great way to spend the day. During this recent cold snap, I've been unusually productive, almost enough to make me wish it would stay this cold all the time. I'll get over that. But it's been a great time to play catch-up after another few days on the road, this time for readings in Billings and Livingston.
In Billings, I read at the new Billings Public Library. The next time you're in town, you owe it to yourself to stop there. It's a veritable palace of books (and computers and electronics and study rooms and some pretty fine art, too). Don't take my word for it. The Billings Gazette did a fine video tour.
The Gazette reports such heavy library use in its first couple of weeks that readers actually picked the shelves bare. Billings also is the home of the very fine YMCA Writer's Voice program, which sponsored my reading there, and also runs programs such as The Big Read (this year featuring Charles Portis' True Grit, which I personally would term a Helluva Big Read).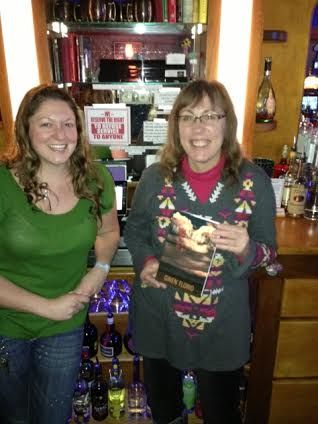 From Billings, we went to Livingston for a reading at Elk River Books, a store that's the best excuse to pull off I-90 and spend some time in Livingston. The biggest thrill of all? A copy of Montana now resides on the bookshelf in the world-famous Owl Lounge (the best excuse to stay off the road awhile), hanging out with books by Jim Harrison and Carl Hiaasen. Guess where I'm drinking next time I'm in town? But no drinking for me now, or at least nothing stronger than cup after cup of hot cocoa or tea or coffee. I need to make the most of this cold weather while it lasts. 
Of course, so is any day. But on Christmas, I always look forward to gifts of books—and to escaping the holiday hubbub with them as soon as I can slip away.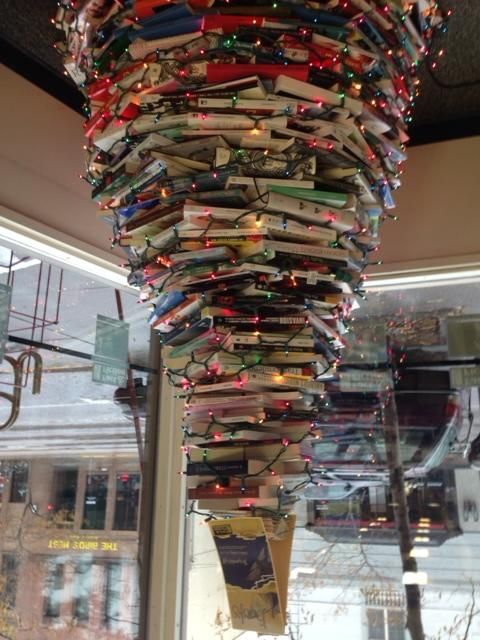 This year, I had the particular joy of signing several copies of my novel, Montana, that people  bought as gifts for friends and family. I hope that Montana will provide them with that same sense of escape.
For my own part, I feel as though I've been receiving gifts for months—the gift of being published by The Permanent Press, of being edited by Judy Sternlight, of being represented by agent Barbara Braun. Libraries and independent bookstores have generously arranged for readings and book signings. I'm part of a smart and supportive online writing group. And there's gift of thoughtful and attentive readers, many of whom have written to say that they liked the book. I could not be more grateful. Most astonishing, thanks to the support of my partner, Scott, and affordable health insurance from Obamacare, I've been able to turn writing into my day job. Pretty sure I'm the luckiest person on earth.
With all of those blessings, what could I possibly want for Christmas? World peace. The reversal of climate change. Health and laughter for my loved ones. The survival; nay, the flourishing, of independent bookstores. Fair compensation for writers. (Pause for hysterical laughter.) Lacking that last, another yummy glass of Scott's eggnog will do nicely.
Happy Christmas, all.
(photo: Fact and Fiction's book tree)
It felt like all books, all the time this past weekend – and the feeling continues this week.
I was fortunate to participate in Fact and Fiction's Indies First weekend, an event launched by author Sherman Alexie that featured area writers working in their local independent bookstores the weekend after Thanksgiving.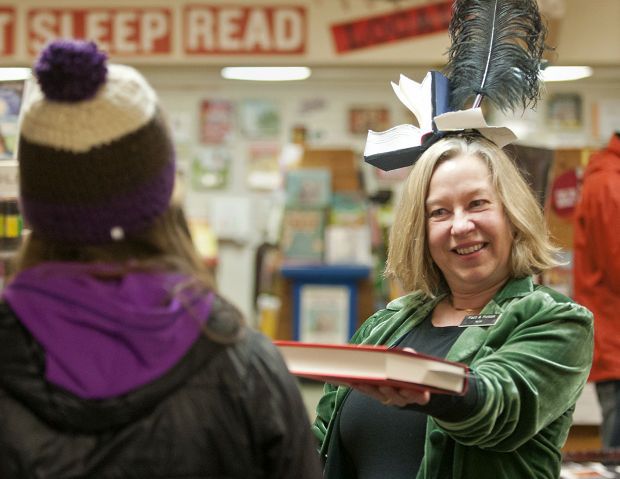 Saturday at Fact and Fiction featured David Abrams of Butte (Fobbit), David James Duncan of Lolo (The River Why), and Kim Anderson, Humanities Montana Festival of the Book organizer whose uber-cool hat ended up on the front page of the Sunday Missoulian in Tom Bauer's photo at right. I worked on Sunday, along with authors (from left, in photo above) Missoula's Rick Bass (All the Land to Hold Us), Bigfork's Leslie Budewitz (Death al Dente) and Ken Robison of Great Falls (Montana Territory and the Civil War). We served champagne and talked up books with store patrons. Great way to spend an afternoon.
I warmed up for Indies First on Sunday by going to a book group brunch hosted by Keila Szpaller and Brock Gnose. They went all sneaky and thematic on me by featuring Lola Prosecco (my protagonist's name is Lola Wicks) and Jameson's (Lola likes her occasional nip of same). The brunch was great fun – people asked lots of really insightful questions.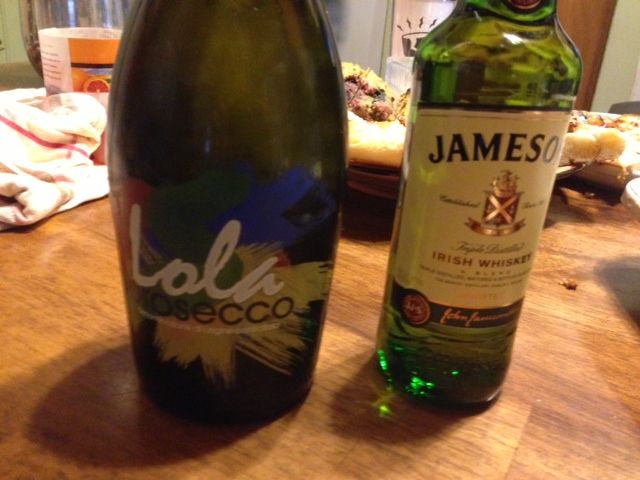 Today is a breather (by which I mean, a day to write), then on to Boulder for a reading Tuesday at the library there, and a reading at the library in Helena on Wednesday, both on days when the temperature is supposed to dive below zero. I'm hoping for stalwart readers. Luckily, things are supposed to warm up a little by Saturday, when I'll read at Shakespeare and Co. in Missoula (at 11 a.m. so readers who are Griz fans can sneak it in before the game).
Fun football fact: The Griz are playing the Coastal Carolina Chanticleers (such a literary name!), from Conway in South Carolina. My parents just arrived at their winter digs in Surfside Beach, not 20 miles away. Apparently it's in the 50s there, but folks are bundled up as though it's the dead of winter. The high in Missoula on Saturday is supposed to be 11. Those southern players had better wear their woollies. 
So it begins, this business of sponging off – I mean, visiting – friends in towns where readings and book-signings for Montana are scheduled. Thanks to Lynn and Beth Kaeding in Bozeman, and artist Cathy Weber in Dillon for providing shelter, sustenance and wonderful conversation last week. 
We went first to the Country Bookshelf in Bozeman. Friend Patrick Duganz drove through a nasty snowstorm, arriving just in time to introduce me. Pat's a funny guy and got way more laughs than I did. 
I also began following the excellent example set by Billings author Craig Lancaster (600 Hours of Edward, Edward Adrift), who buys a book at each store where he reads. Here's what I picked up at Country Bookshelf: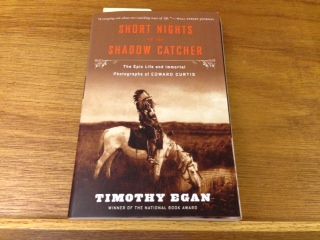 From Bozeman, we drove southwest to Dillon on a sparkling cold and clear day. The snow vanished just outside Bozeman, the roads were clear, and we indulged in comfort food – grilled cheese and tomato soup – in Twin Bridges, while heroically forgoing pie. Boo to moderation.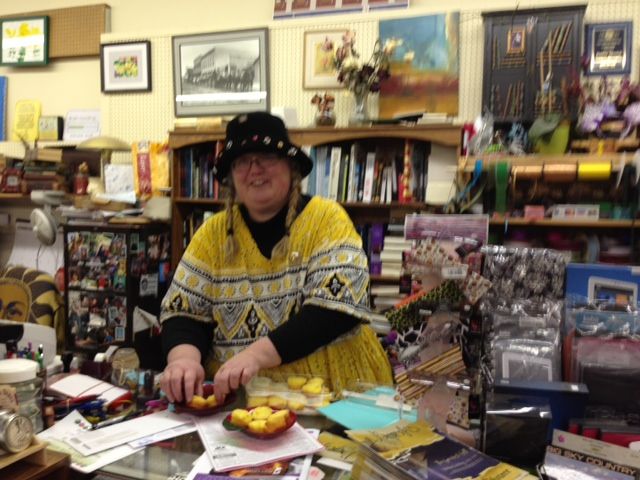 People hereabouts generally associate Dillon with its Patagonia outlet (and yes, I got a screaming deal on a down coat), but book lovers know it for The Bookstore, and the treat that's involved in shopping there and chatting with owner Debbie Sporich, whose taste in hats is as eclectic as the offerings on her shelves. I was thoroughly charmed by the young ranch hand who pronounced himself delighted with the discovery of a book of classic fairy tales on the sale shelf for a mere $1. 
Here's what came home with me from The Bookstore shelves.
 We crept out of town early the next morning as the sun was rising over Cathy Weber's gate, topped by some of her signature ceramic birds.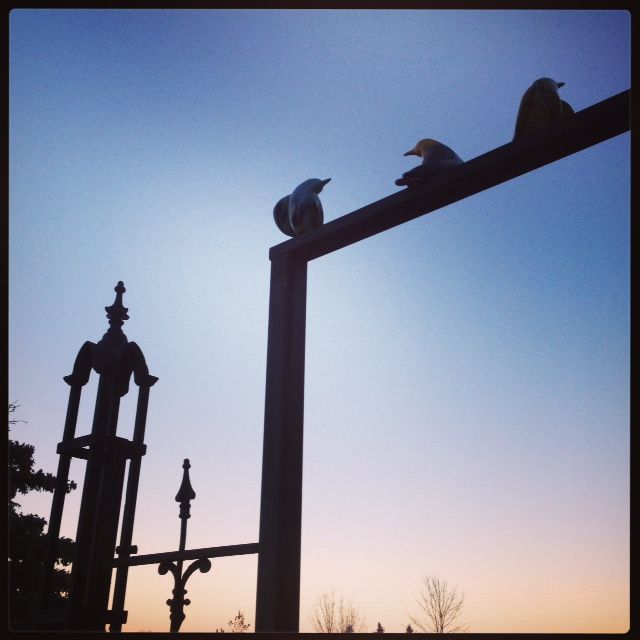 All in all, a fine trip. Now, back to Missoula for the Indies First weekend at Fact and Fiction (Nov. 30 and Dec. 1). Then, on to Jefferson County and the Boulder Community Library on Dec. 3 (and pleaseohplease a dip in the Boulder Hot Springs); the Lewis and Clark Public Library in Helena on Dec. 4, and back to Missoula for a reading and book signing at Shakespeare and Co. on Dec. 7. Check the News & Events page on my website for times and street addresses. 
Hope to see you at one of those!
---