The myth that readings suck
All (well, many, many, many) authors say this: Readings are pull-your-fingernails-out-with-pliers ordeals. I myself may have said this once or a thousand times.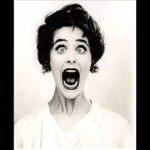 We are supposed to sensitive introverts, we writers, reveling in the fact that our job involves sitting in a little room all by ourselves for hours on end. It's our happy place. You know what's not our happy place? Out There.
Out There, we can't be our awkward, tongue-tied selves. We have to have actual conversations. Wear presentable clothes. We have to comb our hair, for God's sake. Oh, the torture.
That's true, a little bit. But you know what? A lot more, it's crap.
That was brought home to me last night when, after many months without any public appearances (by the time my next book, Disgraced, comes out in March, it will have been two years between books), I was invited to give a reading in Seeley Lake, Montana. The town, about an hour north of my home, is famous mostly because A River Runs Through It author Norman Maclean's family has a cabin there. There's good writer karma in Seeley Lake.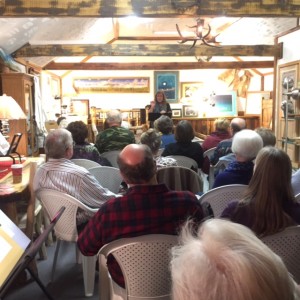 Just how good, I found out last night when – on a bluebird Saturday, when anyone with any sense would have been playing on the lake – people packed Grizzly Claw Trading Co. for the reading sponsored by Alpine Artisans Inc.
It wasn't torture. It was terrific. We talked about books and writing, and ate homemade treats and drank wine. I got a ton of new recommendations for books to read. When I think back, that's pretty much been my experience at every reading. Which underscores the following: It's an unbelievable privilege to talk with folks who are part of a community of knowledgeable and enthusiastic readers.
So here's my vow to stop whining about having to come out my cave and stand up in front of people and talk. Because it's not a performance. It's a conversation, and a wonderfully rich one at that. It was great to have last night's reminder.
---