BLOG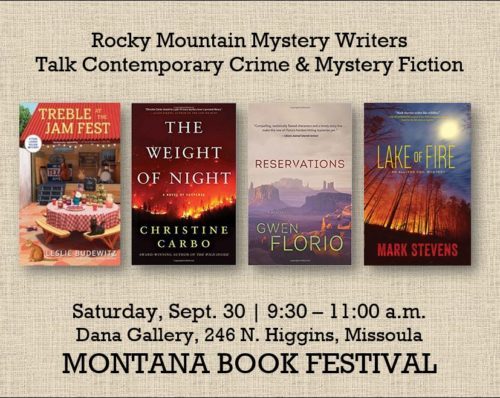 Sept. 17, 2017 – Holy cow, things got busy all of a sudden.
I'm still recovering from last weekend's most excellent Rocky Mountain Fiction Writers Colorado Gold Conference.
Next weekend launches the tour for Montana Noir, one of the most fun projects I've ever worked on. Check out the full tour schedule.
The Noir Tour morphs into the Montana Book Festival, where in addition to Noir-related events, I'll also be on a panel featuring fellow Rocky Mountain crime writers Leslie Budewitz, Mark Stevens and Christine Carbo.
Then, after the shortest of breaks, it's off to Toronto for Bouchercon, the huge mystery book convention where I'll moderate one panel and be on another.
All the deets are on the events page. Pretty sure times like this are why the phrase "writing around the margins" was invented. That said, I've snagged "my" table (in the back, by bakery – nom!) at Break Espresso, latte'd up, and am settling in for a long and happy day at the WIP and various other projects that have nada to do with the day job. Hope to see you at one or another of these events.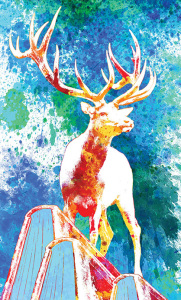 Monday launches my favorite week in Missoula, with the annual celebration of the Montana Festival of the Book, when authors and readers—some 7,500 people last year—spread literary karma throughout downtown Missoula.
This year promises a double whammy with events marking the Missoula Public Library's Big Read, featuring The Things They Carried, Tim O'Brien's classic Vietnam war stories. O'Brien himself is scheduled to speak here at the end of the month.
This week, though, will be all about books and authors with a connection to the region. James Lee Burke will reprise his wildly popular lunch discussion at the Top Hat. The spoken stories of Tell Us Something returns, as well as the poetry slam.
Saturday night's 15th anniversary gala features festival favorites William Kittredge, Annick Smith, Rick Bass, David James Duncan, poet laureate Tami Haaland, Pete Fromm, Malcolm Brooks and Walter Kirn.
Among panels sure to be popular is one called "West With A Twist: A Discussion of Western Novels," featuring novelists Brooks, Fromm, David Allan Cates, Bruce Holbert and Carrie LaSeur.
I'm tickled to be included in one called "How We live Now," with K.M. Cholewa, Keith McCafferty and Peter Mountford. The full schedule of events is on the Humanities Montana website.
Unfortunately, a shadow hangs over the festival. As the Missoula Independent reported, because of funding cuts, Humanities Montana will no longer stage the festival. Let's hope the festival finds a new host in time for next year.
The other night I went to a reading by Missoula author David Allan Cates, who was launching his new novel, his fifth, Tom Connor's Gift, due out Oct. 15.
It was a lovely, warm  evening with lots of things going on around Missoula, but Cates packed the house at Shakespeare and Company. The crowd included fellow authors Pete Fromm (whose own new novel, If Not For This, was published last month), Peter Stark (Astoria: John Jacob Astor and Thomas Jefferson's Lost Pacific Empire) and Victoria Jenkins (An Unattended Death), among others. In Cates' remarks after the reading, people around the room nodded as he made much of the benefits of living in a community with such strong support for writers. Truly, sometimes I pinch myself in wonder at having landed in such a writerly place.
There is, of course, the University of Montana's vaunted creative writing program. I've taken Cates' novel-writing class at 406 Writers Workshop, a group that also holds sessions in short fiction, memoir, poetry, screenwriting and creative nonfiction. The booksellers here are wonderfully supportive of local authors. And the annual Humanities Montana Festival of the Book (Oct. 9-11 this year) packs venues around town.
More than anything, I've found the authors here to be unstintingly generous with newbies like me in terms of advice and mentoring. I've heard horror stories about the cutthroat competition in other paces and writing programs. I'm so glad I'm here instead.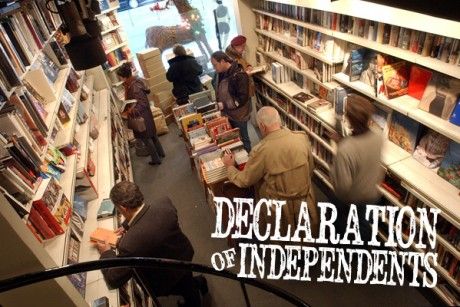 My little book takes its first plane ride this week when we head south to Denver, for a reading Friday evening (7:30 p.m.) at the Tattered Cover's Colfax location. I lived in Denver for nearly 10 years, and I think I spent about half that time, and a considerable amount of my paycheck, in the Tattered Cover, so I'm pretty excited about reading there. I'm also psyched to see family and friends, including a gathering of my old book group, The Book Cult. Good times ahead!
Also, on Thursday night, Montana will be the subject of The Write Question, Cherie Newman's public radio interviews with authors in the West. The show airs at 6:30 p.m. on Yellowstone Public Radio, 7:30 p.m. on Montana Public Radio, and also is distributed through PRX, the public radio exchange. You can also listen here. As a former journalist, it was strange being the one answering questions instead of asking them.
Next up, readings in Bozeman (Country Bookshelf, Nov. 20, 7 p.m.) and Dillon (The Bookstore, Nov. 21, 5 p.m.) and then back to Missoula for the Indies First weekend at Fact & Fiction.
Indies First is a helluva cool deal, cooked up by author Sherman Alexie and Seattle Queen Anne Book Company owner Janis Segress as a way for writers to promote their favorite independent bookstores. As Alexie writes:
Now is the time to be a superhero for independent bookstores. … Here's the plan: We book nerds will become booksellers. We will make recommendations. We will practice nepotism and urge readers to buy multiple copies of our friends' books. Maybe you'll sign and sell books of your own in the process. I think the collective results could be mind-boggling (maybe even world-changing).
Fact and Fiction's Indies First event starts Nov. 30 with  authors David Abrams and David James Duncan, as well as Kim Anderson from the Humanities Montana Festival of the Book. I'll be there the next day, Dec. 1, with authors Rick Bass, Ken Robison and fellow mystery author Leslie Budewitz. We'll answer questions, answer the phones, offer book recommendations and even (eek!) gift-wrap purchases.
After all, as Alexie reminds us, "The most important thing is that we'll all be helping Independent bookstores, and God knows they've helped us over the years."
Amen to that.
(image: bookstorepeople.com)
I usually read a couple of books at a time. Or three. Or four. Things seem to have gotten out of hand recently, though. I came back from the Humanities Montana Festival of the Book with a stack of about 10 books—new ones to add to the ones I was already reading.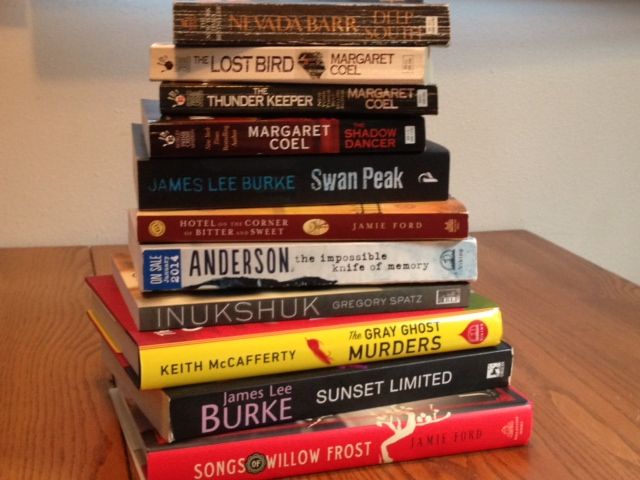 Even though it made sense to wait to finish those before I dipped into the new acquisitions, I couldn't resist peeking into some. The result? I got hooked, and ended up reading six books simultaneously. I've since finished a couple, including Spider Woman's Daughter, by Anne Hillerman, an excellent continuation of her father Tony Hillerman's Leaphorn-Chee mysteries set on the Navajo Nation. Also, an advance copy of Laurie Halse Anderson's new young adult novel, The Impossible Knife of Memory. Also most excellent. And, I ripped through Martin Cruz Smith's Wolves Eat Dogs, an absolutely fascinating mystery set in Chernobyl.
That leaves Hotel on the Corner of Bitter and Sweet, by Jamie Ford. (His Frost Willow Song is in the to-read pile.") Baby's Breath by Eugenie D. West, which features a reporter investigating the death of an infant. I'm also reading a friend's as-yet-unpublished vampire rock-and-roll novel, Never Before Noon—it, too, features a reporter.
Awaiting my attention are Gregory Spatz's Inukshuk, Keith McCafferty's The Gray Ghost Murders (he names his mysteries after fishing flies. What's not to love?) and two by James Lee Burke, Sunset Limited and Swan Peak. Oh, and a Nevada Barr and whole stack of Margaret Coel mysteries lent to me by Wellbuddies coaching friend and running guru Pam Gardiner. I've finished two of the latter, with three to go. And I'm pretty sure I bought Karen Joy Fowler's We Are All Completely Beside Ourselves, but I can't find it, which is probably just as well.
Recently, my sweetie looked at the growing stack and observed, "You're out of control."
The next day, I was in Fact and Fiction Books, one of our local independent bookstores. (Yes! We have more than one!) "Scott says I'm out of control," I told David. He nodded in a way that told me I'm not alone.
Then I bought another book.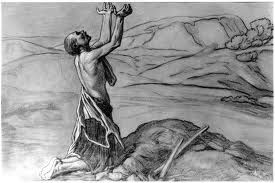 Last weekend's Humanities Montana Festival of the Book provided a terrific description of the process of writing a novel. It came during one of the panel discussions. Unfortunately, I don't remember who said it, or exactly how it went, so I'll very loosely paraphrase, especially the last part.
Writing the beginning of a novel: A stroll through a beautiful summer meadow full of wildflowers. The sun is high, the clouds puffy, the breezes soft. All is right with the world.
Writing the middle of the novel: Lost in the #*&%* Gobi Desert. The journey that started so pleasurably goes horribly awry. Signposts disappear. The sun is your enemy. Forget wildflowers. There isn't even any water. Death appears certain.
Writing the end of the novel: O happy day! The best sex you've ever had!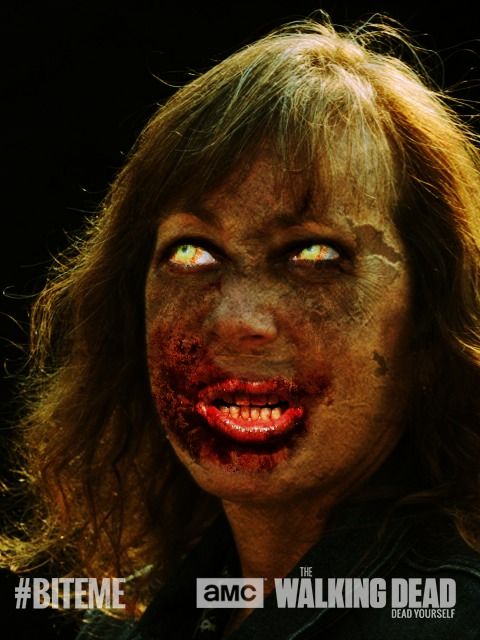 Well, hell. Right now I'd settle for plain old boring vanilla sex. Because when it comes to the work in progress, I am smack in the middle of the Gobi, without even the false hope of a mirage. Every time I look at the WIP, I feel like this zombified photo of myself that my whackjob—I mean darling—daughter sent me. I'm not blocked—not a big believer in writer's block—so much as writing in circles. The plus side? I've been here before. The Gobi and I are old, old friends.
At this point, you should be thinking: If you're found your way out before, why didn't you mark the route, you idiot?
Actually, I do remember the route. I just like whining. The way out involves exactly what I'm doing now. Sitting down and writing. Every day. Even if most of it is crap that I'll later toss. But I trust that, as I review those poor, sad, inadequate sentences at the end of each day, I'll find within them the faint footstep in the sand marking the way, the one that will turn into a trail and finally, as the end nears, a superhighway! To great sex!
Come to think of it, that's probably not the way the panelists described writing the end of a novel at all. It's entirely possible it's my own twisted spin. But what terrific incentive to find your way out of the Gobi, no?

Of all the wonderful things about living in Missoula – and there are many, many – the Montana Festival of the Book ranks at the top. For the next three days, the town will be awash in all things literary, starting with tonight's appearance by Sherman Alexie at the Wilma Theatre.
Which pretty much sets the tone for the entire event. The festival features so many terrific authors that to name a few is risk slighting others who are equally deserving. There' Bill Dedman, whose Empty Mansions: The Mysterious Life of Huguette Clark and the Spending of a Great American Fortune recounts the life of the reclusive Montana heiress; Susanna Sonnenberg who wrote about her mother in Her Last Death and female friendships in She Matters, and Brad Tyer, Opportunity, Montana: Bad Water, Big Copper and the Burial of an American Landscape. Novelists Jamie Ford (Songs of Willow Frost, Hotel on the Corner of Bitter and Sweet); David Abrams, (Fobbit); and J. Robert Lennon (Familiar, The Light of Falling Stars). Two-time Edgar winner James Lee Burke (most recently, The Light of the World) will speak at a Cajun-themed lunch in his honor at the Top Hat on Saturday. 
And on and on. Here's the schedule – read it and weep at the realization that you'll never be able to get to every event you'd like to attend. In today's Missoula Independent, Erika Fredrickson lists some priorities. Needless to say, the next couple of days will be a happy blur.
My own small part comes at 2:30 p.m. Saturday with a reading from Montana, along with Gregory Spatz (Half as Happy, Inukshuk) and Emily Jeanne Miller (Brand New Human Being) in the Three Rivers Room at the Holiday Inn downtown. Hope to see you there.
And it is just as miserable as the last three weeks of a pregnancy. Anne Lamott says it far better than I (of course, Lamott says everything far better than I):
The worst time in any writer's life is the two months before publication. ALL writers become mental and pathetic, even those of devout faith, who have some psychological healing to lean up against, and gorgeous lives. All writers think that this time, the jig is up, and they will be exposed as frauds. 
Two months before publication, all writers worth their salt have days where they hate everyone, and wish everyone would just die. … And all writers wonder where the HELL were their editors?
All of this hand-wringing on my part is despite some truly wonderful reviews. On Tuesday, Library Journal named Montana Debut of the Month and said its "breathless pacing, strong characterizations, and a nuanced plot blend into an unforgettable read. With its strong sense of place and an intriguing ethnic character mix, consider for fans of Lori Armstrong, C.J. Box, and Wayne Arthurson." 
Also on Tuesday, Booklist called it "a gripping debut mystery."
People can judge for themselves next weekend when Montana gets trotted out to the public in a preview of sorts at the Montana Festival of the Book that starts next Thursday and that, for my money, is one of the best reasons to live in Missoula.
This year's festival looks to be the typically terrific event, with Sherman Alexie headlining the opening event, and James Lee Burke speaking at a Cajun-themed lunch. See Vince Devlin's story in today's Missoulian for more on the impressive list of writers featured at the festival. And, ahem, I'll be reading from Montana. More details in next week's blog post. 
(image: NPR.org)
The festival that starts this afternoon and features 75 writers provides a short but welcome break to the nonstop election barrage. There are so many readings, workshops, panel discussions and literary-themed musical performances that there's no way to do them justice and pay attention to politics, too. Yet another reason to love books.
I hit some highlights in this story for the Missoulian's Entertainer. This afternoon and evening's performances set the musical undertone for the festival, with the Decemberists' Colin Meloy and Carson Ellis presenting the most recent of their "Wildwood Chronicles." That's followed by Rick Bass and Stellarondo, which has scored music to some of Bass' short stories.
Festival organizer Kim Anderson of Humanities Montana terms the featured readers at Friday night's gala "three wildly different writers" – Ivan Doig ("The Bartender's Tale," a novel set in small-town Montana in 1960), David Quammen ( "Spillover: Animal Infections and the Next Human Pandemic") and Pam Houston ("Contents May Have Shifted," short stories).
The New York Times lauded Quammen Tuesday in a review that called him "not just among our best science writers but among our best writers, period." Nice timing.
The festival winds up Saturday evening on another musical note with the Montana premiere of the musical adaptation of James Welch's "The Heartsong of Charging Elk," by composer Wayne Horvitz.
For a full schedule, click here. Plan carefully. Get some rest. Hydrate. Then plunge in. When the festival ends Saturday night, the campaigns will still be waiting.
---