BLOG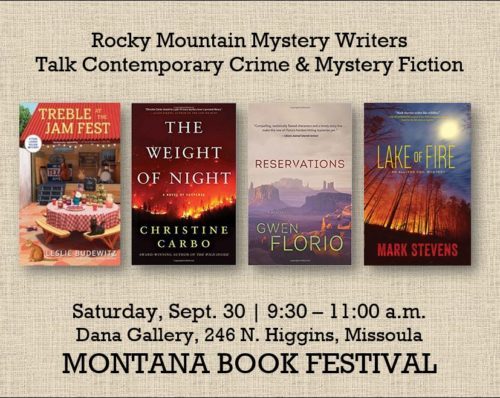 Sept. 17, 2017 – Holy cow, things got busy all of a sudden.
I'm still recovering from last weekend's most excellent Rocky Mountain Fiction Writers Colorado Gold Conference.
Next weekend launches the tour for Montana Noir, one of the most fun projects I've ever worked on. Check out the full tour schedule.
The Noir Tour morphs into the Montana Book Festival, where in addition to Noir-related events, I'll also be on a panel featuring fellow Rocky Mountain crime writers Leslie Budewitz, Mark Stevens and Christine Carbo.
Then, after the shortest of breaks, it's off to Toronto for Bouchercon, the huge mystery book convention where I'll moderate one panel and be on another.
All the deets are on the events page. Pretty sure times like this are why the phrase "writing around the margins" was invented. That said, I've snagged "my" table (in the back, by bakery – nom!) at Break Espresso, latte'd up, and am settling in for a long and happy day at the WIP and various other projects that have nada to do with the day job. Hope to see you at one or another of these events.
That's right. I've taken a deep, delicious dive into the dark side, thanks to a terrific invitation last year from editors James Grady and Keir Graff to contribute a short story to MONTANA NOIR, part of Akashic Books' noir series.
I hadn't written a short story in years, mainly because they scare the crap out of me. So little space. So much precision required. So many masters of the form. (Alice Munro, anyone?)
Plus, I wasn't really sure what noir was, beyond "I know it when I see it" – not really helpful when confronting the blank screen. But James and Keir are wonderfully supportive editors, and with their guidance, I had a blast getting in touch with my inner creep.
The book comes out in August. I remain gobsmacked to be in the company of my fellow contributors. Just look at this list: David Abrams, Janet Skeslien Charles, Debra Magpie Earling, Jamie Ford, James Grady, Keir Graff, Eric Heidle, Walter Kirn, Sidner Larson, Carrie La Seur, Thomas McGuane, Caroline Patterson, Yvonne Seng. Holy hell, right?
If you're in Montana this fall, check out our book tour. The darkness. It's coming.
---