Reservations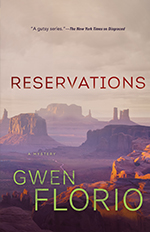 By Gwen Florio
Publication Date: March 8, 2017
Publisher: Midnight Ink
Price: $14.99
Pages: 312
Format: Paperback / Kindle
ISBN-10: 1579623360
ISBN-13: 978-1579623364
Buy Now: Amazon | BN
Description
Journalist Lola Wicks would much rather pursue a story than spend time with people she barely knows. So when an eco-terrorist bombing escalates the controversy surrounding a new coal mine on Arizona's Navajo Reservation, she's almost relieved to have the distraction from meeting her in-laws.
But as the violence gets worse and Lola digs deeper, she can't escape the feeling that her husband's family is somehow involved—a suspicion that jeopardizes not only her marriage, but also her life.
Praised by the New York Times as "a gutsy series," the Lola Wicks mysteries captivate readers with compelling characters, gritty tension, and page-turning action that builds to a thrilling finish.
Praise:
"Compelling, realistically flawed characters and a timely story line, especially in the wake of the protests at the Dakota Access Pipeline, make this one of Florio's hardest-hitting mysteries yet." —Library Journal (starred review)
"Florio captures the culture and poverty on reservations still suffering from greed and mismanagement in a ripped-from-the-headlines story with a shocking ending."—Kirkus Reviews
"Packed with surprises, Reservations sends reporter Lola Wicks on a trip that sets a new standard for vacations from hell. Gwen Florio uses the stark isolation and rugged landforms of the Navajo reservation to help build tension to an explosive climax. Another winner from a first-rate writer."—Anne Hillerman, New York Times bestselling author
"There was the undeniable fact that tourists liked their Indians to look the part."
Book Excerpt
The day that would see Ben Yazzie transformed into shreds of flesh in too many evidence bags began with a rare strong and satisfying piss. Ben leaned back against the stream, a veritable Niagara, not his usual dribble and hitch that put youth farther in the rear-view mirror every day.
He shook off with a flourish, tucked himself in, and returned to the bedroom with a regretful glance toward the empty bed. Mornings like this, he'd have woken his old woman with a proper tumble. Angelina, dead these five years now, liked a good frolicking right up to the end. He stood before the mirror, wound a wide red cloth band around his forehead to hold back his still-black hair, slid the chunk of turquoise and silver high on his throat to fasten his bolo tie, and draped three strands of hand-rolled turquoise beads interspersed with coral around his neck. Silver bracelets weighed down his wrists, and rings adorned his fingers to the knuckles. They sported lumpy, old-fashioned turquoise nuggets, not the glossy plastic-injected crap so often sold these days. He'd have worn them anyway, the jewelry his legacy from a silversmith grandfather, but there was the undeniable fact that tourists liked their Indians to look the part. Ben gazed into the mirror. But for the grin on his face, he was looking at a living, breathing, colorized version of an Edward S. Curtis photo.