Some summer brightness for 'Montana' and 'Dakota'
\
In the midst of struggling with a particularly challenging scene in the WIP recently, the phone rang with the very welcome news that Montana is a finalist in the first book category of the High Plains Book Award. The official announcement came out today with the list of  all the finalists—some very nice company, indeed!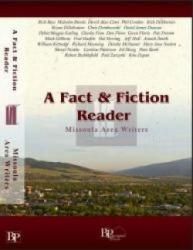 And speaking of nice company, a short story of mine is included in A Fact and Fiction Reader, one of a trio of story collections featuring regional authors, published by Bozeman's Bangtail Press. The collections are named for independent bookstores in Missoula (Fact and Fiction Books), Bozeman (The Country Bookshelf) and Livingston (Elk River Books). The Fact & Fiction reader includes works by Rick Bass, and Debra Magpie Earling and Deirdre McNamer – truly swoon-worthy company.
 Unfortunately, I'll miss the book's launch party tomorrow because I'm heading up to the Rocky Mountain Front for a long writing workshop weekend with several friends. To my mind, the Front is the most beautiful place in the universe (see photo, above), which is why I set my books there. To make the weekend even better, I'm winding it up with a Dakota reading  – sponsored by the Lewis and Clark Library – at the Latigo and Lace store in Augusta, the town on which my fictional community of Magpie is very vaguely modeled. 
In addition to gorgeous art and jewelry, Latigo and Lace features a very fine book selection, and for years I've made it a practice to stop there and buy a book whenever I'm passing through. I'm touched beyond belief that my own books are now included on its shelves.
So, if you're in Augusta Sunday between 1 p.m. and 3 p.m., stop on by!
---
One response to "Some summer brightness for 'Montana' and 'Dakota'"