BLOG
Jan. 15, 2017 – I've used running as an analogy for writing for awhile; as in, train long enough and you'll run a marathon, park your ass at the keyboard every day and you'll end up with a book.
But there's another way the running/writing comparison works, and that has to do with getting your butt in the chair in the first place. Some days I'd rather do anything than sit at that keyboard. Same with running, especially in winter, when cold and dark and ice are involved. There's a mantra suggested by run-walk-run guru Jeff Galloway to help you get out of bed and onto the pavement or trail in the morning: Alarm. Feet on the floor. Coffee. It generally works for me, but this morning, with a fun run scheduled and the thermometer registering 10 below, it was a struggle.
But I chanted my mantra, got myself out the door, and had a blast. The pancakes served afterward by the Runner's Edge crew were great and the person who sat the brandy beside the coffee deserves sainthood. Then home, to the keyboard. No alarm needed, but more coffee (with a splash from the flask atop the fridge. You know, because I was still thawing out from the run). By the end of the day, the dreaded synopsis had taken shape.
Butt out the door, or in the chair. Whatever it takes to get it there.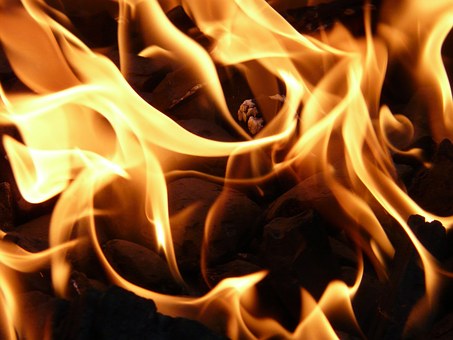 Jan. 14, 2017 – I'd rather write a whole book than a synopsis. For that matter, I'd rather have root canal than write a synopsis. And yet my editor asked for one, and I adore my editor, so here I sit, typing a synopsis. (Well, no, obviously right now I'm typing some sentences. As a way of avoiding writing a synopsis.)
This is when I really envy plotters. All they have to do is condense their obsessive outlines, and voila – synopsis. Confirmed pantser that I am, there is no outline, unless "Lola gets herself into a whole lot of trouble, and some sex" counts, which I'm pretty sure it doesn't.
But I take heart from one of my favorite authors, Dana Stabenow. A few months ago, I was lucky enough to interview her and she said (Look away, Terri Bischoff, look away!) that "I used to do outlines because they were contractually required but I almost never followed them."
So here's a vow to look back at my synopsis a year from now, and see just how closely the finished product hews to it.
Jan. 12, 2017 – When the sky above the coffee shop is this blue, it means I'm way late to writing. Because I slept in. Damn, it felt good.
But damn, I was late this morning. Solution – write fast. Zoomed through 700 words. Today, I'm particularly in love with the theory of shitty first drafts.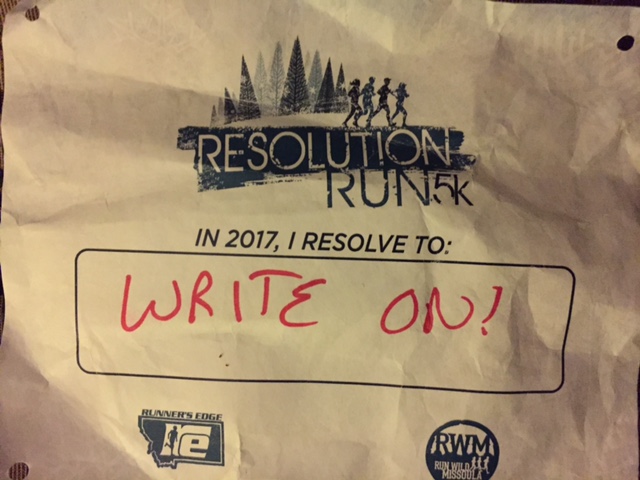 Jan. 1, 2017 – Our local running club, Run Wild Missoula, has a great New Year's Day tradition – a 5K run, followed by soup and rolls. It's called the Resolution Run, and the idea is that you write your resolution on your race bib.
This year's race was fine – it was only about 10 degrees, but the predicted snow and wind held off until after it was over. Lots of people posted running resolutions – to finish a marathon, run faster, run more, etc. Mine was different.
A couple of weeks ago, I turned in the third-manuscript in my three-book contract, which leaves me without a book contract for the first time in five years. (Never mind that 20-some contract-free years preceded that lovely five-year stint.) What to do?
There's only one thing: to keep writing, and trust that the contracts will come. Hence, my resolution. I got back from the run (and the warming post-run shots of Jameson's) and wrote a thousand words. Onward into 2017!
Dec. 30, 2016 – Gave a final spit-shine to a short piece tonight. Kind of fun, after a novel, but also – oy, the pressure! Trying to shoehorn all the essentials into that itty-bitty space. Like going back to the wires after working for a broadsheet. Oops, sorry. Got nostalgic there for a minute and lapsed into old-timey journo talk. A sure sign that it's time for bed. Over and out.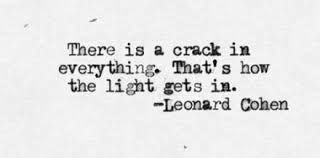 Dec. 27, 2016 – For a couple of weeks now, stories about white supremacists trolling Jewish residents of a Montana town have dominated my newspaper. Necessary? Absolutely. People need to know about this. Discouraging as hell? Oh, yeah. It's hard not to get flattened by the virulence.
What to do? Focus on the extraordinary goodness of the people surrounding me, of course, as well as the stunning natural beauty just outside my front door. And, more practically, take the anger at the bozos who perpetrate this vileness and pour it into my writing. That works, too. Book 6 is the beneficiary, words stacking up like mad.
Would I rather draw my energy from another source? Damn straight. But for now, this will do.
Dec. 21, 2016 – It's hardly a new concept, likening the letdown of sending off a manuscript to post-partum depression.
Still, I didn't expect to be laid so low when I hit "send" on Book 5. I did the right thing – started straightaway on Book 6 – and noodled away on a first chapter without having any idea where it might go. (Don't even talk to me about outlines. Just don't.) Extreme moping ensued.
Usually, when I start something new, I've got a good idea of the beginning and – more to the point – the end. Then all (as in, "all") I have to do is fill in the white space in between. But with baby Book 6, the end was a big honkin' blank, just like everything after the rudimentary first chapter. A desert, devoid of ideas. The depression was deep.
Then, last night at about 3 a.m., the hour where creativity dwells, an end came to me. And what an ending! As with everything before it's written, it's brilliant. I lay there, smiling, mighty impressed with myself for about three minutes, until I wondered what might get li'l baby Book 6 up on its knees and crawling toward that very extremely fabulous ending.
Well, I thought, this thing might. And then, that thing might, too. And this other thing sure would be an interesting twist. Usually, I email these 3 a.m. flights of fancy to myself, but last night I actually got up and flipped open the laptop and went to work. This morning, no post-partum depression.
It's a long, long way from this tiny seedling of an idea to a full-fledged book. But it's a start.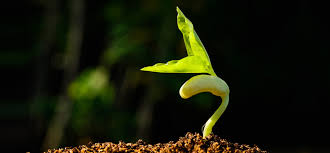 Dec. 15, 2016 – What do you do the day after you send Book 5  to your editor? This: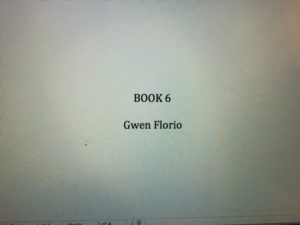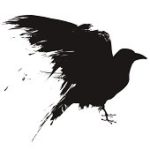 Dec. 10, 2016, five days to deadline – This print of Edgar Allen Poe (by the lovely and supremely talented Anne Cruikshank) perches above my writing chair. He seems to be scowling more than usual today. Pretty sure he's saying, "Quit fooling around with selfies and write a f***ing book."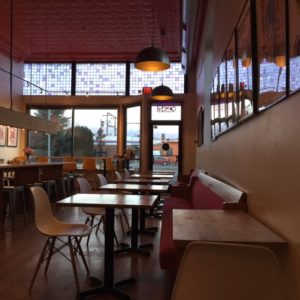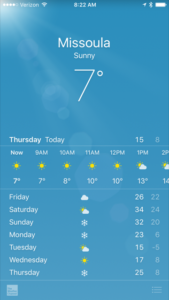 Dec. 8, 2016 – Got the coffeeshop almost to myself today. Usually by now it's a zoo, every table taken, espresso machine hissing and burbling. Why so deserted? The cold? But this is perfect writing weather!
---