Some Sentences, April 2017 – Editing, the best part
April 24, 2017 – And now, my favorite part of writing – editing.
Because 99 percent of the time, writing is just a slog. Every so often you get that paragraph that works from the get-go – at which point, you stop and sacrifice a small helpless animal to the writing gods. But now the slog is over. The first (okay, zillionth) draft is done, and now I get to make it better. Much more to the point, I'm no longer working alone.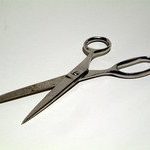 This week, I got the proposed revisions for the WIP from my editor, in the form of five single-spaced pages of conceptual edits, and the ms. with line edits. Many, many line edits. I hear enough complaining about editors that I guess some people don't like this part. Me, I love it. It's as though someone just handed me a road map that shows a very clear path to a better book.
That path involves cutting through a lot of underbrush of passive voice, confusing passages, inadequate scenes, etc. Some of that will involve an ax. Some, scissors. By the time I send it back to the editor, I hope to be wielding only a scalpel. Hear that faint screaming? It's the summary execution of darlings. Good riddance, I say.
---