Some Sentences, May 6 – Cheating, writer style
May 6, 2017 – With a deadline six weeks away, today is a rare free day, nothing to do but write. Huzzah! Right?
Well …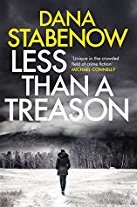 At midnight last night, the long-awaited next book in one of my favorite series, Dana Stabenow's Kate Shugak mysteries, was released after an interminable four-year wait from the previous book. Of course, I pre-ordered it.
But I made a deal with myself. The book would serve as a reward, both for today's writing marathon, and tomorrow's literal near-marathon – a twenty-mile training run. I'd limp home from the run with nothing to do the rest of the day but catch up with Kate and the rest of the gang in Stabenow's fictional Alaska park.
I went to bed last night serene in the knowledge that I had a Plan. Woke up around 1:30 a.m., my phone only inches away, the newly delivered book – Less Than a Treason – nestled within the app.
It couldn't hurt to peek, right? Just a chapter. Or two. Or … I finally put the phone down at 3 a.m. (There's a reason Stabenow's fans call themselves the Danamaniacs.)
I didn't finish the book. And I did hit the ms. hard today. But I'm counting the hours until those *$&#! twenty miles are behind me tomorrow, and I can settle in and finally find out how those skeletal remains ended up in that secluded valley. And what about Mutt? What in holy hell happened to Mutt?
Maybe I'll find out tomorrow. Or maybe it'll be another semi-sleepless night, unable to resist temptation and, honestly, not really caring.
---