BLOG
I really envy people who say they don't care about reviews; don't even read them, in fact. I can't even fake being one of those people. Whenever a good review for Montana came in, I danced around the room. The bad ones sent me into a fetal position. Luckily, there were more – lots more – of the former than the latter. Which created a whole new level of paranoia. What if people hated the sequel, Dakota? Well, the first review is in, and I did the happy dance. Kirkus Reviews, bless 'em, said that "the writing is top-notch, and the action builds at just the right pace. In Florio's capable hands, Lola Wicks is going to be around for a long, long time."
As my grandmother would have said, "from their mouth to God's ears."
In Dakota, Lola Wicks heads east, to the Bakken oil fields of North Dakota. The story that takes her there breaks in the deepest cold of winter. Talk about your polar vortex.
This coming week, Lola heads even farther east, to Philadelphia, my old stomping grounds. I'll be doing a reading there on Wednesday night, sponsored by the Rittenhouse Writers Group, at the Hooloon Art gallery. I'm excited about seeing family and old friends – and about introducing Lola, with all of her rough edges, to the big city. And of course, there will be a mandatory stop at Tony Luke's for a roast pork sandwich. Yum!
(Image: foodspotting.com)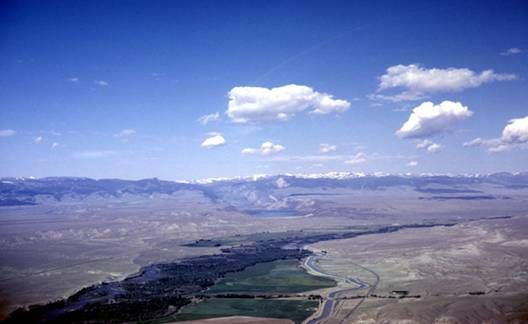 In a recent Q&A with Mark Stevens, author of the very fine Antler Dust and Buried by the Roan (full Q&A and his review of Montana here), I said that the most terrifying thing about writing fiction is the blank screen.
But, after a couple of weeks of doing the final proof on Montana (out next month!) and the more-or-less final revisions to Dakota (March 2014), the blank screen seems newly inviting. Those other tasks involved going over words I've written and rewritten and read and reread hundreds of times before. By the end of the process, I pretty much hated all of them.
But now, as I start Wyoming, the words are fresh and new. A good chunk of them won't survive, but it sure is fun to explore new territory. And this weekend, the exploration will be literal as well.
When I worked on both Montana and Dakota, I'd already written and rewritten drafts of each novel before going – or, in the case of Montana, returning – to the story's setting to nail down some details.
Wyoming involves a reversal of sorts. Even though I've just started writing the next chapter in Lola Wicks' life, I'm going to the part of Wyoming where most of the novel's action will take place.
As with Montana, it's hardly new territory. As a journalist, I reported several stories in and around the Wind River Reservation in central Wyoming, home to the Eastern Shoshone and Northern Arapaho tribes.
The country is hauntingly beautiful, and I look forward to seeing it again. As luck would have it, we're headed to Colorado for the Rocky Mountain Fiction Writers' Colorado Gold conference next week. We'll have to drive through Wyoming anyway and, in the interest of both book research and our own selfish desire for better scenery, we'll cut through Wind River on our way.
It's been close to a decade since I've been there. I look forward to seeing it again – but this time, through Lola's eyes. I wonder what she'll see?
(photo: EasternShoshone.net)
This is how I felt this week as double deadlines charged straight at me. The final draft of Dakota, the sequel to Montana, is due to The Permanent Press. But in the midst of working on that, I got the final proof of Montana – as in, my last-chance, drop-dead opportunity to make corrections. Anything I missed on this go-round lives to embarrass me in print.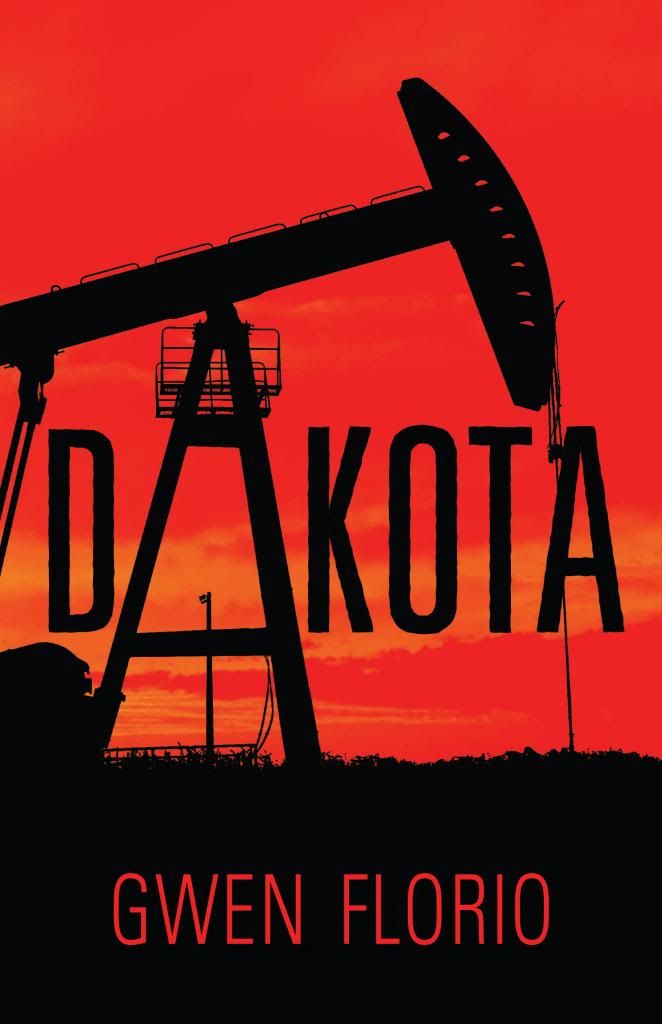 So I dropped the work on Dakota and spent two full days poring over Montana, finding 19 mistakes in the process. That sort of things gives you –  at least it gives me – nightmares. Because what if I missed something? That's the equivalent of getting run over by the locomotive. 
Now it's back to Dakota, trying to shore up the spots that wobble and jettison the stuff that slows things down. The one good thing about the diversion back to Montana was that I found phrases that were repeated in Dakota. The big machete took care of that. Very satisfying! Even more satisfying? The kick-ass cover design by Lon Kirschner. Wowza!
Speaking of The Permanent Press, here's a cool story in the Sag Harbor News about publishers Marty and Judith Shepard.
And, I never did follow up on Killer Nashville. Suffice it to say it was a blur – a productive, informative blur. The best part? Meeting the Shepards, and several of The Permanent Press authors, a frighteningly talented bunch. I am not worthy.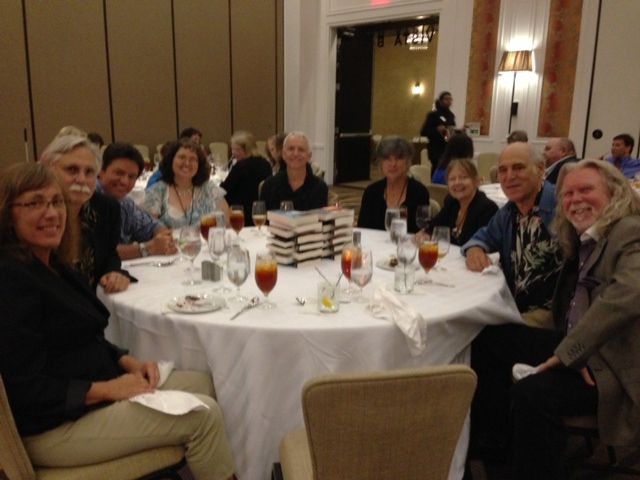 Above, from left, The Permanent Press crew – Me, Chris Knopf, David Freed, Beth (Jaden) Terrell, Mike Hicks, Connie Dial, Judith Shepard, Martin Shepard, Baron Birtcher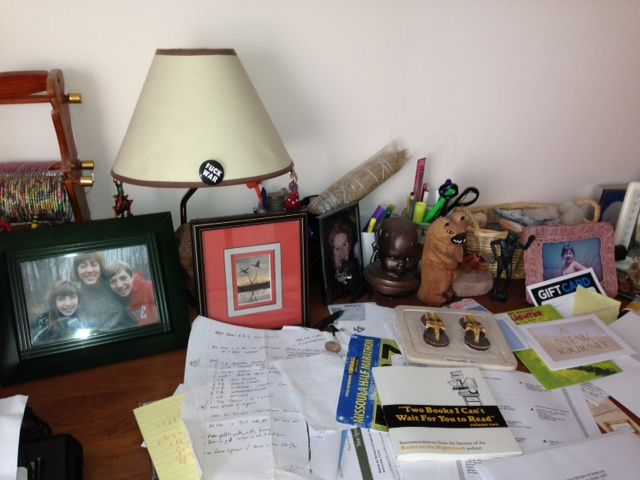 Anyone who's ever seen my desk (at right, on a relatively clean day) knows I never throw anything out.
That applies to fiction, too. I write a ton of crap on my way to writing something better. Most of it, I cut – at least, I hope I do. But I don't toss it. I file it away for possible future use. Which actually happens. 
Years and years ago – nearly fifteen, to be exact – I wrote a short story about wildland firefighters that I really liked. Unfortunately, none of the magazines to which I submitted it were equally enamored, so into the throwaway file it went. But every couple of years, I'd pull it out and rework it, and send it around again. More rejections. Finally, in 2010, I revised it yet again and this time, the Delmarva Review published "On Fire" – and nominated it for a Pushcart.
All of which brings me to Novel No. 3. Montana comes out in October and I sent the sequel, Dakota, off to an editor last week. It's an awful thing to send a book that you've babied for more than a year out into the world all by its lonesome, and I always feel bereft. The solution, of course, is to create a new baby.
My publisher, The Permanent Press, handed me a wonderful gift by naming my first novel Montana. That gave me a 50-book (!) theme, although I reduced that by a couple by leaving the "North" or "South" off Dakota. Next up, Wyoming.
It just so happens that many years ago I wrote a perfectly dreadful novel set in Wyoming. It didn't go anywhere, and thank God for that. But I liked parts of it, and now am happily going all Hannibal Lecter on those parts for this new novel. Which, as far as I'm concerned, is proof positive of the wisdom of never throwing anything away.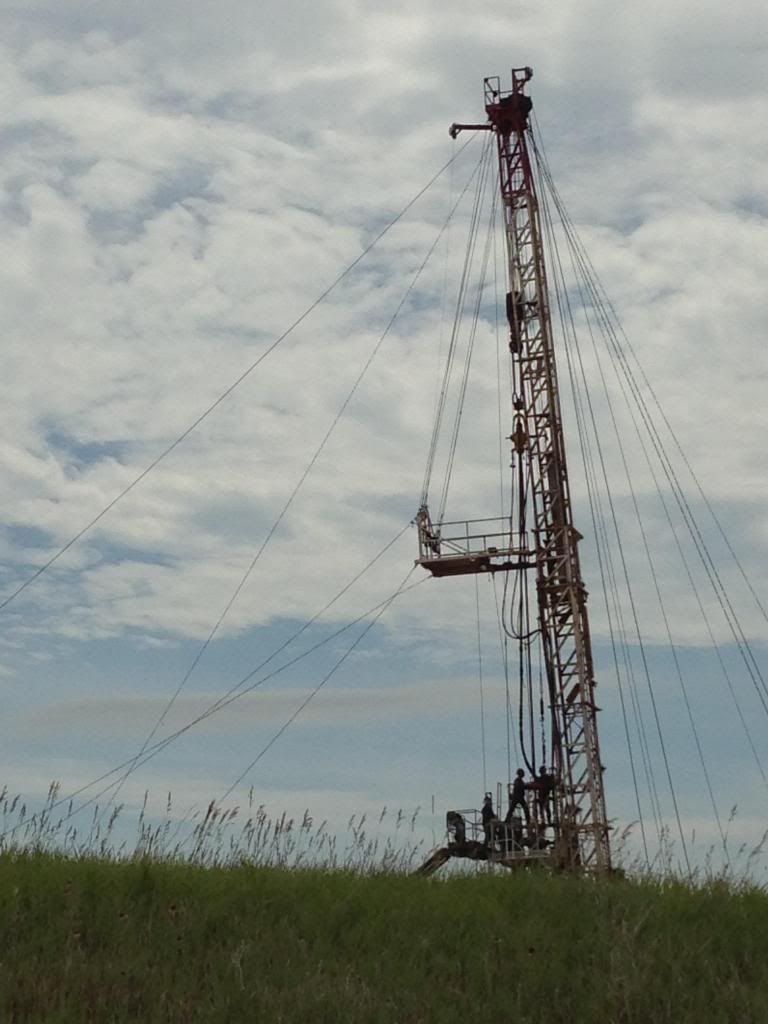 Being a reporter is a great help when it comes to writing fiction. For starters, I have no qualms about walking up to strangers – strippers, in this case – and asking them about their lives. Dakota, the sequel to Montana, features exotic dancers among other features of life in the Bakken oil patch.
To get a taste of what that life is like, Scott and I – guided by the expert advice of journalist Amy Rose Sisk, working this summer in western North Dakota – hit the road last week on a 1,650-mile round trip that took us to the heart of the patch in Williston and Watford City, N.D., and then back home along Montana's Hi-Line, its antithesis. It was long and grueling and punctuated by the worst bathrooms I've seen outside of Afghanistan and worth every minute we invested. 
In North Dakota, we saw trucks, trucks and more trucks, trucks so big that they made a standard semi look downright dainty. We met a waitress who's lived in her camper for two years and got a $100 tip one day, and dancers who make $1,000 a night. We saw a McDonald's in a town an hour away that keeps closing down because it can't get workers. And we saw man camps, rows of prefabs that seemed luxurious compared to the dozens of informal settlements of squashed-together campers in various stages of disrepair.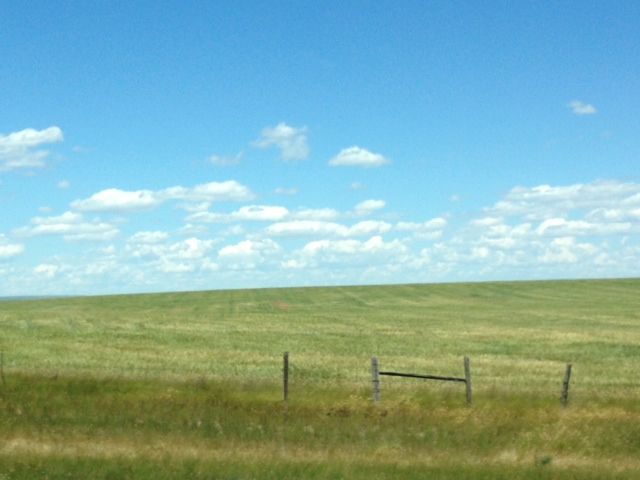 After which, the Hi-Line – sometimes disparaged as miles and miles of empty – felt wonderfully clean and soothing. I know the people who live there have a tough time. Jobs are hard to come by and amenities few and far between. But you can't help but wonder — if the cost of full employment and skyrocketing development is the chaos evident in the patch, is it worth it?
Dakota doesn't deal with that question, at least not directly. But, as with all the trips I made while working on newspaper stories, this one on behalf of fiction also raised issues that had nothing to do with the story at hand. The benefit? Those questions always led to more stories.  Let's hope it works that way with fiction, too.
Oh, and as for those dancers? Read Dakota!
---