BLOG
I am beyond thrilled to announce that Midnight Ink has offered a three-book deal for the next books in the Lola Wicks series. Here's the Publishers Marketplace announcement – I've been waiting until some details were nailed down before telling the world.
 Midnight Ink publishes some of my favorite authors – think Mark Stevens and his Allison Coil mysteries, and Shannon Baker's Nora Abbott series – so I'm doubly honored.
 The publication date for the next book, set in Wyoming, will likely be early next year. The title will almost certainly change, but Lola's peripatetic ways will not. After Wyoming, I'm sending her off to Arizona. It's entirely possible that some very self-serving research trips – in January, say – will accompany that writing process.
Oh, and did I mention that I'm thrilled?
Publishers Weekly recently came out with one of those "10 best" lists, this one of road books. I had some quibbles with the list, probably because I'd only read two of the books on it – The Road and Fay, and where the heck was Anywhere But Here?
Still, the list resonated, mainly because I've just finished two excellent road books, one fiction, one nonfiction.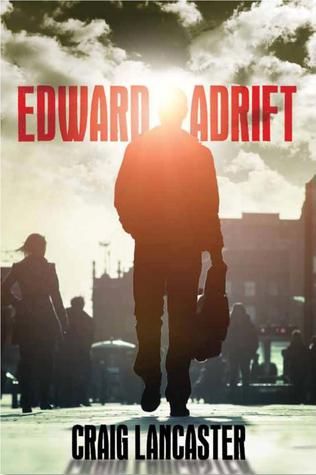 The novel, Edward Adrift, is Billings, Mont., writer Craig Lancaster's sequel to his 600 Hours of Edward, whose protagonist is a young man with Asperger's and obsessive-compulsive disorder. While Lancaster doesn't sugar-coat the difficulties of interacting with someone like Edward Stanton, he's created a character for whom readers can't help but root, even when a happy ending seems unlikely. Edward Adrift features an unhappy beginning, with Edward losing his job some months after his best, and nearly only, friends leave town. He sets out from Billings to visit them in Idaho and ends up in Eastern Colorado. It's the journey, dammit, and as the cliche implies, it's an internal journey as well.
In The Last American Highway: A Journey Through Time Down U.S. Route 83, Nebraska native Stew Magnuson's journey encompasses both those aspects, and has a strong historical component as well. The book, the first in a trilogy, traces the U.S. Highway 83 – one of the oldest and longest roads in the country, stretching from the Canadian to the Mexican border – through the Dakotas.
Both books took me through places I hold dear, the stretches of prairie that so often produce yawns in travelers. But there's no yawning in either of these books. Both Magnuson and Lancaster write with knowledge and affection about the landscape. And both authors people their work with compelling characters whose stories demand that you keep turning the page.
I've just finished (I hope) the manuscript for Wyoming, the third book in my Lola Wicks series. I did my road-tripping for that book last summer. Now I've started Arizona, and let me tell you, it's a struggle to sit in my chair and type when what I really want to do is get behind the wheel and head for the Four Corners, for the redrock country where Lola's latest adventures take place. I hope, when it's finished, Arizona will transport a reader as skillfully as Lancaster's and Magnuson's works. And maybe, in the meantime, Publishers Weekly will revise its list.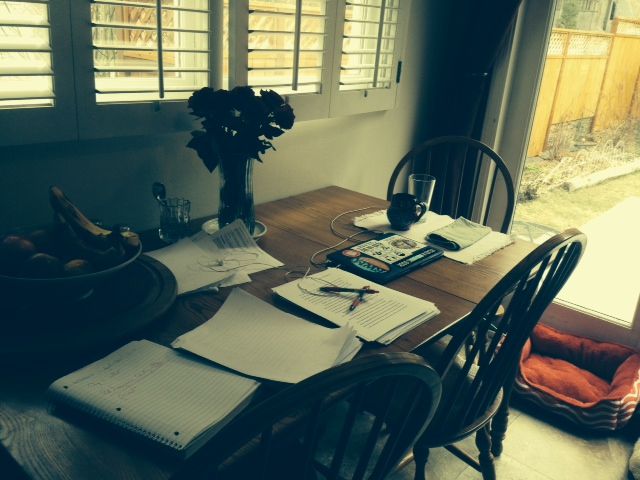 Yep, it's revision time again, this time for Wyoming. Scott is out of town, leaving me free to co-opt the kitchen table to dissect the manuscript. It's a bloody process. Dead darlings all over the floor, accompanied by maniacal laughter every time I kill another one. Entire limbs amputated. Red ink everywhere. A good five (okay, closer to ten) marked-up pages to every one that sneaks through change-free—and that, only because I probably missed something.
Today, just to make things more fun, I came across a scene that I have absolutely no memory of writing. "What the hell is that?" I said, much like Steve Martin and Bill Murray in the (can it be?) 35-year-old sketch. But it worked, so it stayed it. Speaking of "absolutely" no memory: I thought I'd gotten pretty good about forbidding access to adverbs. But the damn ms. is full of them, all of them emphatic. "Absolutely" (God help me, more than once). "Completely." "Truly."
Absolutely embarrassing. Completely unnecessary. Truly godawful. I probably used up an entire red pen deleting such nonsense.
While my head is full of Wyoming, Dakota is out in the world, seeking a cozy bookshelf—although a nightstand or floor will do nicely, not to mention an e-reader, tablet or phone—to call its own. Readings start next week (see the schedule, here), which means I've got to forget about Wyoming's Wind River region for awhile and think of things to say about North Dakota's Bakken oil patch. Let's just see if I can get through this without adding some lines about strippers to Wyoming, and bringing up veterans and PTSD when I talk about Dakota.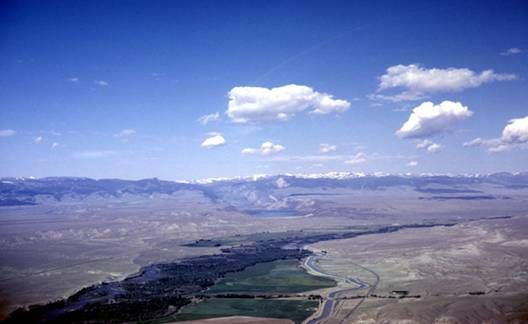 In a recent Q&A with Mark Stevens, author of the very fine Antler Dust and Buried by the Roan (full Q&A and his review of Montana here), I said that the most terrifying thing about writing fiction is the blank screen.
But, after a couple of weeks of doing the final proof on Montana (out next month!) and the more-or-less final revisions to Dakota (March 2014), the blank screen seems newly inviting. Those other tasks involved going over words I've written and rewritten and read and reread hundreds of times before. By the end of the process, I pretty much hated all of them.
But now, as I start Wyoming, the words are fresh and new. A good chunk of them won't survive, but it sure is fun to explore new territory. And this weekend, the exploration will be literal as well.
When I worked on both Montana and Dakota, I'd already written and rewritten drafts of each novel before going – or, in the case of Montana, returning – to the story's setting to nail down some details.
Wyoming involves a reversal of sorts. Even though I've just started writing the next chapter in Lola Wicks' life, I'm going to the part of Wyoming where most of the novel's action will take place.
As with Montana, it's hardly new territory. As a journalist, I reported several stories in and around the Wind River Reservation in central Wyoming, home to the Eastern Shoshone and Northern Arapaho tribes.
The country is hauntingly beautiful, and I look forward to seeing it again. As luck would have it, we're headed to Colorado for the Rocky Mountain Fiction Writers' Colorado Gold conference next week. We'll have to drive through Wyoming anyway and, in the interest of both book research and our own selfish desire for better scenery, we'll cut through Wind River on our way.
It's been close to a decade since I've been there. I look forward to seeing it again – but this time, through Lola's eyes. I wonder what she'll see?
(photo: EasternShoshone.net)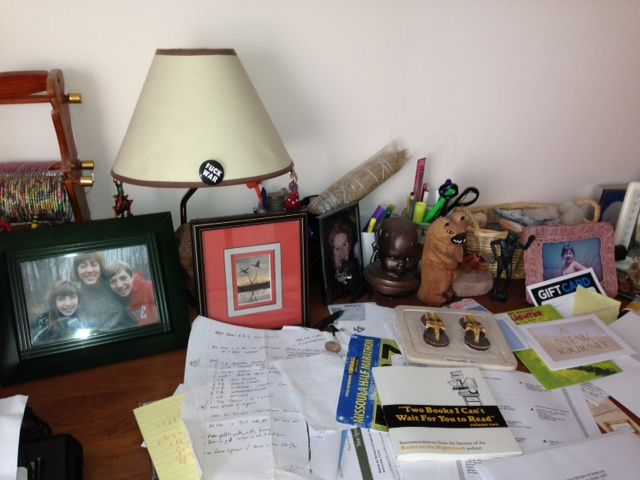 Anyone who's ever seen my desk (at right, on a relatively clean day) knows I never throw anything out.
That applies to fiction, too. I write a ton of crap on my way to writing something better. Most of it, I cut – at least, I hope I do. But I don't toss it. I file it away for possible future use. Which actually happens. 
Years and years ago – nearly fifteen, to be exact – I wrote a short story about wildland firefighters that I really liked. Unfortunately, none of the magazines to which I submitted it were equally enamored, so into the throwaway file it went. But every couple of years, I'd pull it out and rework it, and send it around again. More rejections. Finally, in 2010, I revised it yet again and this time, the Delmarva Review published "On Fire" – and nominated it for a Pushcart.
All of which brings me to Novel No. 3. Montana comes out in October and I sent the sequel, Dakota, off to an editor last week. It's an awful thing to send a book that you've babied for more than a year out into the world all by its lonesome, and I always feel bereft. The solution, of course, is to create a new baby.
My publisher, The Permanent Press, handed me a wonderful gift by naming my first novel Montana. That gave me a 50-book (!) theme, although I reduced that by a couple by leaving the "North" or "South" off Dakota. Next up, Wyoming.
It just so happens that many years ago I wrote a perfectly dreadful novel set in Wyoming. It didn't go anywhere, and thank God for that. But I liked parts of it, and now am happily going all Hannibal Lecter on those parts for this new novel. Which, as far as I'm concerned, is proof positive of the wisdom of never throwing anything away.
---