BLOG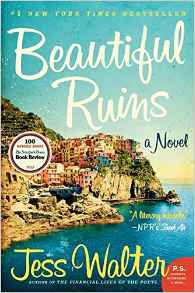 Dec. 11, 2016, four days to deadline – Took advantage of the weekend to hit the final write-through hard, but finally granted myself a break. Despite the danger of reading a wonderful book at a time when I loathe every single thing about the one I'm writing, Jess Walter's Beautiful Ruins has sucked me in He had me with this passage:
"Agent: This book doesn't work. Shane: You mean in your opinion. Agent: I mean in English."
I probably shouldn't find that funny, but I laughed out loud.
Four days after returning from Bouchercon, the annual crime fiction convention held this year in New Orleans, I'm almost recovered. Bouchercon deserves its own post, and will get it.
But one of the highlights of the long weekend was this year's ceremony to award the Pinckley Prizes. The awards for crime fiction by women writers take their name from Diana Pinckley, who write the "Get a Clue!" crime fiction column for the Times-Picayune for 23 years.
Pinckley died in 2012 and, to honor her memory, the Women's National Book Association of New Orleans established the award to honor her memory. There are two prizes—one for a first novel, and one for body of work—and I was honored to be the debut author who received that inaugural award.
Laura Lippman won for body of work that year, and the prizes were given out at the annual Tennesese Williams/New Orleans Literary Festival. The 2013 winners were Nevada Barr and Adrianne Harun (debut novel, A Man Came Out of a Door in the Mountain), and this year, Sara Paretsky won for body of work. My fellow Montanan, Christine Carbo, won for her first novel, The Wild Inside.
I am in awe of the level of writing by Lippman, Barr and Paretsky, authors at the top of their game. The fact that the Pinckley Prizes puts debut novelists in proximity to those outstanding in the field is a vote of affirmation, and also incentive not to squander the faith that has been placed in us.
I wish I'd been able to meet Pinckley (all her friends refer to her by her last name). But this video, stemming from her involvement in Women of the Storm — a group of women who sought to bring attention to the devastation caused by Hurricane Katrina — gives a sense of her personality. I'm told she also wore purple cowboy boots, clue to an exuberant spirit that might not come through in the video.
So, an annual thank-you to the WNBA and the Pinckley Prizes committee, and I'm already looking forward with great anticipation to see who next year's winners will be.
Today I'm turning this space over to Craig Lancaster, a Billings, Montana, author whose Edward books – 600 HOURS OF EDWARD, EDWARD ADRIFT and now, EDWARD UNPSOOLED – introduced me to one of my favorite protagonists.
Although Craig – who also writes very fine standalone novels – has stuck with his main character through this particular series, the way I'm getting the books has changed. He's gone from indie to traditionally published to back again, at least for this book. His reasons are intriguing and thought-provoking, and there's a ton of good information in his post. Check it out. Me, I'm going to go back to reading EDWARD UNSPOOLED. FYI, the audiobook came out yesterday.
TALES FROM THE INDIE TRENCHES
By Craig Lancaster
On July 23, I launched my independently published sixth novel, EDWARD UNSPOOLED. I detailed the reason I chose to go indie in a piece with Last Best News and folded that decision into the larger context of independence in the creative arts in Billings, Montana, where I live. It's a long piece but worth the time to read, I think. Cool things are happening.
Here, thanks to Gwen's graciousness, I'd like to dig deeper into going indie: the costs of getting the title launched, the first-week results, options for distribution, and what I might choose to do with my next novel. (If there is a next novel, I should add. It took me too damned long to write one, let alone six, to blithely assume that I'll write something publishable in the future.)
The decision
Deciding to go for it was the easy part. When the publisher of my first five novels passed on a third Edward Stanton novel on grounds that were not editorial in nature, I knew I wanted to find a way to bring the book out. Further, in many ways I'd been waiting for the opportunity. I self-published my first novel seven years ago, haphazardly and with no real strategy or expectations, before it was picked up by a publisher. I wanted to see what might happen if I approached an independent project in a more businesslike way.
Among the many reasons I love Billings, Mont., author Craig Lancaster's most recent novel The Fallow Season of Hugo Hunter (Lake Union Publishing, released in September) lies in its depiction of sports journalism. The novel is narrated by Mark Westerly, a sportwriter who's covered boxer Hugo Hunter for most of Hunter's meteoric career. Now, at the painful end of that career, Westerly has some hard choices to make.
I've always been in awe of sportswriters. Their hours are brutal – all nights, all weekends, all the time – and their deadlines worse. They often cover athletes with outsize egos and organizations that have become increasingly skillful at manipulating the press. And, probably more so than any other group of journalists, they run the risk of getting too emotionally close to their sources. In Hugo Hunter, Lancaster gets at all of that with the same deftness and sensitivity he brings to his other novels.
Here, Lancaster expands upon his own experience with the allure of sportswriting.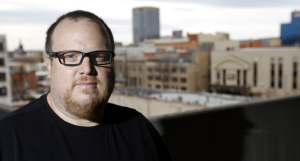 I remember clearly the moment I realized that my new stepfather wasn't like the other dads. My mom and I had settled into Charles Clines' apartment in Euless, Texas, after he moved us from Casper, Wyoming, where I spent my first three years. Charles' son Keith, four years my elder, hauled out the morning's newspaper, pointed at a byline (not that I knew what a byline was then) and said, "That's my dad."
There were other hints about Charles' strange professional life. He'd come home in the wee hours after a nighttime sporting event. He traveled a lot, by car and by plane. He was always bringing home T-shirts, gift bags and other artifacts from his wanderings.
It took me a few years to figure out the scope of things. When I realized that my stepfather got paid to watch games and talk to sports stars, I didn't have to do much thinking to know that I wanted to grow up and do just what he did. Read the rest of this entry »
Denver author Mark Stevens has just released TRAPLINE (Midnight Ink), the third in his mystery series featuring hunting guide Allison Coil. Kirkus Reviews praised its "all-too-believable conspiracy that could have been ripped from today's headlines," and author David Freed (the Cordell Logan mysteries) called it "a work of enviable achievement, the embodiment of an immensely skilled author in full stride." 
I've long been a fan, both of Stevens' persistence and work ethic (he wrote several novels before one was published) and of his work, starting with his first novel, ANTLER DUST. Stevens recently took time from his book tour to answer some questions about TRAPLINE and other topics.
Colorado is blessed with thousands of square miles of stunningly beautiful wilderness, the Flat Tops among them. Why did you choose that particular place as the setting for your novels?
Can you handle the truth? The Flat Tops chose me. I met the woman who inspired Allison Coil—a real-life female hunting guide—in the Flat Tops Wilderness. The character and the setting arrived in tandem. A package. They were inseparable in my mind. She was rugged and smart. At the same time, the Flat Tops blew me away as a very different corner of Colorado. The mountains are all chopped-off (and flat) and that changes the whole feeling of the landscape. It's quite serene and also quite lush, at least by Colorado standards. There are a 140-plus small lakes in the Flat Tops and it's full of wildlife. It's also smack in the middle of all the ripe New West – Old West issues in Western Colorado so the area just pulled me in as an interesting setting. Read the rest of this entry »
---