BLOG
Four days after returning from Bouchercon, the annual crime fiction convention held this year in New Orleans, I'm almost recovered. Bouchercon deserves its own post, and will get it.
But one of the highlights of the long weekend was this year's ceremony to award the Pinckley Prizes. The awards for crime fiction by women writers take their name from Diana Pinckley, who write the "Get a Clue!" crime fiction column for the Times-Picayune for 23 years.
Pinckley died in 2012 and, to honor her memory, the Women's National Book Association of New Orleans established the award to honor her memory. There are two prizes—one for a first novel, and one for body of work—and I was honored to be the debut author who received that inaugural award.
Laura Lippman won for body of work that year, and the prizes were given out at the annual Tennesese Williams/New Orleans Literary Festival. The 2013 winners were Nevada Barr and Adrianne Harun (debut novel, A Man Came Out of a Door in the Mountain), and this year, Sara Paretsky won for body of work. My fellow Montanan, Christine Carbo, won for her first novel, The Wild Inside.
I am in awe of the level of writing by Lippman, Barr and Paretsky, authors at the top of their game. The fact that the Pinckley Prizes puts debut novelists in proximity to those outstanding in the field is a vote of affirmation, and also incentive not to squander the faith that has been placed in us.
I wish I'd been able to meet Pinckley (all her friends refer to her by her last name). But this video, stemming from her involvement in Women of the Storm — a group of women who sought to bring attention to the devastation caused by Hurricane Katrina — gives a sense of her personality. I'm told she also wore purple cowboy boots, clue to an exuberant spirit that might not come through in the video.
So, an annual thank-you to the WNBA and the Pinckley Prizes committee, and I'm already looking forward with great anticipation to see who next year's winners will be.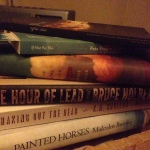 That New Yorker cover? That's pretty much what my house looks like these days, thanks to the recent Humanities Montana Festival of the Book and the pending High Plains Book Festival. The photo shows just a few of the books that came home with me from Missoula's book festival earlier this month. God knows how many I'll tote back from the High Plains event in Billings this weekend. Awhile back, I promised myself not to buy any more books unless I made room for them on the shelves by getting rid of other books. It took me about a minute to break that promise. I keep waiting to be sorry. Hasn't happened yet.
As if the book festival weren't enough excitement for one week, I got an email over the weekend notifying me that I'd been accepted for a residency at 360 Xochi Quetzal, an artists' colony in Chapala, a town on the shores of Lake Chapala in the Mexican state of Jalisco. The news pretty much shot my concentration for the rest of the day. The residency runs from mid-December to mid-January. A month! With nothing to do but write, and write and write some more. This will allow me to finish and polish the WIP and – this may be the point where I verge into fantasy – maybe even start the next book. I am beyond honored and grateful. Sometimes the writing gods smile. And sometimes they throw in some holiday tamales in the bargain. Best present ever.
---