'Hugo Hunter' author Craig Lancaster on the allure of sportswriting
Among the many reasons I love Billings, Mont., author Craig Lancaster's most recent novel The Fallow Season of Hugo Hunter (Lake Union Publishing, released in September) lies in its depiction of sports journalism. The novel is narrated by Mark Westerly, a sportwriter who's covered boxer Hugo Hunter for most of Hunter's meteoric career. Now, at the painful end of that career, Westerly has some hard choices to make.
I've always been in awe of sportswriters. Their hours are brutal – all nights, all weekends, all the time – and their deadlines worse. They often cover athletes with outsize egos and organizations that have become increasingly skillful at manipulating the press. And, probably more so than any other group of journalists, they run the risk of getting too emotionally close to their sources. In Hugo Hunter, Lancaster gets at all of that with the same deftness and sensitivity he brings to his other novels.
Here, Lancaster expands upon his own experience with the allure of sportswriting.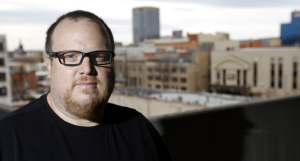 I remember clearly the moment I realized that my new stepfather wasn't like the other dads. My mom and I had settled into Charles Clines' apartment in Euless, Texas, after he moved us from Casper, Wyoming, where I spent my first three years. Charles' son Keith, four years my elder, hauled out the morning's newspaper, pointed at a byline (not that I knew what a byline was then) and said, "That's my dad."
There were other hints about Charles' strange professional life. He'd come home in the wee hours after a nighttime sporting event. He traveled a lot, by car and by plane. He was always bringing home T-shirts, gift bags and other artifacts from his wanderings.
It took me a few years to figure out the scope of things. When I realized that my stepfather got paid to watch games and talk to sports stars, I didn't have to do much thinking to know that I wanted to grow up and do just what he did.
Seriously, I was the most fortunate kid I knew. I routinely attended college basketball and football games, shook hands with Jack Nicklaus, sat ringside at boxing matches, met my heroes on the Dallas Cowboys. When I was 11, Charles landed me a gig filing results and next-day pairings from the Texas Golden Gloves to the Associated Press and United Press International. Five solid nights of boxing from the best seat in the house, and all I had to do was get on the phone and tell someone who won and how and who would be fighting the next night. For my trouble—trouble?—I got a $150 paycheck.
By the age of 17, my path was pretty well defined. I was active on my high school newspaper, and I'd done some freelance work for a little hometown rag that circulated in the suburb where I grew up. Some kids letter in sports; I lettered in journalism (seriously). Some kids are all-state in choir; I was the 1988 Texas High School Journalist of the Year. My first big-newspaper byline appeared that year in the Fort Worth Star-Telegram, the newspaper where Charles worked. I was sent out to a boxing gym on the north side of Fort Worth to cover a "smoker," a small-time fight card. The editors at the paper gave me space for about 350 words, and I filed my story on a Radio Shack TRS-80 with an acoustic coupler, and I floated home on my own sense of self.
More than a year later, just out of high school, I had my first front-page story in the Star-Telegram, a surreal experience I've written about before. If you'd asked me that day where my nascent career was headed, I'd have told you I was destined for the pages of Sports Illustrated.
Funny thing, that.
While I continued writing about sports and many other things—city government, general features—through my abbreviated college years, I began to realize that the work I really enjoyed and was best suited to temperamentally occurred inside the office, as a copy editor and page designer. Between 1992 and 2003, I did almost nothing in the way of bylined journalism. I enjoyed working with words, shaping coverage, watching a newspaper come together from a stack of page dummies to words and photos and ads in the course of a single evening. I'd also seen enough of life as a sportswriter to know that the glory I sensed as a youngster was but an illusion. You spend your time among athletes, but you are not their peers. By necessity, it is often an adversarial relationship. And let me tell you, there's nothing glamorous about pounding out a 20-inch game story in 15 minutes so you can beat deadline, although that kind of discipline is a pretty good cure for writer's block. It's no wonder that a lot of good sportswriters have made good novelists, too.
I ventured once more into the field in the summer of 2003. As I moved up the editorial ranks at the big newspaper in California where I worked, I'd started asking for an opportunity to spend a season on one of our major sports beats, so I could know what people I'd be supervising went through in their day-to-day life. That summer, two weeks before the start of training camp, I was handed the Oakland Raiders beat.
There's much I could say about the experience. A monthlong stay in Napa for training camp didn't suck. Nor did the travel and the food. The job itself was a slog, one made more challenging by just how bad the Raiders were that year. The season after their disastrous Super Bowl against Tampa Bay, the Raiders went 4-12 and endured a locker room revolt, their coach calling them "the dumbest team in America" and a steroid scandal. I wrote a lot, often without much underlying material, as players made themselves scarce during the times the locker room was open to the press. We finished the season in San Diego, and I was sick as a dog, unable to hear out of one ear and just trying to stay alert up in the press box. Try writing a gamer, a notebook and a sidebar under those conditions.
But you know what? I loved the job, and I harbored some hope that I'd be allowed to do something else—maybe a baseball season, an entirely different animal from a coverage perspective—before my bosses called me back to the office and gave me the promotion I'd been seeking.
Even now, more than 10 years clear of that, I can tell someone I once covered the Oakland Raiders and the conversation stops and turns to that gig. I've met people who do far more important work than sportswriting, who want nothing more than to talk about covering games. You see it in their eyes, that glimmer that says, "Man, getting paid to watch sports." You see it, and you know. They think they'd do just about anything for that kind of job.
When I was preparing to write my latest novel, The Fallow Season of Hugo Hunter, one of my biggest deliberations was on the subject of voice. I didn't want Hugo, the broken-down boxer at the center of the story, to do the telling; something about that struck me as entirely too self-aware. A pulled-back point of view, such as third person, seemed too detached. In the end, I settled on Mark Westerly, the sportswriter who has spent most of his career covering Hugo, as the narrator. I knew what someone like Hugo—at the end of a never-quite-made-it career, burdened by bad decisions and addiction—would look like through the eyes of someone like Mark. I imbued their relationship with a sort of codependence, a shorthand developed over long years spent in each other's presence. I know a lot of sportswriters, and not a single one of them has written everything he knows—there's too much common knowledge that either can't be sourced in the way newspapers demand or doesn't have direct relevance to the day-in, day-out churn of coverage.
In this new book, however, Mark Westerly finally does unburden himself of all the knowledge he's buried deep. Those revelations hold the power to destroy Hugo and himself—or, possibly, to set them free.
Craig

Lancaster

, of Billings, is the author of the novels 600 Hours of Edward, Edward Adrift and The Summer Son, as well as the short-story collection Quantum Physics and the Art of Departure. His latest novel, The Fallow Season of Hugo Hunter, was released Sept. 30.
Visit him at

Craig

–

Lancaster

.com or on Twitter at @AuthorLancaster.
---