'Montana' takes to the air, and the airwaves. Tattered Cover, The Book Cult and The Write Question, oh my! And Indies First, too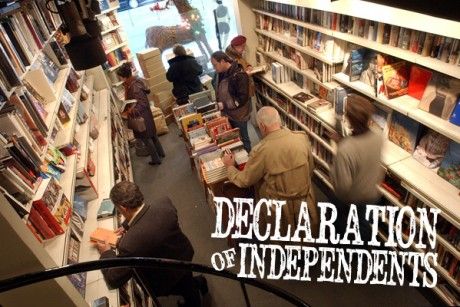 My little book takes its first plane ride this week when we head south to Denver, for a reading Friday evening (7:30 p.m.) at the Tattered Cover's Colfax location. I lived in Denver for nearly 10 years, and I think I spent about half that time, and a considerable amount of my paycheck, in the Tattered Cover, so I'm pretty excited about reading there. I'm also psyched to see family and friends, including a gathering of my old book group, The Book Cult. Good times ahead!
Also, on Thursday night, Montana will be the subject of The Write Question, Cherie Newman's public radio interviews with authors in the West. The show airs at 6:30 p.m. on Yellowstone Public Radio, 7:30 p.m. on Montana Public Radio, and also is distributed through PRX, the public radio exchange. You can also listen here. As a former journalist, it was strange being the one answering questions instead of asking them.
Next up, readings in Bozeman (Country Bookshelf, Nov. 20, 7 p.m.) and Dillon (The Bookstore, Nov. 21, 5 p.m.) and then back to Missoula for the Indies First weekend at Fact & Fiction.
Indies First is a helluva cool deal, cooked up by author Sherman Alexie and Seattle Queen Anne Book Company owner Janis Segress as a way for writers to promote their favorite independent bookstores. As Alexie writes:
Now is the time to be a superhero for independent bookstores. … Here's the plan: We book nerds will become booksellers. We will make recommendations. We will practice nepotism and urge readers to buy multiple copies of our friends' books. Maybe you'll sign and sell books of your own in the process. I think the collective results could be mind-boggling (maybe even world-changing).
Fact and Fiction's Indies First event starts Nov. 30 with  authors David Abrams and David James Duncan, as well as Kim Anderson from the Humanities Montana Festival of the Book. I'll be there the next day, Dec. 1, with authors Rick Bass, Ken Robison and fellow mystery author Leslie Budewitz. We'll answer questions, answer the phones, offer book recommendations and even (eek!) gift-wrap purchases.
After all, as Alexie reminds us, "The most important thing is that we'll all be helping Independent bookstores, and God knows they've helped us over the years."
Amen to that.
(image: bookstorepeople.com)
---