Some Sentences, March 2017 – Decks (and desk) cleared
March 28, 2017 – Devoted a three-day weekend to doing my taxes and cleaning my desk. Not sure which task was more onerous, although I eased the pain of the latter by listening to the spectacular audiobook version of "Lincoln in the Bardo" as I dug through the piles of paper to bare wood.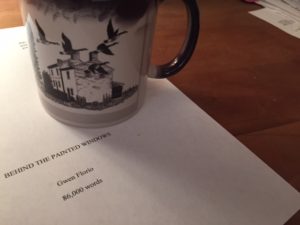 Why the flurry of activity? Because new book is due June 15, which in book world is basically tomorrow. But, having dispensed with taxes, desk cleaning and some other time-consuming tasks, I'm ready! Having spent much of the last five years writing books set in the American West, it's both strange and wonderful to re-immerse myself in Afghanistan. Already wishing for some lamb qorma, and some naan, fragrant and fresh and from being peeled from the side of the tandoor. But for now, it's coffee, coffee, coffee in my favorite mug as the revisions begin.
---