BLOG
Dec. 16, 2017 – And just like that, Under the Shadows is done. I just emailed the really-truly-final tweaks to Midnight Ink copy editor Sandy Sullivan, who deserves to perch atop the highest pedestal in the land.

I never make a timeline. (Bad, bad writer.) Sandy always does – and then points out the necessary adjustments throughout the book. She reminds me that a character is drinking from a glass on one page, and sipping from a straw on the next. She points out that I've used the same distinctive word twice in two paragraphs.
Reading Sandy's notes damn near results in a trip to the ER because I smack my head so often. Why she doesn't address her emails to me as "Dear Idiot" is beyond me.
Copy editors, people. Worship them.
Nothing makes a book under construction seem more real than seeing the final cover design – a face to go with the name, if you will.
UNDER THE SHADOWS, Book 5 in the Lola Wicks series, has the striking cover I've come to expect from Midnight Ink, a looming, ominous image of the world's largest temple of the Church of Jesus Christ of Latter-day Saints.
Guess where it takes place?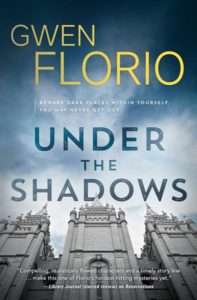 Here's the description.
Lola Wicks is in bad shape. A family tragedy has nearly flattened her in a way that her years reporting from war zones never did. Her friends, alarmed by signs that Lola is in the grip of a destructive addiction, hope that a freelance assignment will get her back on her feet. The threat of having her child removed persuades Lola to head for Salt Lake City on a puff piece about overseas adoptions. But the story takes a dark turn when the teenager at the center of her story lands in jail facing a murder charge. Setting out to prove the youth's innocence takes Lola to her own dark place, and she's not sure if she'll ever be able to find her way back
Coming, as they say, in March 2018.
The last thing I wanted to do, with the timebomb of a deadline ticking away, was take a break from revisions.
But that's what a family reunion mandated. Sure, I could've ducked away for awhile every day, but – no excuses here – chose not to. Left the laptop at home so I wouldn't be tempted. And then, of course, fretted about my choice for five whole days.
Until I got back, and turned a fresh eye on the ms. Holy cow. Inconsistences everywhere. As scary as it was when each new one popped up, it felt even better to find them and fix them – sort of like literary Whack-A-Mole. I know exactly how that guy in the video feels.
I'm crediting the break with the fresh eyes, and the new well of energy. It'll be fast depleted, of course. But for now, I'm actually enjoying it. Whack!
---