BLOG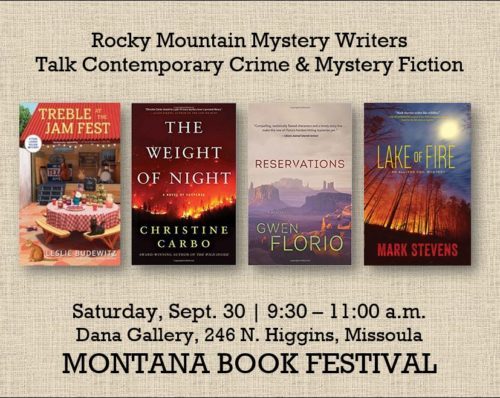 Sept. 17, 2017 – Holy cow, things got busy all of a sudden.
I'm still recovering from last weekend's most excellent Rocky Mountain Fiction Writers Colorado Gold Conference.
Next weekend launches the tour for Montana Noir, one of the most fun projects I've ever worked on. Check out the full tour schedule.
The Noir Tour morphs into the Montana Book Festival, where in addition to Noir-related events, I'll also be on a panel featuring fellow Rocky Mountain crime writers Leslie Budewitz, Mark Stevens and Christine Carbo.
Then, after the shortest of breaks, it's off to Toronto for Bouchercon, the huge mystery book convention where I'll moderate one panel and be on another.
All the deets are on the events page. Pretty sure times like this are why the phrase "writing around the margins" was invented. That said, I've snagged "my" table (in the back, by bakery – nom!) at Break Espresso, latte'd up, and am settling in for a long and happy day at the WIP and various other projects that have nada to do with the day job. Hope to see you at one or another of these events.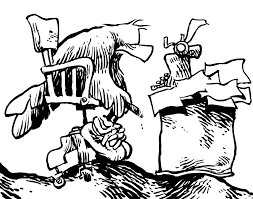 Sept. 6, 2017 – I love the day job, I really do. But recently – what with fires and smoke (and fires and smoke and fires and smoke) – it's been a lot of job.
So I'm even happier than usual to take off my editor's eyeshade and put on my novelist's hat and head off to Denver for the Rocky Mountain Fiction Writer's Colorado Gold Conference – three whole days with nothing to do but talk, think and breathe fiction. Lord almighty. I just might die of happiness.
This year, I'm tickled to be giving a workshop on Sunday – Brilliant Disguise: How to Turn Real People into Fictional Characters.
One downside? It's at 8 a.m. Sunday.
Another? This one is the mother of all downsides – I'm up against my friend Andrea Catalano and Heather Webb's workshop – The Joy of Great Sex, on how to write sex scenes.
Pretty sure I'll be talking to an empty room!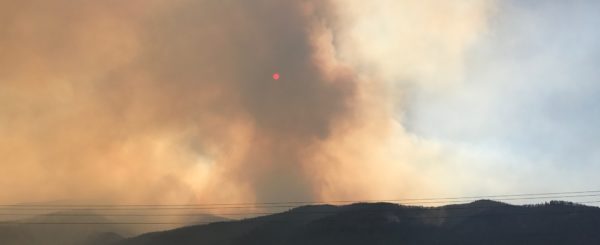 Sept. 4, 2017 – Pretty sure I'm being punished for all the times – approximately one million and counting – I've said how much I love to cover wildfires.
Because what's not to love? Big, dramatic flames in big, beautiful landscapes, and let's not forget the big, gorgeous firefighters. (Oops, did I say that out loud?) One of my first published short stories was about wildland firefighters, and it remains one of my favorite pieces of writing.
I should have known that, like all passionate love affairs, this one would end badly. Wildfire season 2017 has brought more fires to Montana, burning longer, than any summer I can remember, and with them a new factor – smoke. Not the usual two- or three-day infestation that lays down a layer of ash on our cars, but one that has lingered for weeks now, blotting out our view of the mountains and making even mild outdoor exertion an exercise in insanity.
Smoke is not beautiful. It's not exciting. It sucks. Your eyes sting, your throat burns and your lungs spend all day screaming WTF?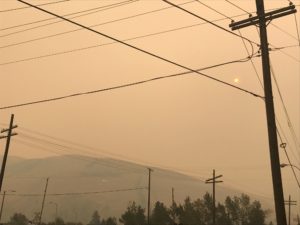 But – trying to find the bright side here – it's wonderfully atmospheric. The air takes on a yellowish tinge and has actual taste and texture. During the day, the sun is a baleful orange ball, flaring into glorious sunsets before giving up and sinking behind the mountains, which is when the fires – invisible behind their daytime shroud of smoke – rise up against the darkness. People and cars emerge ghostlike from the murk and fade back into it.
Either smoke muffles sound, or things are quieter because so few people want to venture into it. Either way, the silence enhances the eeriness of ours days. Everyone's edgy, cranky. Any day now, crime is going to get weird.
All of this is great stuff for writers, right? You want to a big, dramatic scene? Throw in some fire. But to really creep people out, go for smoke.
---