BLOG
July 27, 2017 – Every time I feel like a failure as a mom (100 percent of the time, right?), I remind myself that I have kids who read.
My daughter and I have especially similar tastes in books, and our conversations always include a check of what the other is reading, and a hard nudge for ideas for more. She's far more organized than I, keeping a list of everything she reads. Every so often, I ask her to just send me her list, as a lazy way of creating a list of my own.
We've been on a roll this summer, discovering a new book we both love, and rediscovering an older one.
I take credit for stumbling across Beartown, Fredrik Backman's (A Man Called Ove) April release by Atria. I clicked on a whim, without knowing anything about it. Within hours of starting, I was on the phone to Kate
"Drop everything else and read this book right now."
It's about ice hockey, was all I'd tell her, this daughter who played ice hockey on a boys' team in high school. Which, as anyone who's read the book knows, is a wholly inadequate description. But to say more would have been to give too much away.
By the next day, she was calling me so that we could compare notes on what we'd read so far. Each of us loved it. Each of us hated to see it end – the ultimate measure of a great book.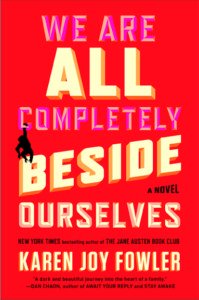 And each of us felt bereft, the only cure for that being to read another good book. By happenstance, I went to my shelves and pulled one she'd recommended a long time ago, but that I'd never gotten around to reading: Karen Joy Fowler's We Are All Completely Beside Ourselves. (2013, Putnam's)
A few pages in, another phone call. "This is fabulous. I love her writing, her protagonist."
Kate just might have said, "I told you so." But she also picked up the book again and is re-reading it, enjoying it just as much as she did the first time – another mark of a terrific book.
I'm nearly to the end, though, and badly spoiled by two great books in a row. Recommendations?
Nothing makes a book under construction seem more real than seeing the final cover design – a face to go with the name, if you will.
UNDER THE SHADOWS, Book 5 in the Lola Wicks series, has the striking cover I've come to expect from Midnight Ink, a looming, ominous image of the world's largest temple of the Church of Jesus Christ of Latter-day Saints.
Guess where it takes place?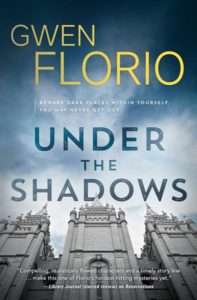 Here's the description.
Lola Wicks is in bad shape. A family tragedy has nearly flattened her in a way that her years reporting from war zones never did. Her friends, alarmed by signs that Lola is in the grip of a destructive addiction, hope that a freelance assignment will get her back on her feet. The threat of having her child removed persuades Lola to head for Salt Lake City on a puff piece about overseas adoptions. But the story takes a dark turn when the teenager at the center of her story lands in jail facing a murder charge. Setting out to prove the youth's innocence takes Lola to her own dark place, and she's not sure if she'll ever be able to find her way back
Coming, as they say, in March 2018.
Yesterday I sent Book 5 in the Lola Wicks series off to my editor at Midnight Ink. You know what that means – hamster dance!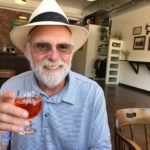 It also meant a lazy summer afternoon with my sweetie at a local cidery by way of celebration, sampling ciders with varying degrees of alcohol content, followed by astonishment that evening was upon us … funny how that works.
This morning brings only a wee headache, along with the sadness that accompanies the sendoff of any manuscript. The thing that I've cursed for so long for the way it's dominated my mornings before work, chewed up my weekends and made me possibly not the most pleasant person to be around – gone.  What to do now? There's only one thing.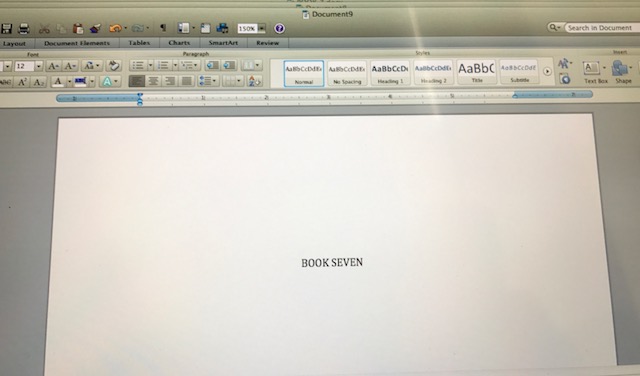 The last thing I wanted to do, with the timebomb of a deadline ticking away, was take a break from revisions.
But that's what a family reunion mandated. Sure, I could've ducked away for awhile every day, but – no excuses here – chose not to. Left the laptop at home so I wouldn't be tempted. And then, of course, fretted about my choice for five whole days.
Until I got back, and turned a fresh eye on the ms. Holy cow. Inconsistences everywhere. As scary as it was when each new one popped up, it felt even better to find them and fix them – sort of like literary Whack-A-Mole. I know exactly how that guy in the video feels.
I'm crediting the break with the fresh eyes, and the new well of energy. It'll be fast depleted, of course. But for now, I'm actually enjoying it. Whack!
---