BLOG
Jan. 23, 2018 – I've written before about liking to write to music. From the way-back machine, Nirvana Unplugged is a favorite. Even way-er back, Pink Floyd's Dark Side of the Moon. I listened to the Navajo Nation's KTNN while I was writing Reservations. Aimee Mann's The Forgotten Arm was the soundtrack to a book that (deservedly) never got published – I'll try not to hold that against her.
I also listen to music that inspires, and lately, Hamilton – pretty sure I'm the last person to jump on this particular bandwagon – fits the bill.
I can't listen to it while writing; it's too distracting. But it's great for gearing up to write, or for when I'm stuck. I just plug in the earbuds and go for a walk as Lin-Manuel Miranda as Alexander Hamilton declares, "I'm not throwing away my [beat] shot."
No, sir, I am not. I am going to march back to that laptop and pound out that novel.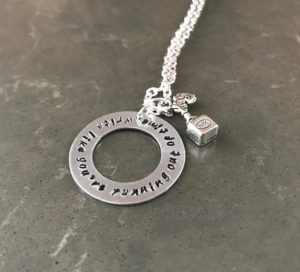 Another favorite: When Aaron Burr asks Hamilton, "Why do you write like you're running out of time? Write day and night like you're running out of time?"
Because writing is the most important thing?
Anyhow, because everything in the world lives on the internet, I found a necklace that there instructs me to "Write like you're running out of time."
Words to live, er, write by.
---