Some Sentences, July 2017 – Like daughter, like mother
July 27, 2017 – Every time I feel like a failure as a mom (100 percent of the time, right?), I remind myself that I have kids who read.
My daughter and I have especially similar tastes in books, and our conversations always include a check of what the other is reading, and a hard nudge for ideas for more. She's far more organized than I, keeping a list of everything she reads. Every so often, I ask her to just send me her list, as a lazy way of creating a list of my own.
We've been on a roll this summer, discovering a new book we both love, and rediscovering an older one.
I take credit for stumbling across Beartown, Fredrik Backman's (A Man Called Ove) April release by Atria. I clicked on a whim, without knowing anything about it. Within hours of starting, I was on the phone to Kate
"Drop everything else and read this book right now."
It's about ice hockey, was all I'd tell her, this daughter who played ice hockey on a boys' team in high school. Which, as anyone who's read the book knows, is a wholly inadequate description. But to say more would have been to give too much away.
By the next day, she was calling me so that we could compare notes on what we'd read so far. Each of us loved it. Each of us hated to see it end – the ultimate measure of a great book.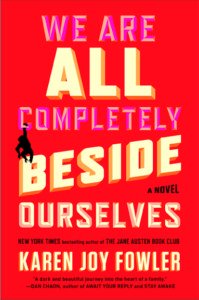 And each of us felt bereft, the only cure for that being to read another good book. By happenstance, I went to my shelves and pulled one she'd recommended a long time ago, but that I'd never gotten around to reading: Karen Joy Fowler's We Are All Completely Beside Ourselves. (2013, Putnam's)
A few pages in, another phone call. "This is fabulous. I love her writing, her protagonist."
Kate just might have said, "I told you so." But she also picked up the book again and is re-reading it, enjoying it just as much as she did the first time – another mark of a terrific book.
I'm nearly to the end, though, and badly spoiled by two great books in a row. Recommendations?
---