Some Sentences, Jan. 5 – Cold, hard … words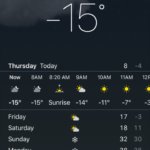 Jan. 5, 2017 – Today would be a really, really good day to stay home all and write. Or, better yet, go back to bed, under all those nice warm covers. Probably the dog would join me, and then I'd be warmer still.
On the plus side, I've hit the 10,000-word mark in Book 6. Hate to leave it and go out in the cold, but it's nice to know a good, solid start awaits when frozen me comes back through the door tonight.
---