Some Sentences, Dec. 1 – Sick bay with the Paris Review, Stephen King and Robert Penn Warren
Dec. 1, 2016 – Starting off the month on a lousy note; i.e, home sick. Head hurts too much to read or watch TV. Dying of equal parts pain and boredom. Maybe an audiobook. But which one? Which brings me to the four-volume set of The Paris Review Interviews, a supremely thoughtful holiday gift from Scott some years back. I dip into it every so often, and last week re-read the interview with Stephen King, who talked about listening to Robert Penn Warren's All the King's Men – one of my all-time favorites. Bingo. Other than the fact that I keep falling asleep in mid-chapter and then having to rewind, it's just right. I mean!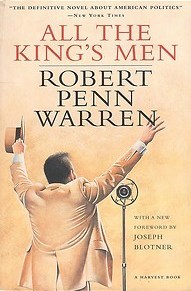 To get there you follow Highway 58, going northeast of the city, and it is a good highway and new. Or was new, that day we went up it. You look up the highway and it is straight for miles, coming at you, with the black line down the center coming at and at you, black and slick and tarry- shining against the white of the slab, and the heat dazzles up from the white slab so that only the black line is clear, coming at you with the whine of the tires, and if you don't quit staring at that line and don't take a few deep breaths and slap yourself hard on the back of the neck you'll hypnotize yourself and you'll come to just at the moment when the right font wheel hookers over into the black dirt shoulder off the slab, and you'll try to jerk her back on but you can't because the slab is high like a curb, and maybe you'll try to reach to turn off course.
---