'Montana' wins inaugural Pinckley Prize for debut crime novel
Unbelievable news this week! Here's the news release from PinckleyPrizes.org:
Laura Lippman and Gwen Florio are the recipients of the inaugural Pinckley Prizes for Crime Fiction, named to honor the memory of Diana Pinckley, longtime crime fiction columnist for The New Orleans Times-Picayune. The prizes will be presented March 22, 2014, at the 28th annual Tennessee Williams/New Orleans Literary Festival. The presentation will take place at the historic Beauregard-Keyes House at 5 p.m. The Prizes are presented by the Women's National Book Association of New Orleans, of which Diana Pinckley was a founding member.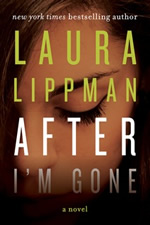 Bestselling author and part-time New Orleanian Laura Lippman is the winner of the first Pinckley Prize for a Distinguished Body of Work.  The author of 19 books, many featuring her signature character, Baltimore detective Tess Monaghan, Lippman is the author of the current New York Times bestseller, After I'm Gone, published by William Morrow.
In their statement about the choice of Lippman, the committee said, "Laura Lippman is one of those writers whose dedication to her home town of Baltimore has captivated American readers. She has created an enduring sleuth in Tess Monaghan, a complex character dealing with the issues that every contemporary woman confronts. And more than that, in her stand-alone works, Lippman has transcended the limits and challenges of genre to become a distinguished writer of social realism.  All that, and she has a wicked sense of humor!"
Lippman, said, "Of course I'm gratified to receive this award, but it is especially meaningful to me as I had the great luck to meet Diana, socially and professionally. I know we like to think that our culture, our society has moved beyond a point where we need prizes that are for certain genres or genders. But we haven't. And to have a prize that recognizes one's body of work, and to have that prize be part of the Tennessee Williams Festival in New Orleans, a city that truly embraces reading — I am overwhelmed at the honor of being the recipient. I love my second hometown."

Montana resident Gwen Florio wins the Pinckley Prize for a Debut Novel, for her first book, Montana, published by Permanent Press.  "Out of a field of excellent debut crime novels, we picked Montana because we completely fell in love with the main character. It's often difficult to pinpoint whysomeone is lovable. Suffice to say that Gwen Florio's protagonist Lola fully lives on the page, and what is even more compelling about this brave, irascible character is that she continues to live after the book is closed. She's fearless, flawed, intelligent, reckless, and funny, but most of all, she is defined by loyalty to her friend and a relentless pursuit of her killer."
Florio said, "As a recovering journalist, I'm honored and humbled that my novel featuring an investigative reporter has received this inaugural award named for a newspaper columnist – and that I share the award with another former journalist. It's especially meaningful to receive it in this city long known for treasuring journalism, particularly in these difficult times."
The Prizes were created in 2012 to honor Diana Pinckley, who was a founding member of the Women's National Book Association of New Orleans, as well as a civic activist who gave her time and energy to local and national causes. The WNBA-NOLA group, composed of writers, librarians, publishers, and booklovers, was founded in 2011; it is the local affiliate of the national group, which was founded in 1917. The judges this year were memoirist Constance Adler; Mary McCay, founding director of the Walker Percy Center for Writing and Publishing at Loyola University; and novelist Christine Wiltz.
Lippman and Florio will each receive a $2,500 cash award, as well as a beautiful paper rosette fashioned from the pages of their books, created by New Orleans artist Yuka Petz.
Submissions for the 2015 Prizes will be open April 1.
---