Indies First, a book group, and some darned chilly readings
It felt like all books, all the time this past weekend – and the feeling continues this week.
I was fortunate to participate in Fact and Fiction's Indies First weekend, an event launched by author Sherman Alexie that featured area writers working in their local independent bookstores the weekend after Thanksgiving.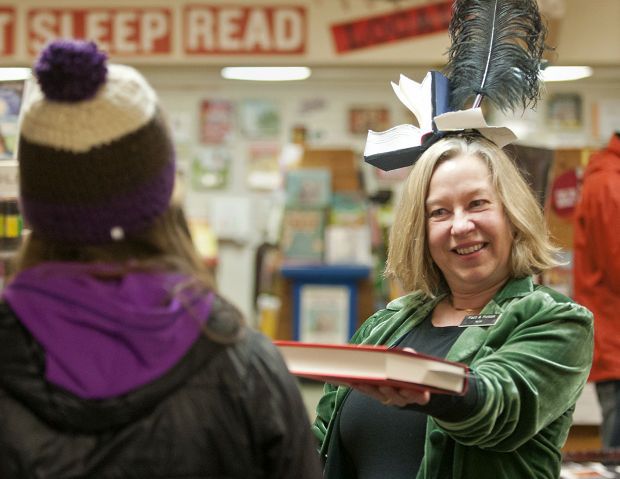 Saturday at Fact and Fiction featured David Abrams of Butte (Fobbit), David James Duncan of Lolo (The River Why), and Kim Anderson, Humanities Montana Festival of the Book organizer whose uber-cool hat ended up on the front page of the Sunday Missoulian in Tom Bauer's photo at right. I worked on Sunday, along with authors (from left, in photo above) Missoula's Rick Bass (All the Land to Hold Us), Bigfork's Leslie Budewitz (Death al Dente) and Ken Robison of Great Falls (Montana Territory and the Civil War). We served champagne and talked up books with store patrons. Great way to spend an afternoon.
I warmed up for Indies First on Sunday by going to a book group brunch hosted by Keila Szpaller and Brock Gnose. They went all sneaky and thematic on me by featuring Lola Prosecco (my protagonist's name is Lola Wicks) and Jameson's (Lola likes her occasional nip of same). The brunch was great fun – people asked lots of really insightful questions.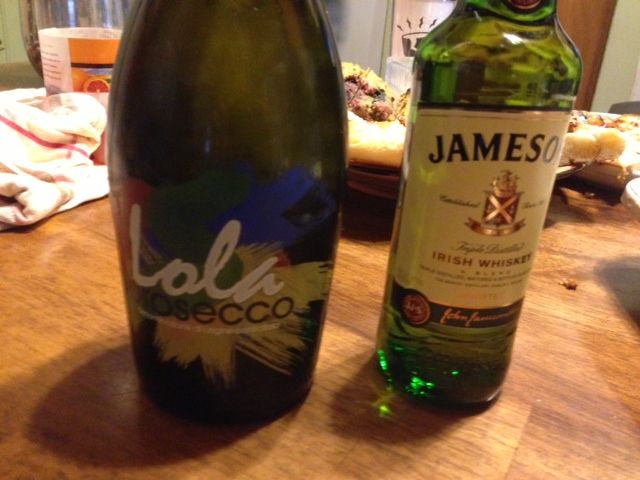 Today is a breather (by which I mean, a day to write), then on to Boulder for a reading Tuesday at the library there, and a reading at the library in Helena on Wednesday, both on days when the temperature is supposed to dive below zero. I'm hoping for stalwart readers. Luckily, things are supposed to warm up a little by Saturday, when I'll read at Shakespeare and Co. in Missoula (at 11 a.m. so readers who are Griz fans can sneak it in before the game).
Fun football fact: The Griz are playing the Coastal Carolina Chanticleers (such a literary name!), from Conway in South Carolina. My parents just arrived at their winter digs in Surfside Beach, not 20 miles away. Apparently it's in the 50s there, but folks are bundled up as though it's the dead of winter. The high in Missoula on Saturday is supposed to be 11. Those southern players had better wear their woollies. 
---