All in the Florio family – writing, that is
My parents have been doing quite the tap dance these last few weeks, what with both their daughters publishing first novels. My sister Kathleen, who writes as D.C. McLaughlin, recently came out with her vampire novel, Deadly Conversations. The title—and hence, the very cool cover—comes from the series of conversations between a 300-year-old Bavarian vampire, and a bookstore owner who just happens to be a witch, and who is determined to stave off the threat to her town that the vampire represents. Are vampire novels my thing? Not particularly, as Kathleen noted in her acknowledgments. But maybe that's why I liked her book so much. She eschews sexy-teenage-vampire stuff in favor of focusing on family and its importance. And she sneaks in a lot of fascinating historical information about vampires and witches that goes well beyond the usual stereotypes.
My own novel, Montana, goes out into the universe today. I'll be reading from it at Missoula's Fact and Fiction downtown branch next Friday, and elsewhere around the state and region in the coming months (see the schedule, here). Our parents probably offer the best publicity a writer could want, contacting their wide range of acquaintances around the country and the English-speaking world about their daughters' accomplishments, and—we hope—guilting people into buying the books.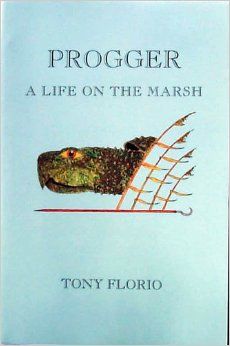 In a way, Kathleen and I didn't have much choice about becoming writers. We grew up surrounded by books and writers. My dad, Tony Florio, wrote and illustrated Progger: A Life on the Marsh, a memoir of his life, and by extension ours, as the manager of a wildlife refuge on the Delaware Bay. My mother, Patricia, for a time wrote a column for the Delaware State News called Windfields, based on the same experiences. And my brother, Roger, writes a mean legal brief, which is to say he's actually found a way to make serious money from writing. Likewise my daughter Kate Breslin, who condenses her political data analysis into actual comprehensible English. My son, Sean Breslin, has already published one short story, Flood and more can only be in the offing.
No grandkids yet, but I can just picture them, noses buried in books, pausing only to scribble their own stories that I hope, someday, to guilt people into buying.
---